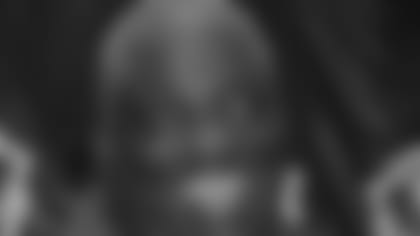 Former 49ers defensive end Fred Dean was the first of the 2008 Hall of Fame Class to address the media in a Friday afternoon press conference. Dean was short and sweet, as you can see in the following Q&A!**
Opening Statement: "Well, all I can say is I'm glad to be here," said Dean. "It's really a privilege, and the next thing I can say is are there any questions?"
Q: Have you given much thought to what tomorrow will be like, that moment when you get up on stage and they introduce you as a member of the Hall of Fame Class of 2008?A: No, I really hadn't given it any thought because I want it all to be a surprise, even to me. I know it's going to be an emotional thing, and I don't want to be the first one to break down.  (Apparently bets have been taken among the veteran Hall of Famers to see which rookie Hall of Famer cries first on Saturday.)
Q: You came awfully close so many years to getting in, and I'm sure it had to be disappointing to you. When it finally happened, did it make it that much more gratifying?
A: I would say it is gratifying. To be honest with you, I didn't really look at me going in. I didn't it's not something that you would actually set your feelings on. So, therefore, I was relaxed all along because I didn't look at it from that standpoint.
Q: Could you have imagined at this stage of your life people paying $100 to come to a dinner to see you get your honor tonight and tomorrow and the people lining up for your autograph outside, waiting for you at the hotel, just the whole experience?A: To be honest with you, I never dreamed it. I never thunk it. My thing is I never even imagined it. I could see me going to get my box of chicken or something with some friends and that's about as high as I looked at it. But I never really thought about it.
Q: When was the first time you ever thought about actually the possibility of being inducted into the Pro Football Hall of Fame? Do you remember that?
A: I thought about it once I got that call. That's when I really that's when everything really struck home. My father always told me wait until it's all signed, wait until everything is signed on the dotted line, then you'll believe, then it can be real, only if it's in black and white. And basically that's what it was for me.
Q: Who was the toughest offensive lineman that you went against during your career?A: Oh, that's a good question, because, you know, being small in the league and as small as I was, I would say that every offensive lineman that weighed over 300 pounds was pretty tough for me. But the thing was I thank God he gave me the ability and the skills to deal with each and every one. I can name a whole host of names. Anthony Muñoz and Art Shell and the list can go on and on, but for me that was not any one particular person. They were all good to me.