DeShaun Foster signed with the San Francisco 49ers this off-season, knowing darn well that it's "the Frank Gore" show. But given the reputation of Mike Martz and his high-powered offense, Foster envisioned the ball being spread around enough to also create a sweet life for the guy working in a backup role.
From the looks of things this spring and early summer, Foster's been on the mark with his inclinations.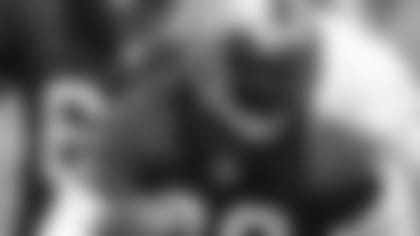 "The offense is looking real nice," said Foster. "Martz finds ways to get everyone the ball. He spreads it out and when you have players who can do different things, he uses that to his advantage. I saw that when he was with the Rams. They had a lot of weapons on that team and he got everybody the ball. I see that here too, and I really think it's going to work out for us."
Foster, like the rest of the 49ers stable of backs, took on a variety of roles this off-season. From carries out of the backfield to catching screens, shovel passes or even balls deep over the middle, Foster flashed the top-notch speed that years ago earned him the nickname Smoke.
"Some guys at UCLA my freshman year started calling me that. I guess it's because I was fast," said Foster. "It carried over to the Panthers and I've even had fans say it to me out here. I guess it fits."
At 6'0, 222 pounds, Foster's frame is not as conducive to the week in and week out every down pounding like the 49ers starter in Gore, but the 49ers believe they landed one of the better tandems in the NFL when they inked Foster as a backup.
You won't get any arguments from Foster on that point.
"I think we have a good one-two punch," said Foster. "Frank is a great back. He's young and he's physical and he's good all around. I've always watched him, and especially last year we played a lot of teams that the 49ers played, and I'd watch him. Frank is a great back. I respect that, and I think what I can bring to the table to what he already does could be very good."
Playing second fiddle was never Foster's aim when he embarked on his NFL career, but it is a role that he's come to understand shouldn't be underestimated.
Foster entered the league as a second-round pick in 2002 by the Carolina Panthers. Following a knee injury his rookie year, he found himself as a backup to Stephen Davis, whose 1,444-yard rushing season helped the Panthers secure a Super Bowl berth. Foster had his chances too during that magical Super Bowl run, including a 95-yard rushing day to seal a win over the Rams in the NFC Divisional Playoff Game and a 1-yard rushing touchdown in a win over Philadelphia in the NFC Championship Game.
"I've been in this situation before and I know how the second guy can help the team out," said Foster. "You need two backs. It's the NFL, a lot of stuff happens and whenever they call my number, I'm going to be ready. When I get in there, I'm going to make stuff happen any way I can."
Raised in Orange County, California, but born in Charlotte, Foster thought it was fate when the Panthers drafted him, and he loved playing in a city where he still had so many relatives to cheer him on. Unfortunately, a lot of the time, they had to cheer him up as serious injuries beset the former UCLA back, curtailing three out of his first four seasons.
Microfracture surgery on his knee his rookie year, a broken collarbone his third year, and a fractured fibula in his fourth season added up to enough bad breaks to make it understandable had Foster looked elsewhere to make a living. But given his upbringing, quitting was never an option.
"I wasn't raised like that," explained Foster of his military father and working mother. "They never let me quit anything when I was younger. No matter what, it was 'finish what you start.' I didn't always understand it then, but I eventually saw the bigger picture. Yes, I was frustrated because every year it seemed I was getting hurt, but I just stayed positive and reminded myself that everything was going to work out in the end. Things happen for a reason and I couldn't allow myself to get down. It wasn't as if I was pulling muscles because I was out of shape. They were just freak accidents and bad breaks. So, I knew I had to just stay with it and be patient."
Patience also came into play once Foster put the injuries behind him, emerged out of Davis' shadow and became a full-fledged starter in 2006 and 2007.
"Stephen taught me everything," said Foster. "He really helped me to relax, let the game come to me and allow things to develop out there. In the NFL, the hole could be there and if you hit it, it's going to close up. If you set yourself up, be patient, let the blockers really get on them and let the defense over pursue, that can work out even better for you. The key is knowing when to go and knowing when to give it time and I think over the years you just develop a sense for that."
Over the years, Foster developed close attachments to the Carolina organization and was happy to work out a three-year contract after the Panthers placed the transition tag on him in 2006. His unexpected release this February therefore wasn't easy, but Foster isn't looking back.
"I spent a lot of years there, and it was tough. Nobody wants to get cut, but sometimes it's time to move on," said Foster. "It's a job, it's a business and I'm sure it's going to work out for both parties."
And although forced to uproot from Charlotte, signing in San Francisco meant returning home to the west coast where he's enjoyed tremendous success in his high school and college careers. The former high school USA Today Player of the Year and UCLA record setter now intends for his pro career to work out just as well for him in Frisco.
"I believe this will work because I think I'm genuinely a team player," said Foster. "I really need those five guys in front of me and the receivers and the quarterback to help me do well, so I never have looked at it as if it were about me. Everybody wants to get the ball all the time, but if that's not what is going to help us win, then that's okay."
In fact, Foster sports two bracelets every day at practice and in games, a ritual he's done for almost his entire pro career. The one imprinted with TEAM is always a staple. The second one tends to rotate. Last year, he donned RESPECT. This year, he's sporting one that reads EXCELLENT.
"I think that since I'm on a new team I really want to show them that I can be excellent," explained Foster.
Joining a new team has been a little trying for Foster, who first and foremost describes himself as "quiet and shy." But, he does have a playful side too. Every day he alters his screen name on his blackberry messenger to a new character – Willie Wonka, Simon Birch, Gargamel. He's also pulled off his share of practical jokes, including helping Panthers quarterback Jake Delhomme deliver a pie to the face of his fullback Brad Hoover.
"I love practical jokes but that kind of stuff is for once I get everything figured out," said Foster. "I was nervous when I first got out here. Being the new guy and meeting everyone and making friends was a little weird. It is working out well though now, so there will probably be some jokes soon."
Foster admits that he's also still picking up the complex offense, but after the last few months of working out and taking part in the entire off-season program, he's a full convert to Martz' way of thinking
"Coach Martz wants you to be extremely precise in what you do because if you do it right, you might get the ball yourself or you might open up something big for someone else," said Foster. "I think if everybody does exactly what he tells them to do, the sky is the limit for this offense."
As a true believer in that team concept, Foster should have plenty of opportunities to prove that he indeed is an excellent fit with the 49ers.
Check back tomorrow for Fun Facts with Foster!