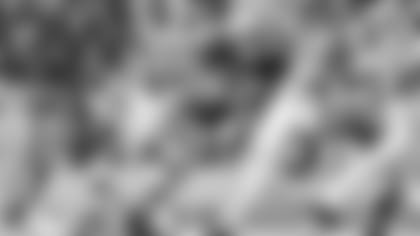 Determined to get back on the field, linebacker Joe Staley has been working diligently behind the scenes to play after missing San Francisco's last three games. Willis, who's fresh off his fifth consecutive Pro Bowl selection, has been limited in practice this week. 49ers.com caught up with the team's star linebacker to hear his thoughts on Pro Bowl announcements and the big upcoming game in St. Louis. Q: What was it like finding about your Pro Bowl selection along with seven other 49ers who share the honor with you?**
A: It was a great feeling. In my years so far of going over there, one other time we had a large group of guys selected. A lot of times you see the other teams have five or six guys and you just feel like, "Man, why can't our guys be over here with me?" And now to be able to hear that announcement in the team meeting room from Coach Harbaugh, to hear how many guys we had, it was a lot of fun.
Q: What did it mean to you to see Dashon Goldson get selected, a player drafted in the 2007 NFL Draft along with you?
A: Dashon's a guy who came in five years ago with myself and was a guy who I really looked up to. He's a guy a lot like myself. I love the way he practices. I love the energy he brings to the team. I just like talking to him period. He reminds me so much of myself as I'm sure I do to him. It's been a long road, but it's great to share the honor with him.
Q: How much pride do you take from seeing the defense playing such a big part in the team's success, now one win away from clinching the NFC's No. 2 seed?
A: So far, it's been unbelievable. To finally have the type of defense I always felt like we could have on a team I always thought we could be – it means a lot. But at the same time, our goal is to focus on the game this weekend and win it, go to the playoffs and win those games to get to the Super Bowl. It would almost be bittersweet to do all this to only go home early. I keep that in the back of my mind.
Q: You're the first 49ers player to make five Pro Bowl appearances to start a career, how much pride do you take in your consistency as a top-notch performer?
A: I take a lot of pride in being consistent. I've always felt as a player, consistency is what we're measured by. Anybody can have a good game. Anybody can have a good year. It's about being a pro. It's about consistently trying to raise your game to another level that hasn't been seen by others. That's the way I've always tried to approach the game ever since I was a kid. I try to be the very best I can be now and not be the same player I was the season before. My whole goal is to get better every day and just keep it fun and continue to be positive no matter what. A lot of it has to do with that. I've been through too much in my life in 26 years to not want it, to not go get it. God has been good. My teammates have been unbelievable. My coaches in the past and my coaches now, I have all them to thank for what I have achieved thus far. I just hope I stay positive, stay focused, stay humble and stay hungry.
Q: I know you're working hard behind the scenes to get back on the field from the hamstring injury that's caused you to miss the last three games, but do you pick up more on the mental side of the game when you're watching on the sideline?
A: I do. It's one of those things when you have nothing but time to think, you start to think about a lot of things. You think about what you could do better. To be able to see it from the sideline and to miss it the way that I have, it's really opened my eyes up on certain things. If I see something or anticipate it, I'll think, "I can play it like this," or, "I can rush it like this," or, "I can cover it like this." You see all that from the sideline, from a coach or a fan's perspective. Just having it taken away from me period for a little while, it'll just make me appreciate it that much more when I get the opportunity to go back out there and play.