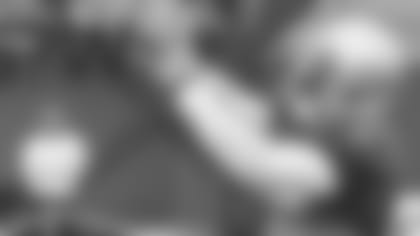 Now that the 49ers are back at team headquarters preparing for the 2011 season, 49ers.com caught up with some of the players to hear their thoughts on what lies ahead.** Q: How does it feel to begin a new season?
A: I'm excited. Everything's moving fast and I'm just ready to get in here and see the guys getting back. It's fun talking to the new coaches, shaking some hands, and putting names with faces. I feel really good health-wise and I'm excited to be here.
Q: How up to speed is the offense based on the player-organized workouts you participated in?
A: I got the basics of the offense from it. But from talking to our offensive coordinator Greg Roman and tight ends coach Reggie Davis, there's a lot of work to be done. I feel like I have a good understanding of what we're trying to do, but we all know there's a lot of work ahead. There's some catching up to do, especially when you have a whole new coaching staff and new offensive playbook. We're going to need to spend a lot of time with the coaches, because only they can give you the details that will have you executing your plays.
Q: Coach Roman has said the tight end position will be heavily involved in the offense, so much so, he's going to be working with the group. Do you like that the coordinator will be hands-on with the tight ends?
A: Yeah, of course when the OC says the offense is built around the tight ends, it's awesome to hear. I think it's going to put a lot of stress on us, but actually make us better as players just to see the OC in our meeting room and giving us pointers. I'm going to be happy to see when that does occur. Coach Davis' has done a great job so far. I got in and he's been giving me a lot of insight on the playbook already.
Q: Every year there's a lot of optimism for every NFL team, what makes you feel confident that the 49ers can make 2011 a memorable season?
A: Because it's been a long time coming. Everybody says we're a young team, but we've been a young team that's been built together. Most of the guys that were drafted in my class are still here. I think just by that and everybody building relationships with each other will make things different. We all kept in touch over the offseason, worked out with each other and did it when we didn't have to. We did a lot of stuff together and I think that shows we're ready to play football. We're excited to work with the coaches, Coach Harbaugh and his staff. They're just some solid guys. I think it's going to be a totally different atmosphere.
Q: What are your thoughts on the head coach and how excited are you to play for him?
A: I played for him before at the Las Vegas Bowl when I was a receiver at the time in college. He coached me, so I know what type of guy he is. He moves 90 miles per hour and I think that's the type of guy I want to back us up. He's exciting, funny and confident in what he does. And he does a really good job of communicating with all the guys. He's learning everybody's name on day one and I think that's something you want to see as a player, the head coach making an effort to shake hands and learn names.