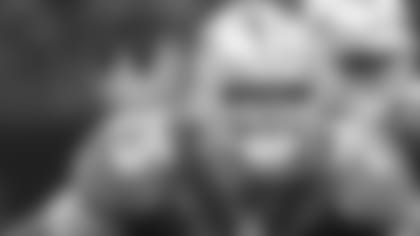 Second-year tackle Alex Boone has made great strides since the 49ers signed him as an undrafted free agent in 2009. 49ers.com spoke with Boone about his development at the NFL level, and who has helped him progress thus far.Q: Is there any specific veteran on the team you rely on for advice?**A: Surprisingly, I would say (defensive tackle) Justin Smith. I try to learn from Justin and talk to him about different things he sees and what makes him do what he does. I think a lot of guys emulate guys more in their position, but I want to know what makes defensive linemen do what they do. I try to ask some of the defensive guys, "What made you do that? What were you thinking on that?" It really helps me out. Justin has really given me good advice on how to set on guys, what to look for, what to see – stuff like that. Anything you can get will help you.
Q: How would you describe the coaching styles of offensive line coaches Mike Solari and Tim Drevno?A: Coach Solari and coach Drevno are always on top of the game, it's a great experience for us as linemen. You get two great minds and you can just crush everything you get. Coach Solari is more the fine-tuner. He can see something, diagnose it and knows exactly what's going on. Where Drevno is more of a, "I want to show you how it's done," kind of a coach. They play well off of each other, which is great for our group.
Q: Do you feel like you've matured mentally since last season?A: Absolutely. With all football, some guys try to make it more complex than it has to be, but the key is not to overanalyze it and just break it down. I think the hardest thing is getting down the terms that you change and stuff like that. I really think it's great system that we have right now and I'm getting more comfortable with it. That's the whole idea about preseason – you want to keep building confidence on top of itself.
Q: Who is your roommate in the hotel during training camp?A: I'm with (quarterback) Colin Kaepernick. It's been fun, he's a good dude. He lets me watch whatever I want on TV when we get back from meetings. And really, he's a great kid. He's funny, too. Most of the time we get to talking about camp and it's been good having him as a roommate.
Q: What should the 49ers Faithful expect from the second season of Boone-Docs?A: It's going to be wild, I'm still figuring out which way I'm going to take it. But I promise more behind-the-scenes interviews with my teammates and all types of good stuff. I think the fans are going to love it.