In this latest Fitness Corner, get to know about strength coach Johnny Parker and his approach to getting the 49ers players in the top physical condition possible, a process that will begin in about a month when the 49ers off-season program gets underway.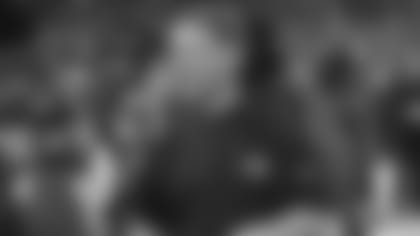 Much has changed during Johnny Parker's 19 seasons in the NFL. Players are more physically fit now than ever before. Players like Vernon Davis (6-foot-3, 253 lbs and runs a 4.5 second 40-yard dash) simply weren't around when Parker joined the New York Giants in 1984. Parker says this trend is due to players beginning strenuous training programs well before the NFL draft.
"College stength coaches now are with their players, at some time, during every month of the year," said Parker. "When they get here, they are much stronger and much more physically prepared. College programs are more advanced and so players have a better background in what we want them to do when they get here."
Despite the evolution of the professional athlete, Parker says the primary goals of a good strength and conditioning program stay the same. The same blue-collar mentality Parker takes to the weight room is the same today as it was before his first Super Bowl win in 1987.
"I enjoy seeing the players and teams work hard toward a goal and especially for what we do," said Parker. "There's no television, no cheerleaders, no packed stadiums. It's just us and their dreams. We're all doing this to play better, win more games and help the individual play better to increase his contributions to the team."
Throughout Parker's career, he has won three Super Bowls, guiding every team he had been with prior to joining the 49ers to the big dance. That's good news for 49ers fans and a big reason Head Coach Mike Nolan asked him to join his staff. It was Parker though, that saw the same vision from Nolan that he had seen with the Giants, Patriots and Buccaneers.
"Coach Nolan wants the players to improve physically," said Parker. "He wants them to be pushed and that's what players really want. There are coaches that don't understand or don't place the importance on pushing the players and encouraging them to be great. We want our players to be great. I believe that with all my heart and so does coach Nolan."
That fusion of ideas is what Parker said allowed his previous teams to achieve success. It's all part of the overarching plan implemented by the head coach and executed by the entire staff.
"There are a lot of plans that work, but you have to have a plan that you adhere to," said Parker. "If you're always changing with every wind that blows, then you've got no chance. If you have a clearly defined plan, and you can make it clear to your players and staff so they believe it, you have a chance. There are a bunch of different plans. Obviously Coach Nolan has one. I think I have a very clear view of what that is and how my work fits into that plan."
With his role in the organization clearly defined, Parker then can turn his attention to the players and what it will take to get them to the championship level. With Nolan foreseeing that his team will "expect to win" during the 2007 season, Parker's Super Bowl pedigree will certainly aid in the team's future success. Parker will continue to work by his same formula for winning and demand the very best from each player that steps foot in the weight room.
"Not pushing the players and not having high demands and expectations of the players is very demeaning," said Parker. "You have to give them every opportunity to be the best that they can be. That's what they really want."
That work will kick into gear in about four weeks from now when Parker and assistant strength coach Duane Carlisle begin a 14-week off-season strength and conditioning program with the players. Stay tuned for more updates on that program!!
Questions from the Readers:

Guillermo writes: I have been working to all mass and muscle strength to my body. It was a happy day when my bench press hit 305 pounds. I know cardio is an important part of any workout. I'm currently doing cardio about two times a week. Is that a good number for a week?"
Carlisle's answer: The cardio aspect I would increase to four days a week. From a health standpoint, you want to make sure your doing the things to address the cardiovascular system to help improve your overall health by improving your work capacity. As far as increasing muscle mass, that's a function of strength training and nutrition, making sure that you're doing those two things to optimize muscle strength and growth.
Cory writes: I am a C-5 quadriplegic and have been injured for 10 years. I work out all the time on a hand cycle to get a workout. I have limited muscles I can use because of my paralysis. I am wondering how I could keep a somewhat toned stomach since I don't have use of my stomach muscles. I am trying to avoid what they call a 'quad gut.' I thought about using an electrical stimulation unit and trying to stimulate the muscles to work. Any advice would help.
Parker's response: Electrical stimulation is well-worth the effort. There is no downside to electrical stimulation. I do not know about its efficacy for you, but I think it's worth a shot. You have my very highest esteem for not letting a setback lower your expectations for yourself. You would have to see a very specialized physical therapist to get the best advice however.