The 49ers Week 5 opponent will travel to Candlestick Sunday night off its second defeat of 2010, a 17-12 loss to the Washington Redskins. But perhaps the Eagles biggest losses last week was having quarterback Michael Vick and running back LeSean McCoy injured in the process.
Vick suffered a rib cartilage injury after launching his body towards the goal line in between two Redskin defenders after a 23-yard run that was eventually negated by a holding penalty. Vick told a radio station earlier this week he figures to be out of action for one to two weeks. It's quite a loss when you consider that Vick was named as the NFC Offensive Player of the Month for September. In three games, Vick completed 60.7-percent of his passes (54-of-89) for 750 yards with six touchdown passes and no interceptions.
McCoy fractured a rib against the Redskins and is also likely out for Sunday. He ranks 13th in the league with 273 rushing yards and four touchdowns on 50 carries.
Despite the key injuries, it should be a different Eagles team than the one the 49ers faced in Week 15 of 2009. Donovan McNabb is quarterbacking the Redskins and now Kevin Kolb resumes his role as Philadelphia's starter. The same role he was penciled in for at the start of the season, but ultimately lost after suffering a concussion in Week 1.
With Kolb under center, the Eagles still have plenty of weapons at his disposal to help them beat the 49ers for the third time in as many years.
Once again, turnovers should be a major factor in determining Sunday's outcome. The 49ers are 8-0 all-time under Mike Singletary when winning the turnover battle.
With head coach Andy Reid calling plays for the past 12 seasons, the Eagles have won five division titles and made one Super Bowl appearance. And even after parting ways with McNabb this offseason, in the same division no less, Philadelphia remains as talented as ever on the offensive side of the ball.
Entering Sunday's matchup, the Eagles rank ninth in total offense (averaging 364.0 yards per game), and have the eight-best scoring offense (averaging 23.0 points per game).
Despite the loss of two starters, there's still plenty of talent to evaluate.
Kolb has completed 27-of-45 passes for 225 yards with one touchdown and one interception, but has yet to play a full game. As Philadelphia's Week 1 starter, he left early in the 27-20 loss after suffering a concussion. Against Washington, Kolb threw for 201 yards, completing 22-of-35 passes.
Kolb also threw a 5-yard touchdown pass to tight end Brent Celek, who has 12 catches for 128 yards for the season. Celek caught 76 passes and eight touchdowns in 2009, but has somewhat taken a back seat this year to the Eagles wideouts and McCoy.
The running back leads the team with 23 catches for 172 yards. But receivers DeSean Jackson (16 catches for 337 yards with an average of 21.1 yards per catch) and Jeremy Maclin (12 catches for 162 yards and four touchdowns) are as tough of a tandem as any in the league.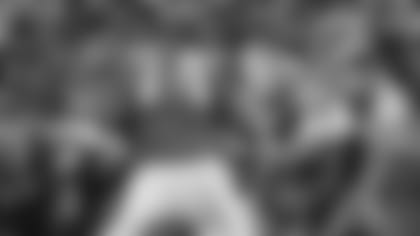 Five-year veteran Mike Bell figures to line up in McCoy's place as Philadelphia's starting running back. He's carried 12 times for 20 yards this season, and was also a contributor to the New Orleans Saints Super Bowl team (654 rushing yards and five touchdowns in 2009). McCoy isn't the only loss to the Eagles backfield however. Pro Bowl fullback Leonard Weaver was lost for the season against Green Bay after severely tearing the anterior cruciate ligament in his left knee.
Despite the loss at fullback, Bell has a gifted offensive line to run behind, led by left tackle Jason Peters, right guard Max Jean-Gilles and right tackle Winston Justice (pictured above).
The Eagles rushing attack ranks 11th in the NFL, averaging 131.8 yards per game, despite also losing starting center Jamaal Jackson for the season due to torn triceps against the Packers. Third-year pro Mike McGlynn has stepped in as Jackson's replacement.
Philadelphia held the 49ers to 13 first downs and 261 total yards in last year's meeting. The defense also intercepted quarterback Alex Smith three times and forced a red zone fumble from tight end Delanie Walker.
The turnovers, coupled with a strong performance by McNabb, enabled the 27-13 home victory for the Eagles.
This year, the Eagles remain as one of the league's most opportunistic defenses. They are currently tied for fifth place with a 3 turnover differential. The unit ranks 11th in total defense (306.8 yards per game), 13th in sacks (13) and is tied for third place with six interceptions.
First-round pick Brandon Graham (No. 13 overall) was selected to add depth to an already explosive pass rush, which features two, skilled defensive ends in Juqua Parker (4.0 sacks) and Trent Cole (3.0 sacks). Graham (1.0) is one of seven Eagles to record a sack in 2010. Inside, the Philadelphia 4-3 defensive scheme is anchored by defensive tackles Mike Patterson and Broderick Bunkley.
No question, the pass rush and blitzing elements of the Eagles defense are the calling card under coordinator Sean McDermott, who worked closely with the late Jim Johnson, Philadelphia's coordinator from 1999-2008. Under McDermott's watch in 2009, the Eagles totaled 44 sacks and 38 turnovers, both were good for third-best in the NFL.
The run defense has been a problem though. Linebackers Omar Gaither (20 tackles) and Ernie Sims (17 tackles) play prominently in a run-defense that allows 138.8 rushing yards per game, 27th-best in the league.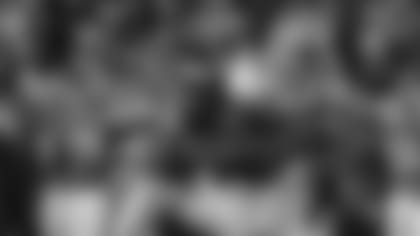 A player to watch in McDermott's defense is strong safety Quintin Mikell (pictured right), who leads the team with 23 tackles. Mikell disguised his coverage well last year, coming up with one of three interceptions against the 49ers. His partner in the defensive backfield, rookie free safety Nate Allen (No. 37 overall), currently leads the team with three interceptions.
Starting cornerbacks Asante Samuel and Ellis Hobbs each have an interception as well in 2010. Samuel picked off Smith as well last year; it was one of his league-leading nine interceptions in 2009 that earned him his third consecutive Pro Bowl invitation.
The Eagles would love nothing more than to get big plays out of their defense with key members of the offense on the mend. They'll have to do it against a 49ers team with his 35-14 all-time when playing in primetime games at Candlestick Park, including an 8-4 record on Sunday night contests.