When the defending Super Bowl Champion New Orleans Saints travel to Candlestick Park to take on the 49ers Monday night, they'll be looking to accomplish something for the first time in their franchise's history.
Never before have the Saints started consecutive seasons 2-0, and they'll look to accomplish that feat in front of a national audience watching "Monday Night Football."
New Orleans won its first two games in 2009 and then rattled off 11 more wins en route to winning the first Vince Lombardi Trophy in team history. The franchise has only started 2-0 on six occasions, but never in back-to-back seasons.
New Orleans opened their 2010 campaign at home last Thursday night by defeating the Minnesota Vikings 14-9 in a rematch of last season's NFC Championship Game.
On the other hand, the 49ers are looking forward to the challenge of playing against one of their former NFC West division rivals in the first of four primetime matchups the team will play in this season.
In the last meeting between the two clubs in late September of 2008, Saints quarterback Drew Brees threw for 363 yards and two touchdowns in a 31-17 New Orleans victory.
It goes without saying, the 49ers will have to do better against the Super Bowl XLIV MVP if they want to change the outcome this time around.
As Brees goes, so does New Orleans.
It's no secret the Saints are led by Brees, who has been to four Pro Bowls, two with the San Diego Chargers and most recently, the last two seasons with the Saints. He's the team's emotional leader (as witnessed by his routine in the team's pregame huddle) as well as their on-field general.
But Brees has yet to feel the wrath of the Madden video game cover jinx this season, a place where the 10-year veteran found himself after a stellar year in 2009. Those who have graced the cover in the past have experienced injuries or poor performances that very same season.
So far, so good for Brees.
In the Saints Week 1 win, he completed 22-of-36 passes for 237 yards with a 29-yard touchdown throw to wideout Devery Henderson. Brees finished the game with a quarterback rating of 101.3 while helping the Saints pick up 18 first downs.
The only downside to Brees' performance was the team's 3-of-11 conversion rate on third downs.
New Orleans decided not to challenge the Vikings dominant run defense in the first half, electing to run the ball three times in the opening 30 minutes of action. Instead, they focused on utilizing three receiver sets, with Henderson, Robert Meachem and Marques Coltson.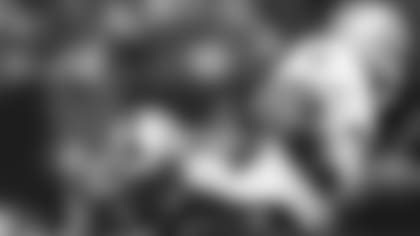 All three wideouts present a challenge to the 49ers defense, but the passing threats don't stop there.
Brees completed balls to nine different receivers in the opener, including five completions to running back Reggie Bush. Colston and Bush were targeted six times apiece by Brees, each catching five passes for 62 and 33 yards respectively.
Tight ends Dave Thomas and Jeremy Shockey are also heavily involved in the Saints passing game. Last season the duo combined for 83 catches, 925 yards and four touchdowns. While Thomas got the start against Minnesota, Shockey appeared to be the deeper threat of the two. He caught three passes for 23 yards to Thomas' two catches for three yards.
But even with all the weapons on offense, the offensive line is where the Saints might be best across the board.
Three of their seven Pro Bowlers last season were offensive linemen. Right tackle Jonathan Stinchcomb, left guard Jahri Evans and center Jonathan Goodwin all earned Pro Bowl invites, but gladly forfeited their right to play because of Super Bowl obligations. The group looks to be back on pace for another strong year of football, they only allowed one sack in the season opener.
While New Orleans might be known for a high-powered offensive attack, the defense is quickly catching up as one of the team's main attractions.
Coordinator Gregg Williams is back for a second season and would like nothing more than to build on his unit's strong 2009 season.
In a new twist for 2010, the Saints have utilized a 3-4 defensive scheme to go along with their base 4-3 front. Now at any time, New Orleans can feature three or four defensive linemen, giving Williams another wrinkle for this year.
Defensive tackle Sedrick Ellis picked up the defense's only sack against Minnesota and is joined on the defensive line by two solid defensive ends in Will Smith and Alex Brown. Smith led the Saints with 13.0 sacks last season and should present a good test for 49ers left tackle Joe Staley.
In playing multiple defensive fronts, the Saints experienced success against All-Pro running back Adrian Peterson. The perennial Pro Bowl Vikings running back averaged 4.6 yards per carry, but his longest run went for only 14 yards. Playing a big part in the effort were Pro Bowl inside linebacker Jonathan Vilma and weak side outside linebacker Scott Shanle, who led New Orleans with seven tackles.
On the back end, the Saints are without the services of one of their most well-known players, free safety Darren Sharper. He'll miss the first six games of the regular season after the team placed him on the physically unable to perform (PUP) list.
In his place is 2009 first round pick Malcolm Jenkins, who was credited with a tackle and a pass breakup against Minnesota. Joining Jenkins is another Saints Pro Bowler from 2009, strong safety Roman Harper, as well as talented emerging cornerbacks Jabari Greer and Super Bowl hero Tracy Porter (most known for intercepting Peyton Manning in the fourth quarter).
Sharper led the group with nine interceptions last season, which many would assume his opportunistic play will be missed. But Porter's four interceptions from 2009 could increase as the cornerback looks to establish himself as one of the top defensive backs in the NFC.
The Saints were 7-1 on the road last season and did not lose away from the Superdome until a meaningless regular season finale loss at Carolina.
If the 49ers want to hand the Saints their first road loss much earlier in 2010, they'll hope to accomplish it on a night in which Hall of Fame wide receiver Jerry Rice is honored at halftime.
It would be a fitting tribute indeed.