Delanie Walker is coming off a career day in which he made five receptions for 85 yards in the 49ers 24-16 win over the Broncos in London. 49ers.com recently caught up with the 6-foot, 242-pound tight end to talk about the trip to London and his bye-week plans.
Q: What was the first thing you did when you got back from London?
A: I went to go see my girl because I hadn't seen her in almost two weeks. She had made dinner for me. So I ate, got on the PlayStation for a little bit and watched TV. It was just nice to be home.
Q: How important was it to get that win with the bye week coming up next?
A: It felt real good, we needed that one. We went to a place out of our comfort zone and played well. It was overcast in London the whole week – gloomy, rainy, cloudy and cold. We overcame all of that and became a better team by being isolated with each other. It was a good experience and it feels good to go out there and get a win. The Broncos are a good team, so this was big for us and it will help with everything going forward.
Q: What stands out to you from that London game?
A: I think it is going to be a game I will remember for a long time. Going in, it felt like the Super Bowl. There was a lot of excitement. We even had the specialized jerseys with the International Series patches. It is something you can cherish. Not everyone can say they went and played in London and came away with a win.
Q: Coming off of a career game, do you feel like you're role is starting to expand in this offense?
A: A lot of people ask me that, and I tell them I just play football. Vernon went down in that game, and I just had to step in. That's what Coach Singletary wanted, he wanted 53 men who are football players. So when Vernon went down I went in there and replaced him. I've played football all my life, and I feel like when I get the opportunity I will do the best I can to take advantage of it. So I'm happy with that performance, but I know I can get better. And as a team we all feel we can get better.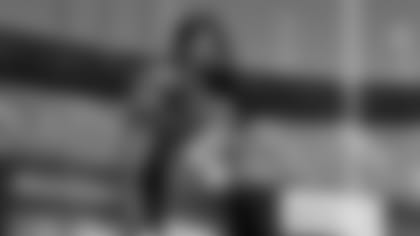 Q: What is the one moment from the first half of the season you will remember the most?**
A: That's a hard question because, like you said, that was just the first half of the year. You're going to have to ask me again when the season is over because there is a lot more football left to play.
Q: Did you watch the Giants win the World Series?
A: Of course, and I'm happy for the Giants. Go Giants. I'm happy that they did it. They haven't won it since they moved to San Francisco, so this is a big deal for them and a big deal for our city. And that win just pushes us, we need get where they are. We need to do what they're doing. The City of San Francisco is a great city to play in, and they did it. I might see some of them during the bye week.
Q: What else are you going to be doing during the bye week?
A: I'm just going to be preparing for the Rams. I feel like we had some rest time last week in London just because the coaches gave us some time off to experience everything there while we were adjusting to the time change. We saw the city and we had a great time. So now that we're back here I'm ready to take on the Rams. Like Coach Singletary said, this is the start of the second half and we can still make this season special.