Before the 49ers move on from Candlestick Park, their home since 1971, to Levi's® Stadium in Santa Clara, in 2014, the time is right to trek back. A January game 24 years ago, a 30-3 thrashing of the visiting Rams, lands at No. 10 on Candlestick Park's Top 10 Greatest Moments, presented by SAP.
Each ensuing highlight, which fans voted on from a list of 25 nominations, will be memorialized at a home game in 2013, beginning this Thursday night, when the 49ers host the Denver Broncos in their preseason opener. The piece of history will also be pictured on each game ticket for the final season at the 'Stick.
It's time to celebrate No. 10.
Roger Craig had the fortune of watching his favorite football player from the sideline. That's where the former 49ers running back was standing on the afternoon of Jan. 14, 1990 when Ronnie Lott stormed into view.
With the Rams up 3-0 and in the opening quarter of the 1990 NFC Championship Game, St. Louis receiver Flipper Anderson broke through the San Francisco secondary and appeared within arms' length of hauling in a touchdown pass from quarterback Jim Everett.
"Ronnie Lott came out of nowhere and knocked the ball down," Craig, a 2011 inductee into the Edward J. DeBartolo Sr. San Francisco 49ers Hall of Fame, recently told 49ers.com. "That was the shift of the game to change our momentum. After Ronnie did that, we were on."
"Candlestick is a historical area, the San Francisco Bay area, that should be recognized," Craig said. "We did some wonderful things there. 'The Catch' was created there with Dwight Clark, starting the dynasty of the 49ers in the early '80s, and then here I come two or three years later and create something (like) 1,000-1,000 (rushing and receiving yards as the) first player in history to do that. I'm going to miss that stadium, but we have to move on to bigger and better things."
Trumping that afternoon nearly a quarter-century ago will be no easy task. 
The game itself, played under conditions typical of a winter night at The 'Stick – 52 degrees and 14 mph winds at the 2 p.m. PT kickoff – was a raucous one. The 64,769 fans in attendance had plenty to cheer about: Craig rushed for 94 yards on 24 carries behind fullback Tom Rathman and the Jesse Sapolu-led offensive line. Craig's 1-yard plunge into the end zone elicited more yells. It also increased San Francisco's lead to 11 points, 14-3.
"It was always really hostile, really loud," Craig said. "The atmosphere in the playoffs is amazing. Our fans gave us a lot of love. We love when they're screaming loud and you can barely hear the cadence from (Joe) Montana – that's when we're in the game."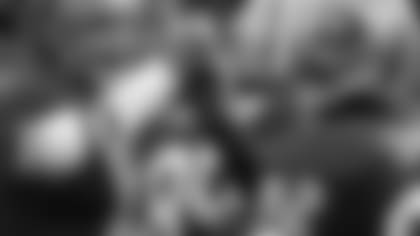 Craig also caught 3 passes for 40 yards from the Hall of Fame quarterback, who connected with tight end Brent Jones (20 yards) and wide receiver John Taylor (18) on second-quarter touchdowns. The 49ers put up 21 of their points in the second quarter.
"Joe Montana was an amazing, amazing quarterback," Craig said. "Not just because of what he did on the football field, but his presence. When you're in the huddle with Joe Montana, you find a way to step your game up to another level."
Craig and Montana had help on this day however. San Francisco's offensive unit registered 20 more first downs, 29, than St. Louis, and kicker Mike Cofer converted three of his four field-goal attempts to capitalize on red-zone stalls.
"It wasn't so much the star players stepping up their game, like myself or Jerry Rice," Craig said. "It was the role players that made the difference, guys like Tom Rathman, Brent Jones and Mike Cofer. The role players stepped it up and showed that we were a team."
Defensively, Tim McKyer and Keena Turner – and, yes, Lott – all recorded interceptions of Everett for the home team. McKyer and Lott had already picked off passes the week prior at Candlestick, in the NFC Divisional game against the Minnesota Vikings. Including the Super Bowl, San Francisco's defense would rack up nine interceptions, or three per postseason victory.
For Craig, again watching from beyond the chalk, Lott led to the 49ers takeaways.
"Ronnie Lott just exuded positive attitude, never give up, just tough, resilience, an attitude every time he steps on the football field he's going to make something happen, hurt or healthy," Craig said. "This guy got his finger cut off and went back out on the field and played, so that shows what kind of attitude he brings to the table. He was a great, great leader."
Craig was no slouch himself. 
A three-time Super Bowl champion in his eight seasons in San Francisco (1984, '88 and '89), Craig remains the only running back in NFL history to lead the league in single-season reception total. He accomplished that feat, hauling in 92 balls, in his third pro season in 1985, the same year he graced the cover of Sports Illustrated.
The Davenport, Iowa native, now 53, was also a dependable 49er, having played in all 16 regular season games in six of his eight campaigns. In other words, Craig was around when the 49ers were at their height.
And they were rarely higher than during their 1989 season at The 'Stick.
San Francisco's 27-point margin of victory on the afternoon to remember wasn't even their largest – or second-largest – during the postseason run to its third Super Bowl title in six years. The team trounced the Vikings, 41-13, in the preceding Divisional game at Candlestick before ultimately toppling the Denver Broncos, 55-10, at the Louisiana Superdome.