You asked, and he answered. Catch up with our new safety, Michael Lewis, as he responds to some of the hundreds of questions we received from the 49ers Faithful. Enjoy reading his answers in this Ask a Player Feature, and if your question didn't get picked this time, try again!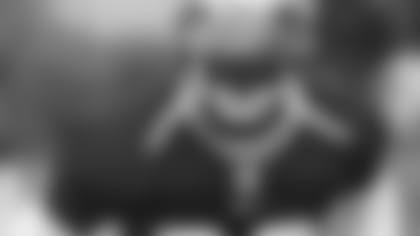 Q: I have always admired your play when you were in Philly so l am really excited about your move to the 49ers.What are you doing to get back to your Pro Bowl form and what are your impressions about your new environment? SWEET JAY
A: The only thing you can do is work and that's something that once the situation happened in Philadelphia that I just knew I would have to work to regain my name. Since I've gotten here, strength coaches Johnny Parker and Duane Carlisle and the coaches have just been on me to continue working and that's the approach I've been taking. Hopefully it will lead to a Pro Bowl this year. As far as my impressions, you can tell this is a young and up and coming team and ready to win now.
Q: What made you decide to sign with the 49ers? Was the signing of Nate Clements a big factor in your decision? Joseph BrownA: He had a little to do with my situation. Nate's an outstanding cornerback and he's one of those guys you can just leave alone out on an island and just let him play. Another factor was my coach, Vance Joseph. I played under him at Colorado and I played some of my best ball under him so it was an opportunity to get back playing for him.
Q: Michael, I know you play SS and linebacker in nickel situations, but with your versatility do you prefer playing the run more than the pass or vise versa? Steve Nuno
A: I try not to get labeled as a box safety. I feel like I can do everything. One of my strong points is being able to play off the blocks and tackling so I enjoy that part of the game, but I also continue to work on my pass coverage.
Q: With all the additions on offense and defense, there's a big buzz of playoff talk for the team. Of course you guys are expected to improve, there's more talent, but are you guys committed to winning this season and how long do you think it will take for everyone to get on the same page? Sgt Boston, USMC
A: We're most definitely committed to winning. I think the OTAs were very important. We were taking first steps. Everyone was here participating. Although it was voluntary, most everyone was here and that's important. We are on the right page and we feel like we're going to win now. It's not just because we added a few new guys, but because everyone works hard here and that's all you need.
Q: First off I want to say thank you for becoming one of our newest members of the team. I know every 49er fan out there is looking forward to seeing you in action on the field this year! We all know what you are capable of and I enjoy your ferocious attitude. All of us in the Bay are supporting you and can't wait to see our team bring home the Lombardi Trophy. What will be our defense strategy and how do we plan on implementing it?
A: We are going to attack, attack, attack. We're going to play aggressive. When you've got corners like Walt Harris, Nate Clements, Shawntae Spencer, Donald Strickland, and Marcus Hudson - those guys can cover all day so you can line up and attack the offense and get after it.
Q: One of the things that has been missing in recent years in our secondary has been intimidation. Not since Tim McDonald have we had a guy back there our opposition had to account for. Now, you have the opportunity to be that guy…to lay the wood on some folks and make them think twice about coming over the middle, etc. I'd just like to get your thoughts on how you see your role? Frank MisaegeA: Of course I love to hit and I love to lay somebody out. I grew up watching Ronnie Lott, Tim McDonald and some of the great safeties who have played here and I try to emulate my game after them. That's very important to me. Striking fear into your opponent is something you always strive to do at this position. My role is to make plays. When the opportunity presents itself, I need to step up and make the play, whether that's an interception, a big hit, or causing a fumble.
Q: Congratulations on becoming a San Francisco 49er, and the best of luck to you this season. Having played against the 49ers last season, how does a defense change its gameplan to stop the speed, power, and athleticism of Vernon Davis? Mike Indio, CAA: Vernon Davis, all I can say is wow, wow. Last year from a distance, I knew about him but actually to be here and working with him, seeing how fast he is and how he's able to create mismatches all over the field, whether it be a safety, linebacker or cornerback, he's got the total package. He's working to get better and I'm pretty sure he wants to get to the Pro Bowl. I think it will be amazing to see him play this year. Trying to cover a guy like that, it is definitely is a big challenge. You have to double team him because he can really expose a single defender, especially when the offense is trying to feed him the ball. Along with double teaming him, teams will have to try to disguise their coverages and mix it up, but I'm not giving anything else away because I don't want teams to stop him!
Q: As a lifetime 49ers fan, I've always heard the word "finesse" associated with San Fran. Philly has recently been known as a physical, hard hitting defense, especially in the secondary. Coach Nolan obviously had a "smashmouth" defense in Baltimore. With questionably the best and most intense linebackers, (my personal favorite even as a 49ers fan), of all time as a defensive assistant in Mike Singletary, can you see San Fran finally being referred to as a "smashmouth" team, especially on D? Chris
A: I think so. Coach Singletary is intense, but so is the whole defensive staff here. They were building something last year and with the additions we made this year, it's going to be one of those things where we are not going to settle for just being a regular defense. We want to be one of the best defenses in the league and that starts by playing smashmouth football.
Q: Hi, My name is Victor Hugo Campa-Ibarra and I have been a Philadelphia Eagles fan for about seven years now. I live in San Jose so I support the Niners very much. I believe that the Eagles made a huge mistake when they let you go and I know that they will see that when you make it to the Pro Bowl in the 2007 season. My question is how difficult has it been to learn the 49ers defense in comparison to the Eagles?A: It's been difficult from the standpoint of the terminology. Everything is totally different coming from a 4-3 defense into a 3-4 defense. The terminology and what is expected of you is totally different so it's a little bit of a learning experience for me. I've picked it up pretty much though at this point, and it's just something I know I'm going to have to continue to study my playbook.
Q: What is more your style; going for the bone breaking hit, or picking off a pass? And why? -Kevin Maclean
A: Aw man, wow. That's a tough question. I'd probably have to say interception. I'd love an interception because you love the opportunity to score a touchdown, but there's nothing like a hit to send a message to the other team. An interception is probably something I would love to do but those are rare. A bone crushing hit, you can do that every other play if you want.
Q: Being a safety, what do you look at first when the ball is snapped? What is your sequence of reads? Danny ChoA: It depends on the coverage, whether it be the TE triangle where you are reading the TE through the RB and QB or Cover 2 where you are reading a receiver outside. It really depends on the coverage.
Q: I just watched the who is the best Halo player video on TV49, and I wondered if you were one and how good are you? Darrell WetzelA: This is the one game I have to bow out on. I'm just not a Halo player. You tell me any other game besides Halo and I'd say I am the best, but it's just one of those games I could really never get into. I stay out of the challenges that go around here in regards to that particular video game.