You asked, and he answered. Catch up with quarterback Alex Smith as he responds to some of the great questions we received from the 49ers Faithful.  Enjoy reading his answers in this Ask a Player Feature, and if your question didn't get picked this time, try again!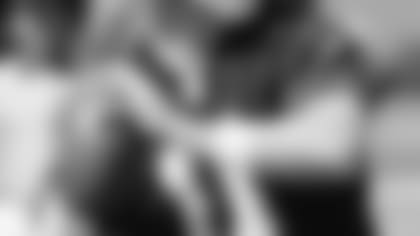 Q: I'm a long time 49ers fan and I was wondering if you ever watch film footage of Joe Montana, not just highlights but game film, and see how he worked the offense? - Mike Snow **A: Yes, especially my rookie year because I played in the West Coast offense, and I'd come from such a unique experience in college where I hadn't had much history of dropping back or pro style reads. I spent a lot of time watching cutups of Joe Montana and Steve Young and how they dropped back and how they went through the offense. I even spent time watching workouts of theirs, practice tape, individual tape of them dropping back and their mechanics.
Q: Loved you at the U, and now following your pro career.  I've been excited to see the off-season pickups at wide receiver and also new OT Joe Staley. With increased protection, new targets (ones with rich playoff experience), and one of the best backs behind you in Frank Gore, what do you foresee for the '07 campaign? I imagine that the playoffs are an expectation, but how deep can this team go in the postseason? What are the offensive and team goals for the year? - Matt (SLC, Utah)A: I think with the addition of the receivers and this being our second year in the system and the same foundation of what we did last year that we should be improved, but I think the biggest thing is going to be big-time situations in games. I think those key third downs when the game is on the line when we need a play and have to make a play, I think those are going to come this year for us. I'm focusing on working on the little things so that we make those key plays that will win games for us and help us get into the playoffs. That's getting better on third downs, holding on to the ball and not turning it over, getting better in the redzone, those are key, key things and I think we'll be better in those areas.
As for your other question, I think the first step is just getting there in the playoffs because then it's tournament play where you lose, you are out. I don't worry about how far we can go, I think we have to get in first and then take one opponent at a time. Our focus is this season, one game at a time so we do get there  in the mix.
Q: I'm a high school student and I'm pretty good at playing quarterback for my school. I was wondering when did you realize you were good enough to really play in the NFL, and how hard was it to get scouted by Utah? - Terrence BaureA: It was really hard for me to get recruited by colleges. I played on a good team but I didn't throw the ball much in high school and I was kind of a late bloomer. I didn't really find myself as a football player or a quarterback in high school, so I was very proactive. I sent out a lot of tapes, a lot of letters and tried to get looks and workouts with schools. I got one offer from Utah and I went there. It was my longtime goal to play college football. I never really dreamt about the pros. I didn't really think it was possible. I played my college career not really thinking the pros was an option, but it wasn't until after my last game my junior year that I realized I had the chance to come out and potentially be a top pick. It all happened pretty late and pretty fast for me. I played my last year without the intention of leaving or going pro. I didn't think it was even a possibility.
Q: I was wondering what kind of workout regimen you go through to stay in shape all throughout the year? – Rick PinnellA: My yearly workouts get broken down into off-season and in-season. In-season definitely consists much more of maintaining my conditioning and my strength, so I don't decline during the long season. I'm not trying to break down my body at that point, I'm just trying to maintain. In the off-season, you want to push yourself much harder. That's when you really break down your muscle groups, you run a lot more, throw a lot more, and lift a lot more. In the off-season, I'm in the weight room more and I can afford to do that because I'm not playing every week.
Q: What did it feel like to beat the Seahawks both games in 2006? And how did you feel when you ran the bootleg in for the touchdown in the second meeting with them? - Victor PenaA: The first one was great because obviously you want to win at home and I think it was a big win for us, and a big boost to win in the end like that. It wasn't the same though because it was at our place and Matt Hasselbeck wasn't playing and Shaun Alexander had just come back. But going up there with the division on the line on national TV and no excuses for them to make, that was even better. It was at their place on TV, they needed to win, Shaun was playing, Matt was back and to beat them like that in the fourth quarter in a physical game was a big step for this team. We grew a lot that day. To run the bootleg in was the icing on the cake and a big step for this team. It was a great feeling taking off and knowing once I turned my head I was the only one out there and running in to seal the game.
Q: Do you ever feel a weight on your shoulders playing QB for the Niners having to fill the shoes of great QBs like Joe Montana and Steve Young. What is needed to get back on top like the great niners of old and get another ring and do you see it in the near future? Bob
A: I definitely thought more about it my rookie year, being in that situation and those expectations that come with being the first overall pick. Going through last year and then in getting ready for this year, I've just gotten more focused about being better, and playing better. I don't think about that stuff really anymore because I can't control the comparisons. I thought about it early on, but not really any more.
In terms of getting back to those days of old, we need to win the division and make the playoffs. That's the next step in progression of getting back to winning a Championship. You can't win a Championship if you don't win your division or get in the playoffs first. That's a mentality you've got to build– you've got to expect greatness and expect to win games, to win playoff games. If you don't think that way, it's not going to happen. We've got to have that mindset to be great and then we'll get there.
Q: I am in the 3rd grade at Irving Elementary in Eugene, Oregon. My dad and I are huge 49er fans. I am the quarterback for my flag football team and I was wondering if you had any advice for me to make me a better QB? Thanks - Austin Hart (with a little help from dad)A: I wasn't even playing quarterback back then in the 3rd grade, so you are already ahead of me. But, I would just say don't try to do too much. If you force things or worry about the big play, you won't grow as a quarterback.
Q: What defense player gives you the key to call an audible? - Vsherwood
A: At the NFL level, it could be anything. Sometimes it's the dline, sometimes it is a linebacker, sometimes it's the secondary. More than often it's the combination of all three. If the d-linemen are doing this with the linebackers here and the safeties there, then I'm going to audible out. It's a combination of all three that determines what's going on and potentially causes me to check out or audible to something.
Q: What are the fundamental differences playing quarterback in the west coast offense compared to Norv Turner's Zampese offense? And, what if any, adjustments have you had to make to excel in Norv's scheme after playing in the west coast scheme? - Joe MontanezA: One big thing is the mentality of the offense. My first year, we took a lot of five step drops, we didn't throw the ball down the field very much. We didn't stretch teams. Things were 15 yards and under and that can allow teams to sit on you. With Norv, the majority of our passes were 7 step drops, play action passes, deep drops, really stretching teams. We threw a lot of balls 30, 40, 50 yards downfield and really made teams defend the whole field. That was a big difference between the two. The biggest adjustment for me from one to the other was that the throws are different. In Norv's system, you are holding the ball a long time and pushing the ball downfield. I had a lot of checks, and had to know how to read defenses very well. I wasn't asked to do that much my rookie year. I had to know a lot more last year.
Q: You've probably been asked before, but what dose the departure of Coach Turner mean to you? Do you feel that you've lost a good teacher or gained a better one? - Lee BarnhartA: At the time, it was disappointing that he was going to head to San Diego but I was fortunate to spend a year under him and I really feel that I grew a lot under him and to play that many snaps and take all of those reps, that's something I'll take with me and benefit from the rest of my career. But, we're not dwelling on it. We've moved on and Coach Hostler has stepped in and the foundation will be the same, but we'll do some things differently. He's done a great job of realizing our strengths and the things we need to get better on and we're trying to grow off what Coach Turner set in place here. Hostler has done a great job with that and I think what we're doing this offseason will be key next year. Also, having Trent Dilfer is big. He's a great tool for me because he's played in so many systems and understands the game so well, so it's been a fluid transition.
Q: In the past few years the website, "MYSPACE.COM" has grown and have had numerous accounts stating to be you. Do you actually have a myspace account? TrbogliNone of the accounts are me. They are all untrue. I've actually tried to shut down several that have impersonated me. I've had NFL security involved in it but they just keep popping up again. So please, do not feed into it because none of them are mine.
Q: In January, you had mentioned one of your New Year's goals was to put on 10-15 pounds of muscle before the start of the '07 season. How is that coming along? And what steps are you taking to put on that weight? - DannyA: I'm getting there. It's coming. It's tough obviously. I push myself pretty good in the off-season and I work out quite a bit, and I've dropped body fat. I think I was around 6% in my last test so if I put on another seven pounds, I'll have hit my mark. I'm on my way and I'll keep working at it.
Q: How do you think the offense will be improved with the addition of Darrell Jackson, Ashley Lelie and Jason Hill? - Max HaleA: I think the addition of the three new receivers will help us tremendously, especially with depth. I think that's something we were kind of lacking in the receiving ranks the last few years. To get some guys who have had experience and have played in the league for a while and to combine them with the guys we have here is only going to help this team. The more targets we can put out on the field, and the more options the defense has to defend, the easier it'll be on us and the harder it'll be on them. I'm excited about it. We'll see what the rookie can do, I've been impressed with Ashley, and of course, we've seen first-hand what Darrell can do.
Q: What kind of music do you listen to before games and do you have any pre-game rituals (i.e. read any specific book)? What is your favorite mantra? AndreaA: I listen to all types of music – hip hop, even a little country. Before games, I'm not actually into listening to music though. As a quarterback, I'm trying to stay levelheaded and even keeled because it's a long game. I don't like to get too hyped up. I'm naturally ramped up before games with a lot of energy anyhow. Rituals, I don't have too many but if we did something and won that week, I'm usually going to do it the next week and not try to break that streak. As for mantra, my dad always talks to me about is staying within myself, not trying to do something that isn't me or be someone I'm not, and just being myself out there and letting the game come to me. That's something I do think about when I play the game.
Q: I've noticed that the last two years you have tightened up your throwing motion and have a quicker, shorter release. Is this something you continue to work on? Also, which coaches have helped you the most in this regard? WayneA: When I came to the NFL, that was something I needed to work on. In college, I thought I had a quick release but it was a long motion, more range of movement with the football when I threw and that is something I've worked on since coming in because you don't have a lot of room to throw the ball in the pocket at the league level. You have to be condensed and have a shortened motion, and still be accurate with it. That's something I've worked on with the coaches since getting drafted, and also a lot with Trent Dilfer.