First-round draft pick Kentwan Balmer answered a few questions from the fans in this 49ers.com Q&A. Check it out...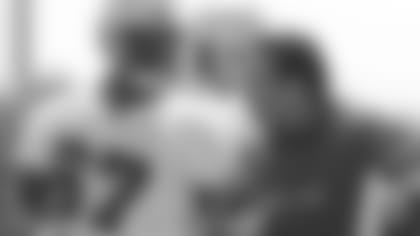 Q: What number will you be wearing for the Niners this season - will it be in the 90s or is it going to be 67 as you have now? -Miguel c. Fresno,CA**
A: Apparently several people asked this question and really I have no idea. I wore 90 in college but Isaac Sopoaga has that number so it was not available when I was drafted. They gave me #67 and I guess there might be a number in the 90's that could come available but I have no idea. I'm just kind of waiting. I really don't know.
Q: Do you expect to start your rookie season? Patrick Willis was so good his rookie year, so do you think the fans are going to put more pressure on you to show production like he did? - JayA: I don't think so. It's two totally different positions. I do expect to come here and compete for a starting job, but if I don't get one, I don't feel that is a disappointment to the fans because we do have very good players here.
Q: On the 49ers D-Line, would you prefer to play as a run-stuffing defensive lineman or as a pass-rushing defensive end? - Cary SekoffA: Either or. It really doesn't matter. I feel like I can do either or. Whatever the team needs at the time, I feel like I can do it. Whatever role they want me to play, I'm going to play that role to my best. So, it doesn't matter to me which I'm doing.
Q: You made quite a rise in the ranks of draft eligible seniors during this past season at the University of North Carolina. How do you think your last season playing for the Heels prepared you for your new roll with the 49ers? Would you recommend that players just out of high school attend the UNC football program? -Thanks!, Robert Bell, Smyrna, Georgia
A: It just taught me how to take a professional approach to the game. Just going through the practices and going through our individual drills and the whole practice with an up tempo speed definitely helped me keep up with the guys here back at my first mini camp. I definitely think I learned a lot last year and that it will continue to help me. As for your second question, I would recommend any kid coming out to definitely get involved at UNC because those coaches have done it. I'm a perfect example. A guy who maybe wasn't going to get drafted transformed into a first rounder. Those coaches are NFL coaches and they'll have those kids prepared so I would definitely recommend high school players to go to UNC. Those guys will help them, personally as well as on the field.
Q: Hi Kentwan. I first want to say congratulations for getting drafted and becoming part of the team. We're anticipating some big things from the Niners this year. My question is, do you think it will be difficult getting adjusted to living in San Francisco? What's it like making the transition from North Carolina to California, and how's it going for you so far? Thanks, Big Ern, TXA: It's a little different from what I'm used to but I've got the older guys to lean on and they are helping the transition. This is the first time I've really been away from home and this is the first time I've ever really been on the west coast. The older guys have been picking me up and taking me to do the things I need to do. I really appreciate that. It's a nice area out here. I don't know my around quite yet and haven't seen all that much, but it's nice. It's a beautiful place.
Q: First, welcome to the 49ers! I was watching the draft (every minute) and when the 49ers pick came up I texted my brother to tell him all the options they had. I hope you'll agree that they made the right choice. My question is about your role on the line. As a DT there are penetrators and space eaters. Which do you think you are? And for all us Faithful, what sort of impact do you hope to bring from day one? Really glad you're a 49ers. Matthew Leistikow Portsmouth, Va (via Yuma, Az)A: We plan to do a little bit of both. We are going to line up and do our job and knock people back. We have a quality defensive line, guys with a lot of versatility who can play the run and rush the passer. I think we'll be a balanced front and I think they made the right decision in drafting me because I'm going to come here and work as hard as I can and learn as much as I can from the guys around me.
Q: First, as not only a Niners fan but a Heels fan as well, welcome aboard! I wanted to know who your defensive line idols are and who you try to pattern your game after. My favorite quote from you - "I'll bite off their leg." I you bring the no quit and every down attitude like that then I look forward to watching you on Sundays. Sincerely, BrendonA: My favorite guys coming up – I liked Richard Seymour, a very versatile player for the Patriots. I liked Reggie White and Lawrence Taylor when they were playing. I watched Justin Smith play a lot, and now I get to see him up close and he's a beast. I like the big boy from Jacksonville – John Henderson. I liked Warren Sapp when he was with the Bucs and the Raiders. There are quite a few defensive linemen that I like. And, I am going to bring that mentality every down and that's what I plan on doing every time I step on the field. I'm going to go 100% or go home.
Q: Growing up a Niners fan, what was your most memorable moment watching the Niners play, where were you and how do you recall it?  Best Regards and good luck. – Big RomeA: '94 when they played the Chargers and the goal line stop they had against Natrone Means. That stands out because I remember my daddy jumping up and down like a kid. That was a critical point in the game and Natrone Means was a Carolina guy. It's kind of ironic now that I ended up here and it does stick in my mind that my favorite 49ers moment was my fellow Tar Heel against the team I'm now with.
Q: Hi my name is Christian and I have been a 49er faithful since I can remember. I have a couple of questions for you: 1. Would you rather play tackle or end and why would you choose that certain position? 2. Do you play better in 3-4 scheme or a 4-3 scheme? If you don't mind answering those questions for me! - Sincerely, Christian GuiebA: It really doesn't make a difference to me. I just feel if you go out and do what you are coached to do, whether you are playing end or tackle, if you just line up and go with your technique and give effort every down that you'll be successful. I've been in a 3-4 and I've been in a 4-3 and I've played end and the nose and moved around a lot in college so I feel comfortable wherever. Wherever they want me to play, I can play. I'm not saying I'm going to be the best right away but I'll work hard until I am the best at wherever they place me.
Q: Kentwan, One of the things I noticed and liked about your attitude when you were chosen in the draft was your genuine willingness to do whatever it takes to help the team. Where and how did you develop this? --Thanks, Mark Weaver, Anchorage Alaska (49ers fan since the days when Y.A. threw Alley-Oops to R.C.)A: I have never really been a selfish guy. I learned at UNC that you can play well within the system and that you can also still make it happen for your team. Patrick Willis is a Pro Bowl player here, and we've got a lot of talented, quality players here and if I help them, I can help myself also. It's never been about me. It's just been about the team. I don't know where I really got it from. It's just how I've always felt. I just want to win. That's the ultimate goal and I think we all are going to give whatever it takes to get the W.