**Thanks to everyone who sent in questions over the last few weeks. We've selected a few and gotten answers from linebacker Takeo Spikes.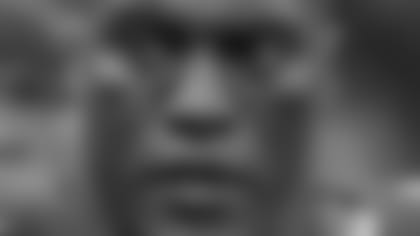 Q: Hello Mr. Spikes, I have a question after watching us lose to the Dolphins. How come we continue to give up these explosive touchdowns, a lot of the time to guys who aren't considered top threats? Leonard Weaver from Seattle came in and scored two touchdowns on us, and I know David Martin had several catches prior, but Joey Haynos? He gets his first career reception ever and it's a touchdown? When will we finally turn the corner on these breakdowns because they are real blemishes in an otherwise dominant day for the defense? What's happening on these plays?  - Jason Allister, SF fan in Miami **
A: When we're in position to make the play, we just have to make the play. It doesn't matter who it is on their end, or who it is on our end. If somebody is there to defend it, we just have to make those plays.
Q: What's it like to lay a big hit on a player who you know or are friends with?  - -Ernest Tomasi
A: It's the only time you know you're going to have bragging rights for the entire offseason. Every day, not sometimes, but every day you know that you got one-up on your guy. So, it's something you enjoy.
Q: Who were the players you looked up to when you first came into the NFL? How important is it for you to be that for some of the younger guys?-Terrence
A: Junior Seau, just because of the way he played the game. I think it's important to be that mentor for younger guys and be a role model for them. A lot of times, younger guys who are in the 21-23-year old range and in the NFL, are thrown into a situation where they don't have a lot of training as far as off the field things. For us veterans, it's important that we go back and tell them the things that we've learned over the course of our careers.
Q: What do you think is the reason that you and my beloved 49ers are playing so much better under coach Singletary? -Robert Emerson
A: I think its accountability and attention to detail. Those are things that I know Singletary
expressed to those of us in the linebackers room, and now he's just had a chance to spread that message to the entire team. Guys have taken it in and responding well.
Q: First off, I want to let you know I've been forced to follow you early in your career as my twin bro is an avid Bills fan. It was a huge joy to hear you were coming to San Francisco finally! My question is how much more does it psyche you up on game day to know that you have a young -up-and-coming star in Joe Staley to play next to, mentor and dominate with? Does he remind you of yourself when you were new to the league? -Thanks, Big Rob, ATL, GA
A: It's cool to me every day just for the fact that he pushes me. For me to see him play and do what he does, his demeanor – it was me. Honestly, it's like me looking into a mirror. That's the reason why we clicked right away with each other.
Q: Should the 49ers keep your current head coach Mike Singletary or take their chances with someone else next season? - Paul Lovisa
A: I think they should keep him. On a personal level, I would like to see him stay. But at the end of the day, it's all about your résumé. That will be the deciding factor at the end of the year, and it won't be made by the players.
Q: Hi Takeo, you're really great dealing with all the media. You're personable, insightful and funny. Are you perhaps thinking about working as an NFL commentator or color analyst once you retire from football? -Cary Sekoff, San Francisco
A: Thank you, and absolutely. I definitely plan on doing a little radio work and being an analyst eventually.
Q: What kind of weight training routine do you go through to be such a great linebacker? Also, does your routine differ during the off-season from the regular season? -Michael Hanson
A: It differs. I go through a very rigorous training. I train throughout the whole offseason mainly because I want to get my body in shape to go throughout the long haul. Anybody can last a month or six weeks, but when you have five months consistently going, going, going – you have to be able to withstand that. That's why I do my offseason training like that. My in-season training is more so about maintenance and doing what I can do. If I can't do something, I'm going to focus on working on something else. 
Q: You have been one of my favorite players even before you came to the 49ers. I watched you in Buffalo and thought you were great! What intrigued you to come to the 49ers? - Emu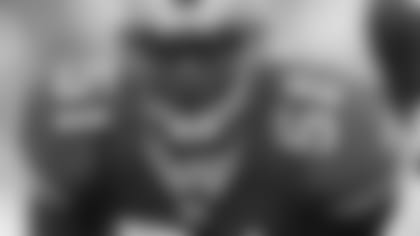 A: It was because of the opportunity. Going back to the offseason and how I did my due
diligence, looking at what the 49ers have done in the past here, I was excited to be a part of it. I felt like this division was up for grabs to win. And I felt like the 49ers had the best opportunity to win the division, especially with how they finished last year.
Q: You're a valuable player to the 49ers defense, how do you feel about the possibility of spending the rest of your career in San Francisco? -Jay
A: I would love to, especially if I had a wish-list, and I'd want coach Singletary to remain here as well. But I love it. Initially, I never thought I would like the West Coast, but since I've been here, to be honest with you, I'm looking at staying out here after the season is over with. I'm not in any hurry to go back home.
Q: You've played in both a 3-4 and 4-3 defense. Do you think the 49ers are better suited to play one or the other? - -Jeff, Illinois
A: I like the scheme that we're in now. We have the personnel to do it, so the 3-4 is the best fit
for us.