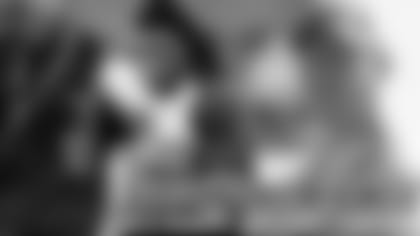 In his latest Eye on the Midwest blog, area scout Ethan Waugh checks in to talk about his visit to the 49ers training camp and the start of his scouting work. **
Just prior to the start of training camp, all of the scouts head to Santa Clara to begin preparations for another year of scouting, as well as to finally see the results of last year's efforts.
It is great to see all of the other scouts again.  As a rule, we only see each other during meetings, the combine and the draft, so it was fun to get caught up and get to know our newest scout, Reggie Cobb.   
The first thing we do is meticulously review our entire scouting process.  We talk through exactly what Scot McCloughan, Trent Baalke and Dave McCloughan are looking for in our reports.  Then we examine the specific characteristics that we are looking for in each offensive, defensive and specialist position.  After a few days, we have examined each aspect of the scout's responsibility from training camp until draft day.  
Each year we split up the 49er roster into position groups and assign a scout to evaluate a group throughout the time we are in Santa Clara.  This time, I was given the receivers.  In my opinion, the group really performed well.  There is great competition within the group from top to bottom.  Not only are the established veterans having good camps, but you can see the younger, less experienced players improve with each practice.  Additionally, we have a number of versatile receivers this season – they can play both inside and outside positions and have return skills as well.  In the NFL, the ability to contribute at more than one position makes a player tremendously valuable.
Upon leaving Santa Clara, I had time to return home for a day before I officially went on the road - It was great to see the family one more time before I left.  On Sunday, I packed up the car and pointed the car west towards Murray, KY.  Murray State University would be my first stop.  
Murray State is an FCS program (formerly known as I-AA), but they have some quality skill players on both sides of the ball as well as some solid linemen.  They definitely are worthy of a return visit later this fall to gauge their progress.
After watching Murray State's practice and visiting with their coaching staff, I jumped back in the car and drove to Louisville.  They Cardinals were practicing later in the afternoon, and I was able to see practice and meet with a number of their coaches about their senior class.  Although it was warm when practice began, storm clouds moved in and head coach Steve Kragthrope moved the last few drills to their indoor practice facility as the rain started to fall – I left my rain coat in the car, so I really appreciated the move.
Leaving Louisville, I drove the through the storm to Lexington, KY.  I would visit the University of Kentucky and Eastern Kentucky University the next day before I worked my way north into Ohio.  It was a busy week, hitting two schools on most days, but I covered a great deal of schools and saw a number of excellent players.  
On Friday evening, I made it to my hotel in Streetsboro, OH, just in time to catch the 49ers game against the Broncos on TV.  It was great to see the team get off to a winning start and see so many young players and veterans alike contributing to the victory.  
I'll have more updates from the road and my thoughts on the remaining preseason games in my next blog.