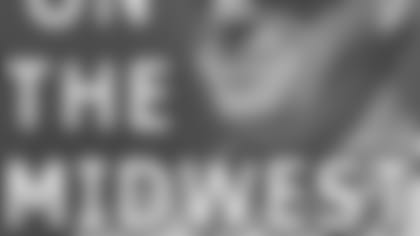 49ers college scout Ethan Waugh has been busy the last few weeks. Catch up with him in this latest Eye on the Midwest blog. **
It's been a while since I've checked in, but after I left off on my last blog in Cincinnati, I made one more trip to Ohio State. Once again, Director of College Scouting David McCloughan and I spent the day together. Roughly a dozen scouts from other clubs showed up as well, and the Buckeye staff was gracious enough to provide us with two meeting rooms to watch film. Ohio State had an off week, so they did not practice, but we took full advantage of the extra time and watched tape well into the evening. We focused primarily on the most recent games and received a detailed report on each of the seniors from their Director of Football Performance, Eric Lichter. Coach Lichter has trained a great deal of NFL players and has a great feel for not only a player's athletic ability but his competitive desire as well.
All of the usual suspects are having great years for the Buckeyes. It would seem impossible for James Laurinaitis to live up to all of the hype he has received, but he certainly has. He is providing physical play inside and great leadership as the Buckeyes chase the Big Ten title.
Additionally, corner Malcolm Jenkins is providing a physical presence on the perimeter. He has played corner, safety and nickel at various points in his career and has also blocked two kicks this season. His versatility causes mismatch problems for most teams.
Leaving Columbus, I made a stop at Eastern Kentucky, where I caught up on tape of all of my Ohio Valley Conference Schools. Then, I filled up my gas tank and headed south to spend Halloween with my family.
My oldest son, Spencer, dressed up as a tiger and my youngest son, Carter, dressed as a skeleton. It was the first Halloween that Spencer could really enjoy trick-or-treating, and we tried to make it memorable for him. We picked out a huge pumpkin, carved a scary face in it and generally had a great time. I do not know what he enjoyed more – eating candy or growling at people like he was a tiger.
After my trip home, I started working my way back through Western Kentucky and then dropped in to visit Ball State. The Cardinals are one of three non-BCS conference teams still undefeated (along with Utah and Boise State). Thanks to their dangerous offense, no team in the country wants to play Ball State. Despite losing star receiver Dante Love to injury, the Cardinals keep rolling. Their offensive line features three senior starters, including RT Robert Brewster, provides plenty of time to pass and opens gaping holes in the run game.
Heading north from Muncie, I spent a few days in Michigan. The University of Michigan is having a disappointing season, but that does not mean that they are devoid of prospects. Most of the Wolverine seniors are on the defensive side, and they have a particularly strong defensive line. Terrance Taylor is a powerful inside presence – he was a power lifting champion in high school – and end Tim Jamison is a physical force on the edge.
Michigan State is having a great season and is in the running for the Big Ten title. Star running back Javon Ringer is having a spectacular season and has already accumulated over 350 carries. Perhaps the highlight of my visit to East Lansing was sitting down before practice with former Spartan head coach George Perles. Coach Perles was on the staff of the great Pittsburgh Steeler teams of the 1970s before coming to Michigan State and had some amazing stories to tell.
This past week, I drove west to visit the Illinois and Wisconsin schools. This is the last week of the season for the Big Ten teams, so I wanted to see them all one last time before I polished up my reports.
Northwestern is down to their third running back, but is still playing great football. One of the Wildcats' best prospects, running back Tyrell Sutton, is out for the remainder of the year after injuring his wrist, and so is his backup. However, quarterback C.J. Bacher and three senior receivers are picking up the slack. With an 8-3 record at this point, Northwestern is having one of the best seasons in school history.
After leaving Evanston, I drove up to Madison to see the Badgers. Wisconsin is one of my favorite visits based on their hospitality and tremendous video arrangement for scouts – we watch tape in their receiver meeting room on a gigantic projection screen. The Badgers have been playing good football of late. Although they lost athletic TE Travis Beckum to injury, linebacker Deandre Levy has been playing extremely well. After putting in a full day watching prospects, I went outside for practice – it was extremely cold, but I was prepared with multiple layers, a stocking cap and gloves. Fortunately, Coach Bielema took the team to the indoor facility after the first half of practice and I was able to thaw out.
After Wisconsin, I will be heading back to Ohio for a great slate of weekend games. I will see the Michigan/Ohio State game in Columbus before driving to Cincinnati to see the Bearcats play Pittsburgh. Both games have conference title implications. It will be interesting to compare the magnitude of the Ohio State/Michigan game to some of the other great rivalries I have seen, such as USC/UCLA, Cal/Stanford, The Apple Cup, and Army/Navy.
From Cincinnati, I will head to Virginia for the East Coast Bowl, the first all-star game of the year. The game features 75 of the top FCS, Division II, III and NAIA players from around the country. It will be an exciting week, and I will follow up soon with all of the details.