In his latest Eye on the Midwest blog, area scout Ethan Waugh checks in to talk about the biggest games he's scouted so far, his favorite place to eat on the road and his thoughts on the 2009 49ers ballclub.
After spending nearly a month on the road visiting college training camps around the Midwest, I officially opened the season by taking a trip to the University of Michigan to see the Wolverines host Western Michigan.  This was my first chance to attend a game at the "Big House," and it is easy to see how it earned its name - over 109,000 people in a stadium is certainly an impressive sight.  Luckily, the Big 10 Conference is allowing the scouts to sit in the press box this season, so it was a much better working environment than sitting in the bleachers.  
The Michigan team was also impressive that day, starting the season off with a big win.  Their spread offense is really developing and is led by two senior running backs, Brandon Minor and Carlos Brown.  The defense also played extremely well that day and is led by senior defensive end Brandon Graham – one of the nation's leaders in tackles for loss.  
The following weekend's schedule allowed me to see two games.  In the afternoon I was able to see Division II Ashland College play Michigan Tech, and then made the short drive to Columbus to see the Buckeyes battle Southern Cal that night.  Both games featured great atmospheres – Ashland was opening their beautiful new stadium, and the Ohio State/USC matchup was arguably the biggest game of the young season.  
The intensity in Ohio Stadium was incredible – after a full day of tailgating, the crowd was really energized.  Both teams played smothering defense and the game went down to the wire.  Ohio State 's defense is led by a strong group of seniors – Safety Kurt Coleman is a physical player, and four senior defensive linemen anchor a front that is as deep as any in the country.  
Now that I have a year under my belt in the Midwest, I am becoming a great deal more efficient.  All of the little things that take extra time in the first year have been ironed out – Now I know the best places to park, the best bagel and donut shops (we generally supply the coaching staff with breakfast), the hotels that are closest to the campus and the short cuts from one school to the next.  Nothing can ruin your day like taking a wrong turn, but those have been few and far between this fall.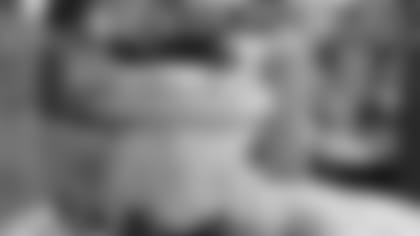 The other difficult thing about life on the road is trying to find a good place to eat.  A scout can easily get caught in the fast food trap, so I try to eat at local establishments as often as I can.  In Columbus, OH, for example, a veteran scout recommended a place called the Thurman Café.   It is located in German Village and serves gigantic burgers – so big that I can only eat there once a year.  Take a look at this picture and you can understand why...
This fall, I have been able to catch a few more of our games on TV than last year.  Like all 49er fans, I am really optimistic about the direction of the team.  It is great to see the veterans playing well and the young players coming into their own.  Hopefully we can stay healthy and continue to improve each week.
Because the fall is so hectic, it is difficult to find time to spend with my family.  Other than a brief stop at home to pack after training camp, I really have not made it back to South Carolina very often.  My wife and two boys did make a trip up to Indiana meet me for a weekend.  It was great to see the kids – we took them see their grandparents and had a blast.  I will get to see them again this weekend – I will get home late on Friday night and then we will take them trick-or-treating on Saturday before I bounce right back out on the road.  
This past Monday, I spent the day at Hillsdale College, a Division-II school in Michigan – It is always one of my favorite visits because it is such a beautiful campus and the coaches are truly great guys. The Chargers really attract talented kids – last year they had a linebacker sign with the Steelers and this fall they feature a huge offensive lineman named Jared Veldheer (6-9, 321) – one of the biggest players I will scout this season.  
For the rest of last week I made stops at Akron, Kent State, and Ohio University before heading to the Cincinnati-Louisville game last Saturday. I'll have updates on those stops in my next entry.
Thanks for reading my blog; I look forward to updating everyone from the road in a couple of weeks.