Heading into this season, the 49ers defense wanted to establish themselves as one of the best units in the NFL.
After last Sunday's 20-16 win over the defending NFC champion Arizona Cardinals, it appears as though the 49ers defense is on their way to do just that.
But with another matchup against a talented NFC Western Division foe in the Seattle Seahawks this Sunday, the 49ers will have to continue putting together impressive performances in order to garner league-wide respect.
"We've played one game and we had a good performance. I wouldn't say it was great, but I think it was good," 49ers defensive coordinator Greg Manusky said. "Can we get better? Yes. I think across the board we can."
More so than becoming a top-five defense, Manusky's players came into the season looking to improve their pass rush as well as their number of takeaways. So far so good on those fronts after the 49ers defense sacked Cardinals quarterback Kurt Warner three times and intercepted two of his passes.
And while it was a team effort that created pressure on Warner and forced the turnovers, Manusky felt like one player in particular stood out to him more than the rest when he watched the game film.
In his 20 years in the NFL [12 as a player, eight as a coach] Manusky said he's never seen a player play as hard as defensive co-captain Justin Smith did for 64 snaps against the Cardinals.
Manusky would like nothing more than to see one of his defensive captains continue to play to the level he established after week one. As for how Smith was able to apply constant pressure, Manusky didn't have a direct answer.
"I don't know, maybe he's superman," Manusky said with a smile. "I was just happy for him. [Defensive line coach Jim] Tomsula and him, they work hard together, and I think the group in there as a unit, the guys around him, like his attitude, like his desire, the way he goes at it and with his fever. It's great to have him as a part of the organization."
The 49ers defensive tackle was constantly pressuring Cardinals quarterback Kurt Warner registering 13 quarterback pressures, nine hits [according to 49ers coaching tape] and a sack on the final play of the game which sealed the win.
But Smith said the work of his fellow defensive linemen allowed him to make all of those plays in Arizona's backfield.
"It's definitely all four of us working together when we're rushing on base downs," Smith said. "You have to have outside pressure to make the quarterback step up in the pocket and you have to have inside pressure so you make the quarterback step back.
"Without the outside and inside guys working together, nothing works."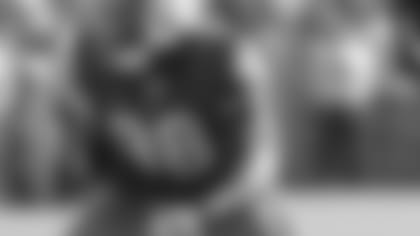 Aiding Smith's dominance was outside linebacker Parys Haralson, who had much to do with Warner's lackluster performance. Haralson totaled six hits on Warner including one that counted for a sack. Although he and his teammates put together a solid week one performance, Haralson knows that it was only the beginning of how the unit can play all season long.
"Last week gave us a lot of momentum but we need to go out there on Sunday and play our defense," Haralson explained. "Our defense is 11 guys flying to the ball, trying to make plays and help the team win. Last Sunday was a good step in the right direction, but we're going out right now trying to get better."
With Smith and Haralson coming off impressive opening day performances, the duo along with the rest of the 49ers defense looks to continue their play in Sunday's home opener against Seattle.
The Seahawks feature a similar offense to the Cardinals in terms of depth of talent, but use more of balanced offense than pass-happy Arizona.
Last week, Seattle ran 36 passing plays and 34 running plays in their 28-0 victory over St. Louis, compared to the 44 passes and 17 run plays from Arizona last week.
"I think every offense you face is different, based on run-game, pass plays – all that kind of stuff," Manusky said. "I don't know if it prepares you for anything. We just play the game, then you scratch the board and you move on to the next game."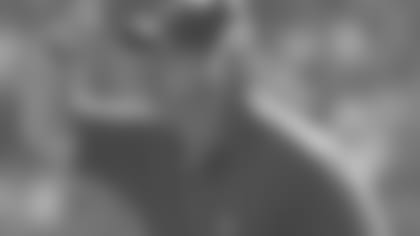 One thing that differentiates the Seahawks from the Cardinals is the use of the tight end. Come Sunday, the 49ers will have to be aware of Seattle's tight end, John Carlson.
The second-year player out of Notre Dame caught six passes for 95 yards and two touchdowns, proving to be quite a reliable target for quarterback Matt Hasselbeck, especially in the red zone.
"Just from looking at him on film, I feel like he's going to be one of the good tight ends in this league," free safety Dashon Goldson said. "He runs good routes, he's a big body guy and he has decent speed. So we'll have our hands full with him and their whole receiving core."
The matchup between Seattle's wideouts and the 49ers secondary will look quite differently than it did when the two teams met the first time around in the second week of last season.
In that meeting, the Seahawks were without a number of their starting wide receivers. But this time around, Seattle has replenished their play-makers on the outside.
Into the starting lineup is free agent addition T.J. Houshmanzadeh, a veteran wideout who many has the respect of many of the 49ers defensive players.
"Bringing in T.J., a guy who is been consistent, getting him I'm sure they were excited about that," cornerback Dre' Bly said. "But they also have some capable guys outside who can make plays. They seem to be rolling now. I'm sure they're ready to compete with us."
But Bly likes the chances of the 49ers secondary against Seattle's offensive weapons.
With the pass rush the likes of Smith and Haralson demonstrated after week one, it's hard to blame him.
"Anytime you dominate the trenches like we did this past Sunday it leads to great things for us on the back end and we were able to make some plays," Bly said. "We look to do that again on Sunday."
If the 49ers are able to put together a similar performance like the one they had in the desert, becoming a top-five defense will only happen sooner than later.