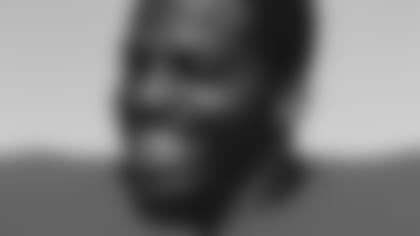 As an associate pastor at New Hebron Baptist Church in Arcadia, Louisiana Fred Dean delivers sermons to the masses every weekend. On Saturday, August 2, he'll have another sea of faces to spread the good news to as the former 49ers defensive lineman will give his thoughts on joining the NFL's elite in Canton. Dean has discovered that this particular speech has been much more daunting for him to write than his weekly gospel missives. Since the Saturday before the Super Bowl back in early February when he received word that in his 18th year of consideration he'd finally been voted into the Pro Football Hall of Fame Class of 2008, Dean has thought long and hard about how to sum up his 11-year Hall-worthy career, and the men and women along the way who helped make it happen.
In an interview with staff writers for the 49ers, Dean shied away from sharing any tidbits from his speech, afraid that he'd put it out there and then maybe change his mind before his big day. *
Former 49ers owner Eddie DeBartolo will present Dean, and between the two of them, here's what you might hear about the man who began his career with the Chargers in 1975, and then headed north to the 49ers when Bill Walsh struck a deal for the fierce pass rusher in 1981. It was a move that NFL Films historian Steve Sabol has called "the greatest midseason trade in NFL history," and one that Walsh believed helped San Francisco to secure their first World Championship ever.
"We didn't know it at the time," Walsh once said of Dean, "but he turned it around. It all started in that first game. He did things that shocked everybody."
Long before the influences of his first football coaches in high school, Dean learned the importance of discipline and hard work from his family role models back in his hometown of Arcadia, Louisiana.
If Dean desired something, like a new bike to ride around his neighborhood, he knew he'd have to work for it.
"I would say my mother, father, and uncle definitely instilled my work ethic in me," said Dean. "Those three always explained to you, if you want something, you work to get it. The biggest thing they instilled was us working for what we wanted in life and having something when we grew up."
But Dean singled out his mother as the reason of his success on the football, ironic considering Rosalie opposed her son's interest in the sport. Dean said he went against her better judgment and played anyhow, and that his mom eventually became his biggest fan.
"A lot of the guys in the NFL, their mothers probably didn't want them to play either," said Dean. "I know she was concerned about me getting hit, all of that, because I was very small."
Rosalie might not have wanted her son exposed to injury on the field, but as a church-going woman and a believer that kids should be disciplined, she never shied away from inflicting punishment.
"Back in the day, mom wouldn't spare the rod. Sometimes mom would whip me before she would leave and I hadn't done anything. I'd ask her why, she said, 'just in case'. Today they call it abuse, but I called it discipline. She struck the fear of god in you, but it was all out of love. It's one thing to take a whipping out of love, and then it's one thing just to take a whipping."
As an adult, Dean seldom took a whipping. Instead he was usually responsible for dispersing the hits. Sacks weren't an official stat until 1982, but estimates of his sack total are believed to be near 100.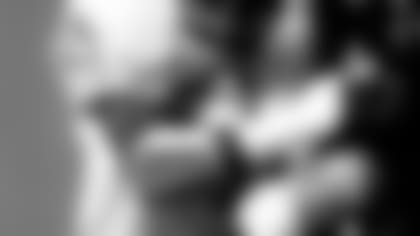 Located about 14 miles from Dean's childhood home in Arcadia is the city of Grambling, most known for its historically black institution, Grambling State University. 18 miles away is Ruston, home of Louisiana Tech.
At the time Dean was considering college, Grambling's legendary coach Eddie Robinson operated a very successful and winning program that through the years would send more than 200 players to the NFL. So it was a bit of a surprise when Dean spurned Grambling by electing to attend Louisiana Tech - a much lesser known program.
"I had seen Coach Eddie Robinson but I had also seen Coach (Maxie) Lambright. The big difference was my grandmother had a house right by the stadium," recalled Dean. "You could sit right up on the edge of the field and look down on the game. That's what I would do sometimes, me and my friends. Jokingly, I'd say to them 'one day I'll be down there,' never really imagining that it would be, but that's what happened."
Dean helped elevate Louisiana Tech's program to their first ever NCAA Division II national championship in 1973. Named a first-team all-SLC selection all four years of his career, Dean would enjoy three national championships in all.
It might have been his first taste of winning, but it wasn't anywhere close to being his last as Dean would go on to play on five division winners, in three NFC Championship games and twice achieved the ultimate prize with two Super Bowl victories with the 49ers.
THE ROOKIE

Although Dean's stature grew once he joined the San Francisco 49ers in 1981, the San Diego Chargers were the first NFL team to lay claim to the Louisiana Tech talent. In 1975, San Diego used their second-round pick on Dean, who wasted no time making an impact. In his rookie year, Dean notched seven sacks, and recorded 93 tackles and four fumble recoveries.
"When I first went into the league, we had a game in New York and I had never been to New York and I had never seen buildings so tall," said Dean of his rookie year. "I was walking on the street with Coy Bacon and some of the other veterans, they let you tag along, and they were trying to rush me on. I was just poking along looking at the buildings. They said, 'what are you doing?' My response was, 'I bet those buildings will hold a lot of hay.' I was always amazed at the things I saw and had it not been for the NFL, there were a lot of those things I wouldn't have seen, a lot of people I wouldn't have met. I've had my ups and downs, but more ups than downs."
By 1978 he had more than doubled that sack total with 15.5 as the Chargers posted a winning record, their first since 1969.
He came up with nine sacks in 1979 and 10.5 in 1980, and without question helped San Diego experience more ups than downs as the Chargers claimed two straight AFC Western Division Championships.
THE BIG DEAL

Six games into the 1981 season, 49ers head coach Bill Walsh swapped with San Diego for Dean's services, giving up two draft picks for the defender.
Once again, Dean needed but a few practices with his new team in order to quickly get off to an amazingly solid start. Told by Walsh he'd be used sparingly in the upcoming game against the Cowboys, a detested rival that San Francisco hadn't bested since a Thanksgiving win in 1972. Dean harassed Cowboys quarterback Danny White with several hurries and three sacks in a 45-14 San Francisco victory.
"Coach was concerned about my conditioning. He said he'd use me for about eight or ten plays, but I ended up playing almost the whole game, so, so much for that," said Dean. "That was kind of a Super Bowl game to me because I felt a lot of positives all around."
He racked up 12 sacks in 11 games en route to the first Super Bowl victory for the franchise.
LOOKS CAN BE DECEIVING

Dean has numerous recollections of his playing days. There was fun to be had between the lines, but off the field as well, like when he used to invite his teammates over for some of his southern cooking.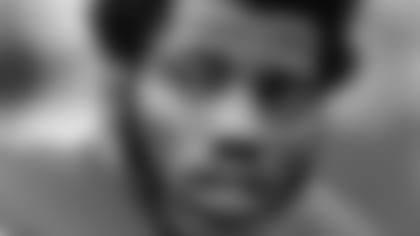 "I'd outdoor some turkey around Thanksgiving and just whip up some creative things and have guys over to try them out. I remember one of the guys one time said, 'if you were a woman, I'd marry you.'
One memory that particularly stands out involved the team's usually no-nonsense head coach.
"Our first Super Bowl, we were walking into the hotel and Coach Walsh had a bellhop suit on and nobody recognized him. He was walking up to take bags and guys were pushing him away."
Maybe that struck a chord with Dean in particular since he too knew that looks could be deceiving.
At 6-3, 230 pounds, Dean shattered the mold of a prototypical pass rusher.
"Because of my size and everything, they looked at me as being small," said Dean. "A lot of them probably licked their chops thinking they were going to have a good time and a good day."
The undersized lineman took it to anyone who underestimated him, relying on his long arms, speed and relentless pursuit to defeat blocks.
Dean's ability and Walsh's vision for him revolutionized the game, giving birth to the concept of a standup defensive end and situational edge pass rusher.
"I was used to playing every down and when Coach Walsh sat me down and told me I'd have a limited role, I didn't really want to go that route," said Dean. "I started for the Chargers and played every down. But what was really good about it is he didn't want me to feel bad if I wasn't in the starting lineup. Instead of just naming 11 people, I was the 12th man.
"And when I came to San Francisco, I think I had something to prove, something to share," continued Dean. "So, I gave it a try and I think I had something to prove, something to share and things really worked out and changed for me."
They sure did. Despite a reserved role, Dean enjoyed tremendous production with the 49ers, maxing out his contributions in 1983, a season in which he led the NFC with a career-high 17.5 sacks. Six of those sacks came in a shutout of the New Orleans Saints, then good for an NFL record for the most sacks in a single game.
WHAT IT TOOK

In recent months and in preparation for his speech, Dean has regularly pondered what it took to establish himself as one of the greatest players in the game. Like most great success stories, it's never just any one thing.
Dean proved to be a force during his time with the Chargers, but his fame might never have grown to what it was had the 49ers Hall of Fame coach not had a plan for him. That's why Walsh was Dean's first choice as his presenter, but with his mentor passing last July, Dean decided upon former 49ers team owner Eddie DeBartolo.
"I had to weigh everything and think of the people who I felt comfortable around and the ones who had changed my life in so many ways and there've been so many," said Dean. "I had to weigh the pros and cons and Coach Bill Walsh was my first thought and then it was Mister Eddie – and the team that gave me that second chance. Coach Bill Walsh, he brought me in. Mr. Eddie, he accepted me."
Dean also credits his success and sack numbers to the help he received from the other 10 guys around him.
"Guys in the backfield like Ronnie Lott and Eric Wright made a big difference," said Dean. "We just had so many guys that when I got to rush the passer, I knew I didn't have to worry about the run because they'd take care of it."
In fact, having some of those former teammates make the trip to Canton to celebrate his enshrinement is what he's most looking forward to when it comes to his Hall of Fame experience.
"Everyone says when their careers are over, maybe they'll actually sit back and let it all soak in," said Dean. "But, it's not what you do, but people you do it with."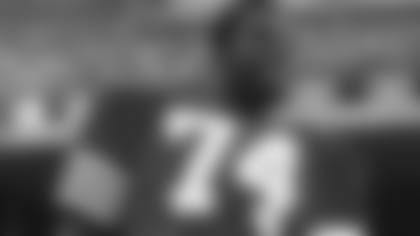 For all of the strength you might hear Dean's former teammates refer to, Dean wasn't much for the weight room. He preferred doing his own unconventional training.
"I did a whole lot of push ups and sit ups, maybe 500 or so. I'd do jumping jacks, and a lot of sprints out on my own. I ran hills or beaches. I did a lot of loosening up exercises."
He also borrowed from the martial arts to develop his pass rush arsenal, as well as other players around the league.
"The hand techniques you use in martial arts and being able to fight off people with your hands makes a big difference," said Dean. "I used various techniques that I'd seen other players use and I'd take them and develop them into something that I could use, or just taking two techniques and joining them together with what I had."
*Talent
---
While others talked up his unique abilities, Dean never viewed himself as anything special.
"I never did get to that point where I thought I was pretty good," said Dean. "When I look back on it, everybody else was saying I was pretty good. I never looked at it from that standpoint. I never wanted to put myself in the limelight."
That might be so, but sometimes you just can't keep that kind of talent under wraps.
LIFE AFTER FOOTBALL

After four Pro Bowl (1980-'82, '84) and more than a decade of playing, the two-time All-Pro (1980-81) retired following the 1985 season.
Finding his way after football proved to be a challenge for Dean.
He tried his hand at various pursuits including ownership of an auto mechanic shop in San Diego which he lost after an IRS audit.
Dean also suffered severe migraines following his playing career and he eventually wound up in the emergency room where he was diagnosed with diabetes.
With mounting medical bills, Dean found himself in a serious financial predicament and was forced to part ways with his Super Bowl rings.
"That was pretty tough, but it happened," said Dean. "It was something that hurt me pretty bad but the bottom line was I knew I had to do it in order to get those medical bills squared away. It was something that I had to do and when it came down to it, it hurt, but I had to do what I had to do."
The turbulence eventually settled once Dean found a new calling. He attended UTS (United Theological Seminary) Bible College and eventually turned his life over to the ministry.
"I found a great peace when I went there, and the thing that turned it all around for me was the ministry," said Dean. "Mom used to make us get up and go to church, and now that I've grown older, I can see what it was all about."
Dean may have changed the game, but through his ministry he's now focused on changing lives.
It took 18 years of consideration, but in his second year as a finalist, Dean was elected to the Hall of Fame.
Dean was caught off guard by the news because moments before he received word he was watching a basketball game when he saw the ticker flash an update.
"I saw something about finalists and then saw Cris Carter's name and I thought those were the guys who got in," recalled Dean. "My wife said, 'no, not again,' and started ranting. It didn't bother me to that extent. But once you've been on alert like that, it kind of drains you.
"Then, once I realized that wasn't the list of selectees was when the joy really rushed to my heart. I got the faint feeling."
It was a moment that he'd almost given up hope of ever experiencing.
"It was kind of a shock to me," said Dean. "Everyone had been saying 'when are you going to get into the Hall? It felt like the pressure was off of me because it finally happened, and I was ecstatic. I didn't really know how to feel. As a matter of fact, it still hasn't sunk in yet."
Over the last few months, Dean's received congrats from too many well-wishers to keep track of, and written just about as many versions of his acceptance speech.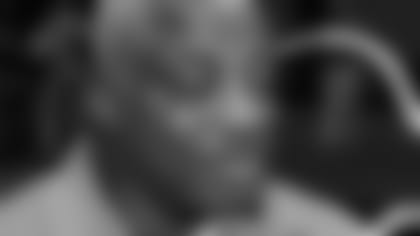 He's flown to Hawaii and enjoyed the Pro Bowl festivities with the other five members of the Class of '08.
He's been fitted for his Hall of Fame yellow jacket, and he's been measured for his bust.
He's also been asked more than once how he wants to be remembered as a football player, or what he hopes someone like his presenter in DeBartolo would say about him as a player.
"It doesn't really matter what someone says," said Dean. "I played the game of football, but now I'm a man of god. That's just as good for me. But, it's whatever they feel in their heart."
And the measurement that truly counts in this long journey to the Hall is that in the hearts of 49ers ownership, coaches, players and fans, Dean does in fact rate as the ultimate success story.