Tight end Vernon Davis checks in again to update the fans on his first ever off-season. This week, Davis is in Arizona training for a few days before he heads back to Santa Clara for next week's start of the 49ers 14-week off-season conditioning program. Catch up with last year's first-round draft pick in this latest off-season diary.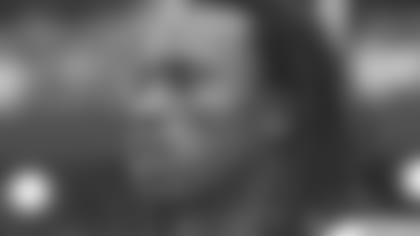 The last time I checked in with everyone was right before the Combine. I did keep my eye on it somewhat, mainly I wanted to see what the tight ends did. I saw a few flashbacks of myself from a year ago, and like I said before, time has really flown by.
I thought the tight ends did well. The group ran well and performed well in the gauntlet I thought.
My time over the last few weeks has mostly been spent back in Maryland at my grandmother's, but right after the Combine I did head to Ohio for a few days. I did an appearance for EAS at the Arnold Expo, along with Larry Fitzgerald and Ronnie Brown. Larry and I worked out a little bit together while we were there. He was schooling me up on some route running.
Earlier this week I headed out to Arizona where I've just been out here training in this heat. Actually it's not too bad considering how hot it will get here in the next few months, but I caught a cold. I hate that, but it always seems to happen when I go from a really cold climate to a really warm one.
While I'm here I train at a place called Athlete's Performance which is the same place I trained last year for the Combine. It's pretty cool. They give you nutritious meals – breakfast, lunch and dinner with large portions which I like. They won't let me eat my brownies while I'm over there, but I keep some over in my hotel room.
I work out every day from 1 until about 3PM. There's a ton of players working out here. Cardinals Darnell Dockett and Karlos Dansby work over here, as well as Redskins Shawn Springs. There's also a bunch of guys training for the Combine. Dwayne Jarrett from USC is here, Michael Bush from Louisville, Notre Dame's Brady Quinn. I've actually been out throwing and catching with Brady a little bit.
We do a lot of stability work here, and they really make sure they keep you on your vitamins and protein shakes and everything. They also have masseuses set up for you so that you can get your body worked on when it needs it.
At night, I usually catch a quick dinner and sit in the pool to stay cool, pretty much a low key existence.
I'm heading back to Santa Clara on Sunday and I'm so excited for the start of our off-season conditioning program. In all honesty, I'm just ready for the season to start already. We signed some guys and I think they are going to come ready to play. I was happy to get another receiver to help us out on offense in Ashley Lelie. I really think we are going to be so good, and I just want to go play already. This off-season has been long enough for me!