SEATTLE – With the signing of Pro Bowl tight end Vernon Davis to a five-year contract extension on Saturday, the 49ers have now locked up arguably two of the best players at their positions for a considerable amount of time.
Head coach Mike Singletary said as much about Davis and fellow Pro Bowl linebacker Joe Staley, both of which signed five-year extensions this offseason.
"I found myself saying this earlier this spring, I couldn't be happier for an individual being able to sign a contract extension to be with the 49ers another five years and that was Patrick Willis," Singletary said in a conference call from Seattle. "Now that Vernon has signed, you're talking about two of the finest players at their positions in the league. That's very exciting, very exciting for our organization, very exciting for our football team."
Davis, now signed through the 2015 season, is always eager to step on the playing field. Knowing he'll be with the 49ers for some time, he's even more thrilled about what's to come.
"It's definitely a blessing," Davis said. "I really look forward to the upcoming seasons and winning games."
What made Davis even most attractive to Singletary's long-term vision for the 49ers was the way he carried himself throughout his career.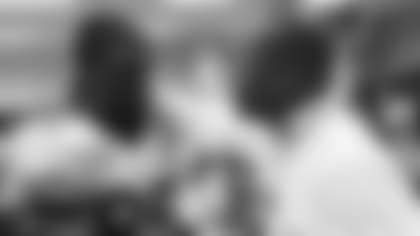 "All you have to do is look at the identity of the 49ers and Vernon fits that," Singletary said. "We're very fortunate to have him here.  He's a great role model for the rest of our players."
With one year left on his rookie contract heading into this year, his fifth NFL season, Davis said he wasn't focused on getting a new deal. He simply let his agents and the 49ers front office handle the negotiations.
"I didn't let it bother me. I prayed about it, my grandmother prayed for me and she said whatever happens is going to happen and only good things are going to happen for you."
Davis' grandmother played a huge role in his early development and it's only fitting Davis is now able to repay her for the guidance she provided him at an early age. Davis' new contract will give him financial security, but most importantly, it allows Davis to do what he does best, focus on playing football at the highest level.
"It's a beautiful thing especially going into the season not worrying about it, now I can go on the field and continue to perform," the 6-foot-3, 250 pounder said.
The contract won't take up Davis' attention for long. As a player who prides himself on being a competitor, Davis is focused on being the best, not the richest.
"I'm not playing this game for the money, it's about passion. That's what I've been doing since a kid. I love this game."
Asked if the contract will create an even bigger bullseye on his back, Davis balked at the notion.
"I'm not worried about that, if you're a competitor; you look forward to the competition."