Every morning there's a familiar sight on the cell phone of 49ers first-round draft pick Michael Crabtree – an inspirational text message from former 49ers cornerback Deion Sanders.
The Biletnikoff Award-winning wide receiver out of Texas Tech who was selected No. 10 overall in the 2009 NFL Draft is one of the many current NFL players on Sanders' recipient list. In fact, the 49ers newest wide receiver says Sanders is like a cousin.
"Big homey – that's what I call him," Crabtree said with a smile while sitting in front of his locker after an offseason minicamp workout.
Crabtree's friendship with the future Hall of Famer developed years ago, when the immensely talented wideout was growing up in Dallas. The bond grew stronger with Crabtree attending Sanders' football camps the last two years. It also strengthened from Crabtree utilizing the former Pro Bowl cornerback's advice leading up to the draft.
The 6-1, 214-pound wideout who will don the No. 15 jersey with the 49ers, used to watch his new team battle Sanders and the Cowboys as a youth.
Back when San Francisco and Dallas seemingly battled every year for NFC dominance, Crabtree was selling concessions at Texas stadium with the rest of his little league football team.
But instead of selling hot dogs or cotton candy, Crabtree would find his way to an empty seat and watch games. One of those contests he witnessed in 2000 was the infamous "T.O. mid-field celebration game."
As a Cowboys fan at the time, Crabtree wasn't feeling former 49ers wide receiver Terrell Owens' decision to celebrate after his touchdown catches on the Cowboys' star… twice.
"I didn't think that was cool," Crabtree said. "At the time I was like, 'Somebody hit him! Don't let him come in our house and do that!"
Now that he's wearing the 49ers colors, Crabtree figures to be the one who opposing fans will want their team to shutdown.
Football From a Young Age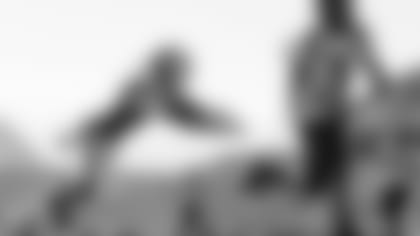 On September 14, 1987, a gifted football player was born in Dallas, Texas. The son of Bessie and Michael Crabtree joined three other boys and two girls in the Crabtree household. From an early age, Michael Jr. was introduced to the game of football.
At the age many children are learning how to run around, then 3-year-old Michael Crabtree was playing organized football.
"I never played at my age level when I was growing up," Crabtree recalled. "I always played above my age group."
Even in the backyard, Michael was playing with his elders.
"My brother Keiron and I used to play football outside every day and he was six-years older than me!"
Crabtree never watched cartoons on the weekends. Instead, he was learning how to become an elusive football player. Back then, Crabtree patterned his game after Hall of Fame running back Barry Sanders.
"I was the type of person who wanted to shake the whole team, run across the field and do all of that just to get six-yards," Crabtree said of his early playing days.
Crabtree took his play-making ability to Carter High School in Dallas, immediately becoming a varsity running back as a freshman. The next year, Crabtree began to play the wide receiver position too before he eventually settled on playing quarterback for his junior and senior seasons.
As a duel-threat quarterback, Crabtree totaled 35 touchdowns (19 passing, 16 rushing) for Carter High. At the end of his high school career, Crabtree had played a variety of positions from defensive back to running back to quarterback. After four years, he was ranked as one of the top players in the Dallas area.
All he had to do was settle on one position for the next stage of his career, college.
Not only was Crabtree a standout on the field in high school, he excelled on the basketball court too.
So much so, former legendary Texas Tech basketball coach Bob Knight wanted him to play for the Red Raiders. Likewise, Tech's head football coach Mike Leach coveted Crabtree as a recruit.
Ultimately, Crabtree decided to focus on football and accepted a scholarship to play at Tech. While he did toss around the idea of playing both sports, even practicing with the basketball team during his redshirt season, Crabtree got the most enjoyment playing football.
Specifically, he craved scoring touchdowns.
That alone caused him to pass up an opportunity to play defensive back at the University of Texas, a dream destination for most high school players from the state of Texas.
"I told coach Brown, 'I score touchdowns!'" Crabtree said of his visit with Longhorns head coach Mack Brown.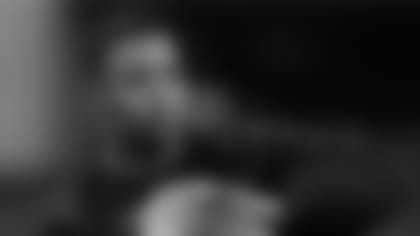 In Babe Ruth-like fashion, Crabtree called his own shot. Little did Brown know, Crabtree would go on to become one of the most prolific wide receivers in college football history.
Two seasons in Lubick saw Crabtree catch more passes (231) and touchdowns (41) in a two-year span than any player in college football history. Crabtree also broke New England Patriots wide receiver Wes Welker's school record for most receiving yards with 3,127 yards in his career. Even more impressive, Crabtree tied an NCAA record for catching at least one touchdown and five receptions in 13 consecutive games.
Crabtree earned a number of honors for his exploits. He was twice named first-team All-American and first-team All-Big 12. And because of his success on the field, Crabtree will grace the cover of EA Sports' College Football 2010 video game.
While he was building up an incredible résumé on the football field, Crabtree earned an appropriate moniker.
"Super – that's what everyone calls me back in Lubick," Crabtree said of the nickname given to him by former teammate Detron Lewis. "Everybody just kept calling me that."
If one play could summarize Crabtree's superb performances on Saturdays, it would be his 28-yard game-winning touchdown catch against No. 1 ranked Texas Longhorns last November.
With less than 10 seconds left in the game, Crabtree caught a pass inside Texas' 10-yard line in front of two defenders, shrugging one of them off while tip-toeing the sideline before eventually finding the end zone.
"We had to score on that drive, if we didn't we were going to lose," Crabtree said. "I just made sure I got in the end zone."
The victory earned the Red Raiders a No. 1 ranking while putting Crabtree in the national spotlight. With even more attention from opposing defenses than before, Crabtree remained successful. What made Crabtree's play even more impressive was the fact that he was playing with an injury to his foot for most of the season. Crabtree suffered the injury early in the season on his first career kickoff return against Texas A&M and went on to have an impressive sophomore campaign.
The injury didn't inhibit Crabtree's performances on Saturdays, but would it affect his draft status?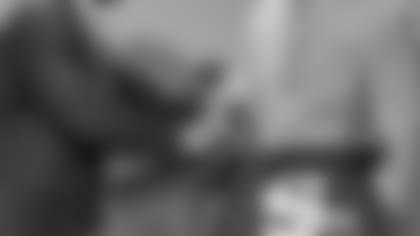 It was the second day of the NFL's Scouting Combine at Lucas Oil Stadium, home of the Indianapolis Colts. Crabtree, along with the rest of the most talented draft entries were in town for the biggest job interview of their lives.
Because of his foot injury, Crabtree debated leading up to the combine on whether or not he should run the all important 40-yard dash for the assembled coaches and scouts.
But his decision was made much easier with the announcement of his physical results on that fateful second day at the combine.
It turned out Crabtree had suffered a Jones fracture in his left foot which would require immediate surgery and the implementation of a screw. Most importantly, Crabtree would be out for six-to-ten weeks which would force him to not run a 40.
Crabtree hoped the injury would not cause him to slide in the draft. Projected as the top wide receiver by many draft experts, Crabtree figured to be a top-10 pick. Like all the other top picks, Crabtree went to New York to attend the draft. He expected to hear his name right away.
"It was my family's first time being in New York," Crabtree said. "We had fun, walking around and seeing everything in the Big Apple."
But Crabtree was in for a surprise that day.
At the time of the Oakland Raiders seventh overall selection, many of the experts predicted Crabtree being their pick. But to the surprise of many, Maryland wide receiver Darius Heyward-Bay ended up being their choice.
Meanwhile on the other side of the country, 49ers Faithful at the team's annual draft party became ecstatic with the thought of Crabtree potentially being available at the tenth overall pick. "Crabtree" chants began to pick up steam after the next two teams selected other players.
Once the 49ers got on the clock, the selection of Crabtree was considered a home run for the organization.
"My friends and family all said, 'Wherever you go is meant to be,'" Crabtree recalled. "Whoever picked me wanted me the most – that's how I looked at it."
Crabtree isn't bitter about his draft day one bit. Rather, he's likening it to his experience in college with Texas recruiting him to play defense.
"I'm not worried about it at all," he said. "That's the last thing on my list of things to worry about."
Number one on that list is making sure he's ready to compete when training camp rolls around at the start of August.
For the entire offseason, Crabtree has followed the orders of the 49ers training staff. Typically, Crabtree was lifting with his teammates and then paying close attention to the offense as a spectator at practice. As the offseason progressed, Crabtree began running lightly on his foot. By the 49ers final mandatory minicamp, Crabtree tested his foot with 40-yard sprints on an adjacent practice field.
"I'm going through all the motions, one step at a time" he said. "I've got to be at my best when I'm able to practice. I've got to go out there and give it my all, but I'm looking forward to running full-speed."
Crabtree said he'll be ready for camp and he's excited to take physical reps and not the mental reps that he took all offseason. For Crabtree, testing his foot in a competitive environment is a welcomed concept.
"Its way tougher out here than college," he explained. "But its football, you have to adapt and be willing to work on it."
Crabtree plans on getting plenty of work during training camp as he tries to catch up with the other wide receivers who have been working diligently to pick up Jimmy Raye's offense. Crabtree will be competing with a number of talented 49ers wideouts to be the starters on September 13 at the season opener in Arizona.
Until then, the Crabtree countdown will continue.