This week's road game pits the 49ers against an undefeated AFC team in the Pittsburgh Steelers. The Steelers outrank the 49ers in offense and defense but with only two games played, rankings don't mean as much as they will as the season wears on. The most important aspect of this game is that both teams are undefeated at 2-0 and hungry to remain so.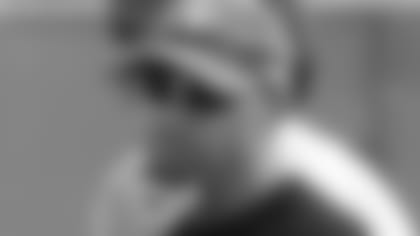 49ers Offense/Steelers Defense, Offensive Coordinator Jim Hostler**
The 49ers offense has started off the 2007 season on the wrong foot, ranking last in the NFL in total offense. It's a situation that needs to be remedied in a hurry as the team heads to Pittsburgh to play against one of the better units in the NFL.
"They are the best defense we've seen," said Hostler. "One, they are a veteran group, two they have trust in the system and how they play, fast and obviously they've got the statistics."
Dick LeBeau owns 34 years of NFL experience and is in fourth year of his second stint as a coordinator in Pittsburgh. LeBeau runs a 3-4 scheme, one that the 49ers offense faces from their own defense in practice every week.
The key for Alex Smith's line of protection in this game is how well they pick up the complex blitz packages that LeBeau is known for calling.
"He's an outstanding coach. The players have a lot of trust and confidence in his system so they play extremely fast. They are fast, they are violent and physical and they are a very good defense."
Pro Bowl safety Troy Polamalu is the engine that makes their blitz package go. Similar to Cardinals Pro Bowl safety Adrian Wilson, the Steelers use their faster version all over the field. Polamalu has the outstanding ability to blitz, miss the quarterback and still make it back in coverage to make a play.
"He's a very good player, probably the best in the league, he's very disruptive. He can do a lot of different thing. He has gotten better at his coverage, he's a disruptive blitzer and a formidable guy in the front against the run."
Deshea Townsend and Ike Taylor start at corner with Polamalu being complemented at safety by starter Ryan Clark who is sharing time with second-year player Anthony Smith. In their dime package, all three get on the field with Polamalu usually dropping down in the box.
"It just gives them more depth and they have more confidence in those guys back there when they have Troy up front. They've got a veteran group in the backfield and adding a young player like Anthony in there just enhances what they do. You can tell as a young guy, he's quickly taking on the characteristics of the vets around him."
The Steelers have a lot of speed in their secondary and they also have a lot of beef in the front end with their three defensive linemen – NT Casey Hampton and ends Aaron Smith and Brett Keisel. This is a group that steadily runs stuns and does an excellent job holding the point.
"They are very strong inside, they are very square players. They keep our linemen off their linebackers. It's a very good front three and the backers fit in very well. It all goes back to their comfort in the system. They are a veteran group and they know where they are supposed to be and that's where they show up."
The Steelers best linebacker is James Farrior who led the team in tackles in 2006 and works inside. With Joey Porter departing for Miami this off-season, the Steelers have a new starter in James Harrison, who will start at outside backer after having a neck injury scare last Sunday against the Bills. Larry Foote starts alongside Farrior with Clark Haggans sealing the edge opposite Harrison.
"They turn those guys loose, and they fit very well against the run because they know what the guys up front are going to do. You really have to be exact and on your game to do what you want against them."
Stingy as this defense may be, it is one that can be beat.
"The key for this game for us is to play fast. We've got to give our guys the ability to go play fast which is a must against this group because they are not going to play slow, so you can't either. You have to do what you do best and go match their speed because that's the only way you have a chance against them. If you don't match their intensity, they will just feed off their own momentum."
**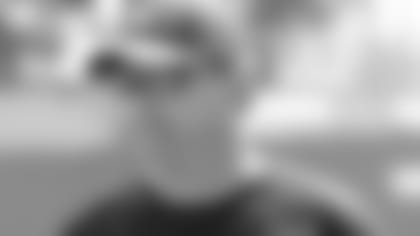 49ers Defense/Steelers Offense, Defensive Coordinator Greg Manusky**
Stopping the Steelers offense starts and stops with containing Pro Bowler Willie Parker. The NFL's third-ranked leading rusher, Parker tends to use his speed more to hit the edge, but he will take it up inside as well, running behind a veteran offensive line that gets it done.
"He's a good runner, he's got great speed to get it to the edge and he's got the ability to make people miss in the hole," said Manusky. "He can also catch the ball out of the backfield. He's really a productive player in this league."
Steelers coordinator Bruce Arians likes to use both Parker and fullback Carey Davis on screen passes. Again, it's the cohesiveness of their offensive line makes this play work. The strength of the Steelers line is on the left side where they have a pair of Pro Bowlers in Marvel Smith and Alan Faneca. The Steelers picked up a new starting center in Sean Mahan from the Bucs and have gone with Willie Colon at right tackle instead of Max Starks, and they've remained solid in their play up front.
"They work well together, and they are a talented group – big guys who communicate well, play together, work well up to the next level and are strong at the point of attack. Faneca and Smith are more of the heart and soul of that line, but they are talented all across."
Quarterback Ben Roethlisberger can be reckless with the ball at times, but he's played well early-on, completing 33-of-55 passes for 403 yards, 5TDs and one interception.
"Ben has been playing well. He's got confidence in his line to block for him up front and he's got confidence in his receivers, his tight ends are playing well for him and he's really got a lot of targets."
Hines Ward leads the receivers with 8 catches for 106 yards and is really probably one of their best players on the field. He's physical in the run game, even collecting a fine from the league for a recent block, he finds the holes in the underneath routes, and he's always a threat with his gadget-play ability.
"He's thrown the ball before and even though they have a new coordinator in Bruce, as their former receivers coach under Ken Whisenhunt, he knows what Hines can do. We know it's something we've got to be aware of, and prepared for."
The Steelers employ four and five receiver sets with Santonio Holmes usually the primary vertical threat although Nate Washington can also stretch the field. Former 49ers Cedrick Wilson works as their fourth receiver with tight ends Heath Miller and Matt Spaeth also getting into the mix in the passing game. Spaeth has two touchdown catches in the red zone, but is listed as out for Sunday's game with a quadriceps injury.
"We've been seeing a lot of the four and five receiver sets because we've played against some solid receivers the last two weeks. This is a well-rounded group we are about to face, but it's something we work on every day, and it's something we know we'll continue to see throughout the season."
Tight end Jermane Tuman could play some of Spaeth's role in the passing game, but he's more of their blocking tight end in the run game.
The Steelers have had some trouble finding their way to the end zone in the red zone, scoring touchdowns only four out of ten trips inside the 20. The 49ers could use a repeat of last week's performance where they allowed the Rams only one touchdown.
Of course the unit will have to come together after losing linebacker Manny Lawson, a player responsible for one of those stops last week when he almost picked off a Marc Bulger pass inside the 20.
"It does change some things for us because Manny was a big part of what we are doing here but that's why we have other players who work hard out there every day in their roles as backups. They will have to continue where he left off because you just can't cry over spilled milk in this league. It's rough because he was making big gains every day and in every game, but there's nothing you can do. The guys behind him will be called on to step up and get out there and execute the way Manny would have."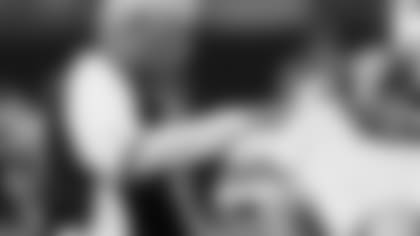 49ers/Steelers Special Teams, Coordinator Al Everest**
The 49ers special teams unit did an outstanding job against St. Louis last week in keeping return threat Dante Hall in check in both his punt and kickoff returns, even forcing a muffed punt with a big hit by Michael Robinson. That turnover led to the go-ahead game-winning field goal by kicker Joe Nedney.
"Our guys have played very well, and it's good to see so many core teamers emerging in Jeff Ulbrich, Robinson, Marcus Hudson, Maurice Hicks, and Keith Lewis," said Everest. "They are making big plays and really playing fast, playing as a unit, having fun and taking pride in it."
The fourth-ranked punt and fifth-ranked kickoff coverage units face another former Pro Bowl returner in Allen Rossum, who they acquired via trade from the Falcons at the 53-man cut down.
"Rossum is a very good returner, similar to Dante Hall in a way because you have to take care of business with him. He's a big-play guy and he's taking some back for scores in the past."
Nedney and punter Andy Lee play a large role in helping out those coverage units. Touchbacks by Nedney would deny the Steelers a chance for Rossum to get a return on his kickoffs, while long punts, like the 71-yarder Lee boomed in St. Louis can flip the field.
"He really hit a great one and most importantly with long kicks like that, you've got to have the hang time. His did, and Hudson flew down there and then stalled him until our guys gang-tackled Hall at the 8. That was a critical play for us."
The Steelers don't send much pressure at the opposing punters, wanting instead to get the ball in the hands of Rossum for a big return.
Everest would like to see his two kickers outdo Pittsburgh's veteran kicker Jeff Reed, and
rookie punter Daniel Sepulveda. Everest has had first-hand coaching experience with both players.
"I had Jeff in 2002 in New Orleans before he went on to the Steelers. He's a very solid kicker, academic all-American which was something I liked about him because he was smart and reliable. He does a good job in both kickoffs and field goals. Sepulveda we had down at the Senior Bowl. He's a very talented kid and has the ability to drive the ball. He's like any rookie, he does some really good things and some things that sometimes makes you wonder."
Sepulveda has only had 7 punts so far on the year, and only one last week against the Bills. Five of those have been downed inside the 20. The Steelers rank first in the NFL in their punt coverage, as they've yet to have anyone get a return on them.
The Steelers utilize four of their starters on their punt return team, but with their offense scoring most of the time, it hasn't been overly taxing. That's something Everest hope the 49ers defense can alter.
"They've got three defensive starters and one offensive starter on their units so you have to force them to have to play those guys. With one punt last week, that's not a big deal but you get them having five or six punts and that can start to have a wear factor for you."
In coverage, the Steelers are led by rookie Lawrence Timmons who has their team lead with four total tackles. RB Najeh Davenport is second on the team with three tackles, with starters James Harrison and Ryan Clark also getting in the mix with two tackles each to their credit.
"They've put a lot of emphasis into their teams and their new head coach has talked about how much time, energy and personnel they've put into it, but so have we. It'll be a good test for us. We have to come out of the shoot, take care of business, get good field position and hopefully create some turnovers. It's going to be a tough game and I think whoever makes the fewest mistakes and plays the most solid special teams will take this one."