The 49ers host the Philadelphia Eagles this Sunday at Candlestick Park, a team that has outscored them 80-27 in their last two meetings. Both teams aim to snap a two-game losing streak and even their overall record at 3-3 in this important NFC matchup. Here's a closer look at the game from the perspective of our three coordinators.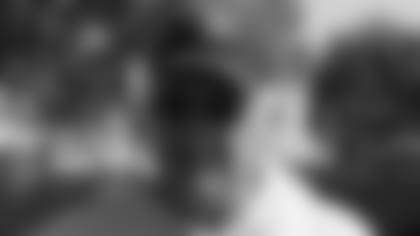 49ers Offense/Eagles Defense, Offensive Coordinator Mike Martz
**Eagles defensive coordinator Jim Johnson and his brazen defensive scheme is well known throughout the NFL. Getting pressure on opposing offenses is the cornerstone of Johnson's defensive game plans, and so far his unit has executed his plan well. Philadelphia's defense has already amassed 18 sacks on the season, which ties for first in the NFL.
"You just have to understand that they are going to make some plays on you because they are real good at what they do, and they are a real good football team," said Mike Martz. "But, you are going to have yours too. You have to make sure everyone is accounted for. You understand everybody's responsibility and the protection and the receivers, if there are hots, what you have to do with it. Because if he could bring 12, he'd bring 12. He's fearless in his pressure packages. We just have to make sure we all are really dialed in and focused on what we are doing."
Sending so many players to blitz has its risks, and it's up to the 49ers to attack that vulnerability with quick passes and those hot reads that Martz mentioned. The 49ers proved against New Orleans that they can execute on those as JT O'Sullivan hit wide receiver Arnaz Battle several times on quick throws.
But even without the all-out blitzes, the 49ers have their hands full in a very solid front four. Defensive end Juqua Parker (questionable this week with a knee injury) leads the team with 3.5 sacks while their other starting end in Travis Cole has two sacks.
"All the changeups you do as a great pass rusher, they both have it. Plus they have great get-off and speed. Parker has more sacks, but Cole is probably an elite player in the league right now, as capable as anyone at that position."
The Eagles rank eighth against the run and have allowed only one rusher to surpass the 100-yard mark this season, a credit to their two inside guys in Mike Patterson and Brodrick Bunkley, a pair that also adds to the unit's pass rush capability.
"They are very quick off the ball. They get good push in the pocket and really push you back to those outside guys for the sacks. When you watch their front, they are extremely explosive – all of them get off the ball and off blocks very well."
The Eagles front four are a little smaller up front than most teams, but they're linebackers are a bit larger than most. Stewart Bradley is 6'4 and 255 pounds. Omar Gaither is 6-2 and 245 pounds, and Chris Gocong is 6-2 and 263 pounds. Bradley leads the team in tackles, while the group as a whole has accounted for 3.5 sacks, 3 fumble recoveries and a touchdown so far this year.
"They are larger backers who can run, and they fit well with those fast guys up front. They are really impressive to look at in their front seven."
The Eagles also feature an extremely impressive secondary. The off-season addition of one of the league's premier cover corners in Asante Samuel forced two-time Pro Bowl selection Lito Sheppard into the role of a nickel corner, not a bad situation by any stretch of the imagination for Philadelphia. Starting opposite Samuel is veteran corner Sheldon Brown.
Talking about the Eagles defense wouldn't be complete without mentioning the general of the backend in six-time Pro Bowl safety Brian Dawkins.
"Samuel and Dawkins particularly are both elite players. I've played them a number of times. They are so well schooled in what you do that they sort things out really quick. They route read exceptionally well. Brian comes downhill in the run really well. It's a veteran group, extremely well coached, and they understand all of the adjustments in their defense."
The experienced and crafty secondary should give the 49ers receiving corps a top challenge this week, not to mention the 49ers fairly inexperienced quarterback in O'Sullivan, who has been picked six times this season.
"Every week you've got special players on the other side to deal with. This group has more than most, but week in and week out you compete against good players. JT just has to get used to that. If he wants to be a good football player, he's got to be prepared for that week in and week out because that's just the way it's going to be."
A few other significant stats to consider, other than the Eagles high sack numbers, is the ability of their defense to get off the field on third downs. Philadelphia has allowed just three drives of 10 or more plays, which is the lowest total in the NFL. The unit has also forced 18 three and outs.
Three and outs were a problem for the 49ers offense last week against New England. After scoring on back to back four-play drives in the first quarter, the offense failed to earn another first down until the fourth quarter.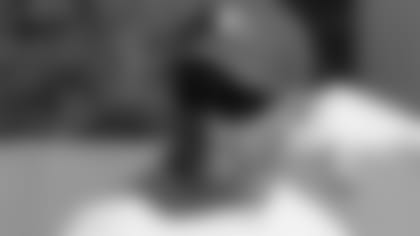 49ers Defense, Eagles Offense, Defensive Coordinator Greg Manusky
**The Eagles are extremely potent through the air with five-time Pro Bowl quarterback Donovan McNabb staking claim to the league's fifth-ranked passing offense.
"He's been there in that system for such a long, long time, and he knows it, performs it, and he's very efficient with it," said Greg Manusky. "He's throwing it, he's running it, he can defeat tackles, everything. He had the knee last year he was still dealing with, but he looks to be back in top form."
One player not in top form is Pro Bowl running back Brian Westbrook, who was ruled out on Friday with a rib injury. That's great news for the 49ers as Westbrook led the Eagles in rushing, and was second on the team in receptions, and also one of the more dangerous offensive players in the entire National Football League.
His backup, veteran Correll Buckhalter doesn't have the same versatility as Westbrook, who the Eagles even lined up wide as a receiver, but he's 6-0, 217 pound load that the 49ers will have to stuff.
"Buck is also a very good player in this league. At the majority of places, he'd probably have the chance to start. We have to make sure we contain him and limit his runs."
Stopping the run has been problematic for the 49ers defense in recent weeks as opposing backs have been able to power their way through the 49ers front line. The 49ers need penetration from their front, not an easy task against a big bodied Eagles offensive line that averages 335 pounds.
Pro Bowl guard Shawn Andrews has been ruled out of the game with a back injury, but it's still a very experienced group without him. Tackles Jon Runyan and Tra Thomas have started a franchise-record 123 regular-season games together for the Eagles.
"They are big, they are solid, and they work well together. Most of those guys have played together for a while now in that system and that's the key for most offensive lines. The biggest thing that stands out though is that they are big boys."
The Eagles line has been particularly solid in pass protection, allowing only ten sacks on the year. With time up front, McNabb has been able to spread the love to several targets. The Eagles lead the league with 11 receivers with 5 or more catches, and 7 with ten or more.
His leading catcher has been rookie DeSean Jackson, who has 23 receptions for 336 yards and a touchdown. Jackson also has two 100-yard days to his credit. Starter Reggie Brown has been ruled out with a groin injury, but McNabb doesn't have to worry about a shortage of targets given a deep receiving pool that includes Hank Baskett, Greg Lewis and Jason Avant. (Kevin Curtis has yet to play this season and is questionable on the injury report with a sports hernia.)
"They have a whole bunch of receivers and all of them are vertical threats. They catch balls inside, outside, and they can complete the deep ball. They are all really top notch guys and they can block as well so they present a big challenge for us."
So do tight ends LJ Smith and Brent Celek. Smith has 9 catches for 75 yards and a touchdown, while Celek has six receptions for 55 yards.
"Both tight ends are pretty good. They are good blockers, they can catch the ball, they are good route runners and Donovan is spreading it out to everyone. We have to be very sound in our assignments and make sure we don't let someone loose."
The 49ers did a poor job of getting off the field last week on third downs. That's a top goal for the unit this week, but one that will be challenging to come by. The Eagles have racked up 99 first downs on the season and have 8 drives of 5 or more minutes to their credit. Even in seemingly manageable downs for the defense, the Eagles have performed well, converting 3rd down and 10 or more yards on 6 of 16 attempts.
"We just need to execute, and do so consistently. I want to see execution this week, and guys playing hard all four quarters at a high level."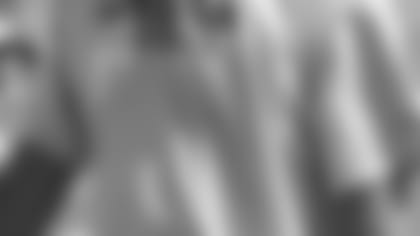 49ers/Eagles Special Teams, Special Teams Coach Al Everest
**
After some struggles early on, Al Everest has been very pleased with the across the board performances from his special teams units the last two weeks of play, particularly last week against a top-notched Patriots bunch.
"We met all of our goals last week except the three touchbacks on the kickoffs took us off our goal for kickoff return. But, you take out the touchbacks and we had a nice return average. So, I was really very happy with what we did last week. We did a nice job. The last two weeks we've really gotten back on track, and we want to stay that way."
Staying that way will first and foremost include wrapping up the Eagles punt returner in DeSean Jackson, who took one to the house last week against the Redskins.
"DeSean Jackson is coming off a touchdown performance, and he'll come in with even more confidence. He's got really good speed. He's not a big guy, but he's got good speed, and he's done a lot of punt returning in his college career too. So, he's got great vision and we have to play team coverage against him. He'll run it inside, but he really likes the shoulder and the edges, and the key is to play as a team and get him down."
Safety Quentin Demps is averaging 23 yards on 17 kickoff returns so far this season.
"He's a solid returner and they do some nice things to give him some opportunities. Our guys have to beat his blockers and make the play."
Their kicking specialists include a three-time Pro Bowler in veteran kicker David Akers, and a fairly new face in the NFL in former Australian Football League star Sav Rocca.
Akers has missed three field goals so far on the year, but ranks first on the franchise's all-time list with 206 field goals and 938 points.
"He has struggled a little bit but the ones he's missed have been 50, 50 and 47, so it's not like he's missing any chips. He's a left footer like Joe Nedney, and is a very good kicker."
Rocca earned special team Player of the Month honors for September after leading the NFL with a 44.1 net punting average. He ranks second in the NFL with a 43.8 net punting average, with 9 punts inside the 20 and only one touchback.
"He's a big punter. He can drive the ball and he's got an outstanding net. He's all directional. He's been very good in the plus 50. He'll do a rugby kick that bounces straight up, and that's gotten him 9 punts inside the 20. He's very efficient with the ball."
Safety Sean Considine leads the Eagles coverage units in tackles with nine, although their most all-around productive special teams player has been linebacker Akeem Jordan. Jordan leads the team with 124 special teams production points.
"It's a very aggressive group with good speed. It's going to be physical. In our coverage efforts, it's all about team coverage so that we don't allow them to roam around. We've got to tackle them and give our defense as much help as we can."