**The 49ers return home to Candlestick to host last year's AFC defending champions, marking their first contest of the season with a team from the AFC. Here's what our three coordinators had to say about the game against New England.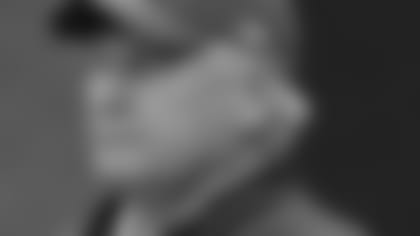 49ers Offense/Patriots Defense, Offensive Coordinator Mike Martz **
Every week when Mike Martz installs his game plan, he first concerns himself with the structure of the opposing defense. This Sunday marks a new structure for Martz and the 49ers offensive players since the Patriots run a 3-4 defense.
"It's what we do on defense too so we've practiced against it," said Martz. "They have a little bit of a different take on how they do things, but it's fairly similar. The coverages are mostly the same. There shouldn't be any confusion. Bill Belichick always has something a little different for you, but I think our guys getting to the point where they really understand what we are trying to do."
The Patriots feature three former first round picks on their defensive line, including two Pro Bowlers in Richard Seymour and Vince Wilfork. Wilfork is a beast at the nose and a run stuffer, while Seymour possesses good pass rush ability. The five-time Pro Bowler has only one sack on the year, but he owns 32 career sacks. Defensive end Jarvis Green also sees reps, rotating in frequently for Seymour, and has one quarterback hurry on the year.
"Their starters are first rounders and Pro Bowlers, and that's how they play. In terms of people we play, that is the best front three in football. Seymour is real special and I've always felt that way about him. He can be a real dominant player. They are all consistent and they are just a consistent group up front."
New England also gets pressure from their outside linebackers. Mike Vrabel and Adalius Thomas are among the top five active linebackers in terms of total career sacks. Vrabel is 4th with 53 sacks while Thomas ranks fifth with 47.0 career sacks. The pair is currently tied for the team lead with two sacks apiece.
"Two very good edge pass rushers. They use them selectively and they do a real nice job in their matchups in pass situations, and that's where they get a lot of their pass rush from."
The Patriots have a crusty veteran inside in Tedy Bruschi, and are also getting excellent play out of their rookie inside backer in Jerod Mayo, who is second on the team in tackles with 30 stops (coaching stats).
"Mayo has got terrific speed. He reminds me a little bit of Joe Staley in terms of that speed and athleticism. He's a big guy like Pat is too, so they've really helped themselves at that spot with the addition of the rookie. They are a solid defensive football team."
Rodney Harrison is a 15-year veteran safety who draws attention with his game-changing play. Harrison is the only player in NFL history to record at least 30 sacks and 30 interceptions in his career with 30.5 career sacks and 33 career interceptions. He's currently leading the squad with 34 stops on the season, along with two quarterback hurries and a forced fumble.
"Rodney helps them through a lot of the things that we will try to do on offense. He gets them lined up right. He's very competitive and he plays at the highest level. I've been on teams that have played against him a number of times through the years and he hasn't missed a beat. He looks like he did ten years ago to me."
James Sanders starts at safety with Brandon Meriweather also getting some snaps, while Deltha O'Neal and Ellis Hobbs have gotten the starts at corner. New England has given up only 193 passing yards on average for a 12th ranked pass defense.
New England's run defense took a hit after their last meeting with Miami when the Dolphins racked up 216 rushing yards. The Patriots have likely used the bye week to shore up their mistakes in defending the run, but the 49ers will still need to put them to the test with running back Frank Gore. Gore is fourth in the league right now in rushing, and owns a 4.9 average.
"We need to do whatever it takes to win and Frank is a key part of that. When we have a chance to run the ball, we have to do a real good job of it and get positive runs. Frank will make an ordinary run into a big run. We just need to get him the ball a little more. He had pretty good opportunities before. We just didn't get him as many as we would have liked this last week. He'll get his opportunities though going forward."
Mostly, the 49ers absolutely must get into the end zone and score points. The unit settled for three straight field goals last week before twice turning the ball over in the red zone. Two touchdowns instead of the picks could have completely turned the game around.
"You get down there and kick field goals instead of touchdowns and then you turn the ball over, that's a big point difference. You have to make those plays to win. This offense is still learning. JT O'Sullivan is still learning and we have to be careful with what we put on him. We don't want to put too much on him. But those missed opportunities down there were more coaching than anything else. There were some plays we needed to have had more reps on. repped more. So, we'll make those plays. I'm not worried about that. We just need to put them in a good position, and they'll make them."
Good news for the 49ers, the Patriots defense has allowed their opponents to score touchdowns 66.7% of the time when set up inside the 20. Miami scored on all four of their redzone trips in New England's latest game.
**49ers Defense/Patriots Offense, Defensive Coordinator Greg Manusky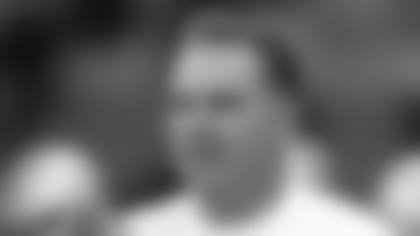 It would be a lie to say that New England's offense hasn't lost a step without quarterback Tom Brady at the helm. The unit has gone from the league's best rated and most prolific scoring unit in 2007 to the 30th ranked scoring unit and the 28th overall rated offense.
But don't expect defensive coordinator Greg Manusky to get caught up in their lack of big number statistics, particularly when his defensive unit was scorched for 363 passing yards last week in New Orleans.
"You can't get too caught up in the numbers," said Manusky. "It's early and for us last week – you take away those deep balls and your stats end up looking pretty good. There's always a case of shoulda, coulda, woulda, but we know if we execute on those explosives, it's a different ballgame."
Manusky believes the same is true for the New England offense. Just because they haven't put up a lot of points yet, doesn't mean they aren't capable of getting the job done.
"They have scored points in the past with that offense, and they only lost one game all of last year for a reason. You can't say they are not a good offense, especially when they still have a lot of those playmakers back from last year."
At the top of that list is wide receiver Randy Moss, who led the NFL a year ago in touchdowns with a record setting number of 23.
"Randy Moss is a phenomenal receiver. He's big, physical and there's no doubt he can swing a game with his explosive ability down the field. You have to use multiple packages to defend against him. We want to get coverage on him over the top, put Nate Clements on him at times, put Walt Harris on him at times. We need different guys covering him with different coverages. Randy is a productive player, always has been and he's an integral part of their offense."
Wes Welker, who was added to the injury report on Thursday with a groin injury, is the team's leading receiver this season with 178 receiving yards, after bursting onto the scene in '07 with 112 catches for 1,175 yards.
"He's a great third down possession type receiver, but they go to him on any down. He's quick, shifty and he can get yards after the catch on you."
Another player very capable of making catches is tight end Ben Watson, who should return to action after missing time with a knee injury.
"He's had numerous catches over the course of his career, has good hands, and he gives their offense some additional versatility. We've got to cover him up and do a good job of taking him out of the picture."
While Cassel might not be Brady, he isn't making many mistakes. He's completed 48 of 72 passes for a 66.7 completion percentage and has thrown only one interception for an overall 87.0 QB Rating.
"He's not got the experience that Brady had, but he's been there and he knows the offense. We do need to get pressure on him and try to confuse him with different looks because we definitely don't want to allow him to get too comfortable back there."
Cassel is fortunate to have three Pro Bowl offensive line buying him time in the pocket. Although the strength of the line is the left side, it's a well-oiled unit as a whole.
"They've got well known guys who have been to the Pro Bowl, but they're guys who have played together and know the system. Cassel also helps himself out because he has more mobility back there than Brady did."
New England has several big backs in their backfield although they've yet to get one of them to finish a game with more than 53 individual yards (Sammy Morris vs Chiefs). Laurence Maroney is the penciled-in starter, but missed the Miami game with a shoulder injury. He's expected to return to action this week, but the 49ers defense can probably expect to see the Patriots opt to get it done by committee with LaMont Jordan also sharing a large number of carries.
"They've got big backs, especially in Morris, and we saw that last week with Deuce McAllister. You've got to get them stopped before they really get going and get all guys to the ball to get them down. You can't bring them down with just one guy."
**49ers/Patriots Special Teams, Al Everest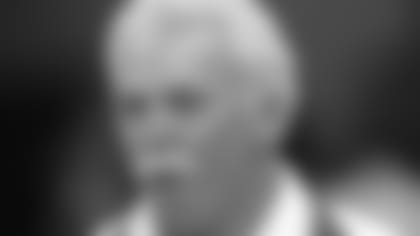 Special teams coach Al Everest expects this weekend's game to be the toughest teams challenge of the year.
So what makes the Patriots special teams unit so difficult to defend?
For starters, New England boasts the number one kickoff return game with cornerback Ellis Hobbs handling the majority of kickoffs. Hobbs' 36-yard average on returns is the highest in the NFL, thanks largely to two long returns of 50 and 81 yards.
"He's leading the league in returns and they are doing a really good job," said Everest. "Hobbs has been really explosive and he's done a great job. He's real quick and he'll hit an open seam and if it's not there, he'll bounce it back and find a hole. You can't just grab at him. You've got to get him down."
Backup running back Kevin Faulk has the most punt returns on the year, although Deltha O'Neal has also caught two punts. Faulk has a 17.4 average, which ranks sixth in the league.
"Faulk isn't a big play guy but he'll bang out yards. He's been getting downhill, he'll make some guys miss and he's been getting some nice yards on every return. O'Neal also has got the ability to get it done too. He hasn't been as effective, but he can be."
New England's punter Chris Hanson has been another asset for the Patriots coverage units, booting up a long punt of 70 yards to pin the Chiefs at their 9-yardline in week one.
"He tries to directional punt some and reduce the field for them, and they've done a good job there. He's definitely got a strong leg, indicated by that long one early in the year."
Kicker Stephen Gostkowski has been perfect on the year with seven field goals. His longest came from 44 yards out.
"He's obviously been accurate with his kicks, although they haven't tested his distance too much. The one thing that stands out though is on his kickoffs. He's got big hang time, and he's really buying them time to get down the field and make plays. He really drives the ball."
On kickoffs, New England also hides their personnel, bunching up in the middle before they spread out just seconds before the kick so that the 49ers won't know who is out there or where.
"They won't line up toe to toe and let you get a count on them. They'll disguise what they do and it's something they've done a good job with."
One thing that does clearly stick out about the Patriots special teams unit is their employ of offensive and defensive starters.
"Their philosophy is about winning today, not next week, and not next year, and so they'll put their best guys out regardless of their other assignments. So, if they are good enough to be starters on special teams, they'll put them to work. Wes Welker is a starting receiver, but they'll put him out there. Same goes with O'Neal and Hobbs. If they've got talents, they aren't afraid to use them."
In terms of stops, safety James Sanders has the most on teams with three, but linebacker Larry Izzo has long been a mainstay for the Patriots special teams unit.
"He's been to the Pro Bowl for special teams, and he's definitely their ring leader out there."
The 49ers have their own ring leaders on special teams, but one new player who has come along nicely this season is rookie defensive end Kentwan Balmer. Balmer has shown solid hands with two catches so far on the season on kickoffs.
"Balmer is really doing a good job for us. I'm very happy with his progress. He's a sharp kid, a bright guy. He's got hands and he can handle the ball. Not that I want him out there running with it as big as he is, but he's done a real nice job in some not so ideal situations."
Everest needs more players to step up to the plate for this weekend's game, one that he feels will come down to field position.
"We've got to make some big plays to help us win that battle, and that's a heck of a challenge because they are a quality special teams group. In every facet we need to do a better job against them than what they do against us. It's going to be a tough matchup in all phases."
The one thing the 49ers might want to avoid – overtime. The Patriots have won their last eight overtime games, including in the playoffs. That's the longest streak in NFL history and with a kicker whose been perfect on the year, those aren't favorable stats for the 49ers.