The 49ers coordinators have had two weeks to fine tune their units for Sunday's hefty challenge against a Giants squad that has won four straight. After losing three straight of their own, this NFC match-up is a virtual must win for a 49ers team in need of getting back to .500.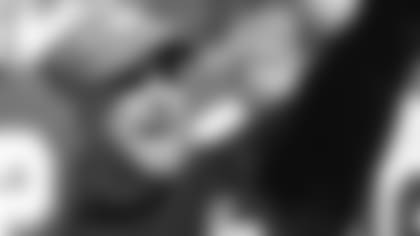 49ers Offense/Giants Defense, Coordinator Jim Hostler**
The 49ers took a hard look at themselves offensively over the bye week, hoping to identify and correct the problems that have plagued them thru the first five games of the season.
Unfortunately one of those weaknesses has been inconsistent pass protection, which just so happens to be the forte of the Giants defense. With Pro Bowlers Osi Umenyiora and Michael Strahan as bookends, the Giants are extremely astute at pressuring opposing quarterbacks, evidenced by their sack total (21) which leads the NFL.
"Getting pressured is something we've dealt with every week, but they have two aspects you really have to contend with. They put a lot of different looks on you and do a great job with their blitz packages, but they also have an outstanding rush even without blitzing. You have to deal with two ends who can win every down if you leave them alone so those are two issues you have to worry about."
While Strahan stays put at left end, Umenyiora lines up primarily at right end but the Giants sack leader will slide in to tackle in their sub package. On obvious pass rush situations, the Giants employ four ends with Strahan, Umenyiora, linebacker Mathias Kiwanuka and Justin Tuck. Tuck and Kiwanuka are right behind Umenyiora in terms of sack production.
"Osi, Tuck and Kiwanuka are guys who can move around and slide along that line so that they get the one on one match-ups they feel are to their advantage. They want to get those guys on your running backs or isolated on only one linemen because they have proven they can win those battles."
Strahan, the NFL's all-time sack leader, is also equally effective against the run.
"He is a Hall of Fame player. His reputation speaks for itself. He's a great two way player because he can play the run or pass. He's extremely strong. He can and he's really a force you have to be worried about every down."
In their 4-3 base, the Giants plug two 300 pound plus players in the middle in Berry Cofield and Fred Robbins, stout linemen against the run which frees us middle linebacker Antonio Pierce who leads the team in tackles.
"All of their linebackers are guys who are very active and who move around really well. They get to the ball quickly and they fit the scheme very well."
The Giants have used a host of corners with the only true mainstay being a former four time Pro Bowler Sam Madison. Although they now list rookie Aaron Ross as the starting corner opposite Madison, the former college safety really has played more inside like a nickel corner. More often that not, New York has used Kevin Dockery and Madison on the outside.
"They've played a lot of people in the secondary and I think they've settled in more now and feel comfortable with where they've got their guys. They've gotten a lot better since the first two games and that stability back there has really helped their entire defense."
Ross leads the backend with three interceptions on the year and like a 49ers Michael Lewis or Steelers Troy Polamalu, he's got the ability to play multiple positions.
"He's got versatility and the thing about this league is that it's all about people who can really do different things for you. He's a guy who can play inside, outside, he can blitz and so you have to account for a lot more with him versus just having a guy who can do only one thing."
Quarterback Trent Dilfer gets the chance to run the offense against this tough defense, and he'll at least get some help with the return of tight end Vernon Davis.
"Vernon was a big part of what we were trying to do and with him in there it really gives us two aspects because without Vernon, Delanie Walker has to play that role when he's really better as more of an outside guy. So with Vernon being back, we can really use Walker in a role he's more suited for."
One situation Hostler said his unit must avoid is third and longs.
"If this defense gets you in third and longs, they really make it hard on you because they rev up the pressure. We've got to limit that by really moving the ball and having success on first downs so that we keep our second and third downs in more manageable situations."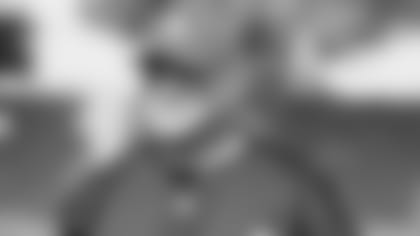 49ers Defense/Giants Offense, Defensive Coordinator Greg Manusky**
New England and Dallas might be the sexiest offenses right now in the NFL, but the Giants are every bit as talented.
"They've got a good line, their backs run hard, their wide receivers are fast and they are vertical threats and they've got a quarterback who is playing at a high level and they are a productive offense," said Greg Manusky. "This is probably the best offense we've faced so far this year."
In looking at the Giants offensive line, there really isn't that one guy like an Orlando Pace or a Jonathan Ogden who can really dominate. Instead they've got five veteran players with the know how of their system and each other to really form a cohesive and solid unit.
"They block well, their pass protection is excellent. They are a hard working group that works very well together."
The line has only allowed six sacks of their quarterback and are a reason why their running back by committee works. Although the Giants have only one rusher who has posted a 100-yard rushing outing, New York is ranked 12th in the NFL in the run.
Brandon Jacobs is the team's starter but because of injuries Derrick Ward and Reuben Droughns have seen their fair share of carries with all three having at least a 4.5 average yards per carry.
"That can be tough on our players because they've got different style of runners back there and in the heat of the game, it's tough to keep track of who is in there. Jacobs is a very big back, so is Droughns, and they are more downhill. Ward is quick, he can slash and cut back, but all three have different techniques and that's something are guys need to expect."
Quarterback Eli Manning has completed 60.7% of his passes on the year, most of which have gone downfield to either Plaxico Burress, Amani Toomer and Jeremy Shockey. He's got 11 touchdown tosses, but he's also thrown eight interceptions.
"He's playing at a high level and he's confident in his reads. He's really moving well in the pocket. He does have some picks but I don't think he forces the ball in. He's making pretty good decisions and for the most part he's accurate and he knows where to go with the ball."
Eight of those 11 TDs have gone to Burress, who leads the NFC in scoring.
"Plaxico is going up top and making some big plays. He's an incredible tough player to stop. He can get vertical very fast and he can jump over a lot of people so if the ball is in he air, he's going to go up and get it."
Nate Clements and Walt Harris will have their hands full with Burress, as well as a crafty veteran in Toomer.
"Toomer works well in the slot. He still has his speed and he's a good possession type receiver, and he's a very good route runner."
Manusky also has the task of finding the right personnel to keep Shockey in check.
"He's a very talented player and he's gotten better as a blocker and then he is very explosive in the passing game. He's quick, he's fast, he's got good hands. They split him out like a wide receiver and they really try to keep him involved."
When Manning can't find one of those three primary receivers, he looks underneath for Ward, who has 22 catches for a 6.3 average yards per catch.
"You've got to cover Ward up because they get him on screens and check downs. He's a very involved player and he's very effective when he's got the ball in his hands. Again, they've really got all the tools and we've got to find a way to get them off the field and to keep them out of the end zone."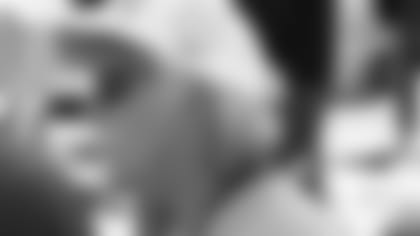 Special Teams, Coordinator Al Everest **
49ers punter Andy Lee is on track for a trip to the Pro Bowl this February after crushing several big kicks and having bested most punters he's faced off against so far this season.
It will be interesting to see how Lee fares this week in a game that will pit him against one of the most consistent punters in NFL history in 20-year veteran Jeff Feagles.
"I coached Jeff for two years in Arizona and he's had a great career," said Al Everest. "He's an outstanding directional punter and he's been a real cornerstone for their punt team. He does a lot of good things for them and he'll make our punt return hard to do, but we feel Andy will do the same to them."
At kicker, the Giants feature a four-year player in Lawrence Tynes who has hit 8 of 10 field goals with his two misses coming in the 30-39 yard field goal range. Tynes has also missed an extra point. In comparison, 49ers kicker Joe Nedney has only one miss on the year, a potential game winning 52-yarder in the 49ers last game against Baltimore.
"They are all supposed to be made but everyone has their moments. You miss one, you let it go, and you gear up for the next one."
The 49ers have been solid in their kickoff coverage the last two weeks and excellent in their punt return coverage all year. From a return standpoint, the Giants haven't been overly productive although Everest has cautioned his team from overlooking this group.
Ahmad Bradshaw started off the year as their kickoff returner, but Reuben Droughns has handled most of the kicks in recent weeks and has a long of 34.
"He has been a premier back in this league and he's a guy you have to tackle and get down. He's the real deal and he's made a lot of yards on his own. If he gets some blocks, he can hurt you."
At punt return, the Giants utilize former 49ers veteran cornerback R.W. McQuarters. McQuarters is averaging a little over 8 yards per return with a long of 13, but he's got three punt returns for touchdowns over his ten-year career.
"R.W. has a lot of experience and he's got good quicks. He knows what he's looking for and if you give him the opportunity he can hurt you."
The 49ers could be without one of their elite special teams player in Keith Lewis, who has missed practice this week with a hamstring injury.
"We'll see Sunday how he is, and if he can't go, it just means you juggle some players around, they have to step up, and you just keep playing."
For the Giants, Chase Blackburn and Gibril Wilson top the Giants in special teams tackles, but they've also got a few other core players including Reggie Torbor and David Tyree, who was chosen as a special teams Pro Bowler in 2005.
"They are physical, they play very hard. They do not give you anything. You have to go take it, and our guys know they have to use good technique, play with leverage, and really get after it this week."
One unique aspect to the Giants is that they've got two rookies handling their snapping duties after having placed their original long snapper on injured reserve.
Linebacker Zak DeOssie takes care of the long snaps, while defensive tackle Jay Alford does their short snaps.
"It's good for them in the sense that they are getting more out of their snappers because they aren't really holding a roster spot for that position. The problem is that if one of them gets injured you lose a coverage or defensive player, as well as your snapper which is hard to replace especially if it's in a game."