A win up in New York over last year's Super Bowl Champs could give the 49ers the very spark they need to get their season turned around, but a loss would drop them into an even deeper hole and a four-game losing slide. It's been one game at a time all year long for the 49ers, but this definitely marks a big one. Here's a look at the game from our offensive and defensive coordinators, and from our assistant special teams coach who stood in this week for coordinator Al Everest.
49ers Offense/Giants Defense, Offensive Coordinator Mike Martz
**Offensive coordinator Mike Martz isn't about to change his offense in order to duplicate what the Cleveland offense did so well Monday night against the Giants defense, but he would like his players to emulate the Browns mindset and approach.
"I think what happens when teams play the Giants and New England too, is they have a tendency to play a little conservative. The Browns just went after them. They got on top, got a little of momentum going and they got it rolling pretty good. When they had opportunities to make plays, they made them all. There wasn't a missed pass here or the guy didn't hit the right hole, they made it all go. And when that happens, you're going to win most of those games, especially when you have talent like Cleveland does."
Martz believes his unit is talented too, and he's working to keep things balanced and to evenly dish out opportunities to his playmakers. While Frank Gore is the center piece of the 49ers offense – having accounted for 39% of the 49ers offense, Martz needs to dial up game plans that keep defenses off-balance so that they can't key in on the 49ers breadwinner.
"What we cannot do is say, 'Frank is going to win the game for us.' We can't do that. Because first of all, he won't make it through the season, you'd just be grinding him into the ground. You don't score points handing the ball to the same back all the time. Everybody in our offense has to be accountable when the opportunity comes up to make plays, and they have got to make them. We have to protect JT O'Sullivan, so he can make that throw, and then the guys have to make that catch. All of those things have got to balance out with Frank and then Frank can really take over a game."
The 49ers learned all too well last season that the Giants defense also has the capability of taking over a game. Although Michael Strahan has retired and Osi Umenyiora is out for the year due to injury, the Giants still have a very solid front four. Defensive tackle Fred Robbins leads their sack count with four, while defensive end Justin Tuck has three.
"Tuck is a guy you have to account for. He's probably the best overall guy in the front seven, but it's a typical Giants front four. Even though they lost those two ends, they've picked right up. They are a very physical group. They are real tough against the run. They get good push inside from both guys in pass rush and then the edge guys have done a real nice job. There's not a whole lot of fall off. Obviously those two guys last year were special but these guys have done a real nice job and are a big reason why they've won so many games this year. It's a real solid defense."
Veteran linebacker Antonio Pierce leads the Giants in tackles, which comes as no surprise to Martz.
"He has always been extremely productive. Even if he has lost a little speed, he gets through the traffic. He has such a great feel for that position. He sorts through their run diagnose and keys very quickly."
Pierce missed practice all week and is questionable, while starting outside linebacker Gerris Wilkinson has been ruled out with a knee injury. The 49ers should see rookie Bryan Kehl in the starting lineup, who has gotten some game experience this year by rotating in with Wilkinson.
"Kehl is going to have a real nice career in the league. They were doing the right thing with him, with the way they were playing him up to this point, and bringing him along slowly. They weren't looking for him to come in immediately and be an impact player, but now he will get even more of an opportunity to show what he can do. He's disciplined. And for what they do defensively, it's not good enough to be good athletically; you have to have the discipline in what they do down. He's learning that and he's fitting in real well."
The Giants are similar to the 49ers in terms of having a deep supply of defensive backs on their active roster. Out of ten DB's, nine of them have played on defense as the Giants use one of the more unique rotations. Aaron Ross and Corey Webster start at corner with James Butler and Michael Johnson working at safety. Kevin Dockery is the nickel corner, but the Giants frequently shift their players around and use different groupings for their nickel and dime packages.
"The corners are real physical. They do a lot of work at the line of scrimmage, they're probably as good as anyone in the league in doing that. A lot of times, they do so many things back there in the secondary, it's hard for the quarterback to get a key on what the coverages are. They do a lot of changing up. They're just really good in their pressure packages of coming from different places. And they come up with something new for you every week and so it is a challenge. And our guys have got to be on their toes in the passing game."
That starts with JTO, who will be making his sixth NFL start. O'Sullivan has 7 touchdowns on the season, but 8 interceptions.
"The biggest thing with JT is, he's never played, he has had no spring work, relatively little camp work, and he's running this offense at full-tilt. We haven't backed off anything or dummied anything. We've just let it all hang out. Some of the stuff we're running, he's never ran before. So the decision-making process, he's going to have some real bad errors occasionally. We'll overcome them and they're going to become less and less. I just want him to be real decisive and use his God-given talent to read, react and get the ball out quickly like he can do. He's going to be as good as there is. I think he's an exceptional player, but he's going to have some bumps along the road. But I believe he's going to continue to get better every week."
49ers Defense/Giants Offense, Defensive Coordinator Greg Manusky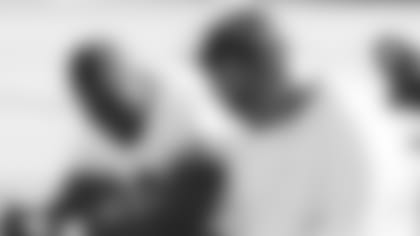 The Giants hold bragging rights to the NFL's #1 overall rated offense, a credit to their dominating run game, which averages 181.2 yards per game. Starter Brandon Jacobs emerged on the scene in 2007 and continues to be a powerful back capable of moving the pile with a 5.7 average yards per carry. His backup Derrick Ward is coming up off his best game with 10 carries for 101 yards, boosting his season average to 7.4 yards per carry.
"Jacobs is a very big back, and we saw that first-hand last year. He's downhill and you've got to slow him down before he can really get going," said Greg Manusky. "He's a challenge. Derrick Ward is another good runner, the kid has great vision. Ward is quick, he can slash and cut back, and our guys need to be ready for the two styles these guys bring to the table. We need to limit their gains on first down so that we keep ourselves in better second and third down situations."
Linebacker Manny Lawson returns just in time from a hamstring injury to face one of the more tenacious offensive lines in the NFL. Individually it's a group that doesn't scream talent, but collectively, they are a force, and the reason why the Giants are able to control games with their rushing attack. In addition, the line has allowed only six sacks this season.
"The offensive line works very, very well together. They make that offense go with solid protection and then a good run blocking scheme. Our guys need to be physical and attack the line of scrimmage, and also be disciplined in their assignments. We need a solid game from our front seven this week."
The o-line picks up some assistance in their blocking from fullback Madison Hedgecock and tight end Kevin Boss. Both players also show up in the passing game from time to time, more so Boss who has six catches for 84 yards and a touchdown.
"They're talented across the board. Hedgecock is a good blocking fullback and he does his job consistently week in and week out. Eli Manning includes them in his passing attack too, and we can't allow them to roam free."
Manning is coming off his worst performance of the season after throwing three picks, but that's been an anomaly for last year's Super Bowl MVP in 2008. Up until Monday night, the fifth-year quarterback had been picked off only one other time. Manning's job through the air is often made easier by the success of his run game since it allows him to keep teams guessing in terms of run or pass.
"Manning has good timing. He understands the situations and understands the timing of the routes. He knows when to get rid of the ball and he plays with more confidence after leading his team to the Super Bowl. Once again, we've got a tough quarterback to face."
And once again, the 49ers have tough receivers to face in Plaxico Burress, Steve Smith and Amani Toomer.
"Plaxico Burres is a good player. He's got all the skills. He's got good hands. He's got great vision and he can go up and get the ball. He catches fade routes on the backside and he's a talented cat. Amani Toomer is talented as well. He's still a wily veteran, who has played the game for a long time. He understands the routes and the combinations that come with the routes. Smith has caught a lot of passes for them, and been very productive."
Stopping the run, getting off the field on third downs, and forcing field goals instead of touchdowns when the Giants do get into the red zone are all high priorities for Manusky's defense this week.
"Getting that done is the same as I said last week, contain the run, limit the explosive plays, pressure the quarterback, play hard, fast and physical and execute."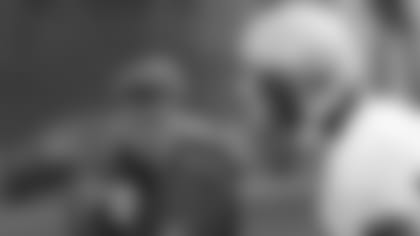 49ers/Giants Special Teams, Assistant Special Teams coach Dave Fipp**
The Giants are a bit interesting when it comes to their specialists.
Their starting kickers both own 20 or more years of NFL experience apiece in kicker John Carney and punter Jeff Feagles, and both veterans have their very own snapper. Second-year defensive lineman Jay Alford handles the punts on field goals, while linebacker Zak DeOssie snaps for Feagles.
"That's a bit unusual to split up the snapping duties, but it's worked for them," said Dave Fipp.
Having experienced kickers is also working for them. Carney was signed due to an injury to Lawrence Tynes, who is now healthy but yet to be activated since Carney is perfect on the season on twelve field goals.
Carney's kickoffs aren't as deep as they were in his earlier days, falling around the 7-yardline on average, but he knows how to compensate.
"He's got good hang time on his kickoffs and what they do is have him kick directionally. 90 percent of his kicks are on or outside his number so although he isn't getting into the end zone, they pin you in to a corner and have their coverage units squeeze you in there."
Feagles is averaging 42.8 yards gross and a 37.5 net with 6 punts inside the 20, and is one of the best in the business when it comes to directional punting.
The 49ers did manage to block one of his punts last year when fullback Moran Norris broke free to stop his punt and notch a safety.
"Obviously they are watching the clip from last year too. What happened on that play was they got confused because we had a guy run on and run off late. They messed up their count and overlooked him, but typically they do a nice job in their protection and are tough to penetrate. Feagles also does a good job getting the ball off quickly."
Wide receiver Domenik Hixon handles the majority of punt return duties, although RW McQuarters, a former 49ers cornerback, has many career punt returns to his credit. Hixon's long of the year in the season is 50 yards, but he returned a kickoff during the preseason for an 82-yard touchdown.
"He's a solid returner, and an explosive returner. He does a real good of making you miss, and a nice job of pushing it towards the perimeter and then sticking it up the field and getting underneath you. RW is also explosive, and has made plays in the past when he's gotten his hands on the ball. If you give him a little air, he can do a good job. We've got to do a good job of taking the air out of those returners across the board."
Running back Ahmad Bradshaw is the Giants primary kickoff returner and holds a 21.5 average with a long of 33.
"He's a big, strong, physical guy, runs through tackles really well and we have to do a great job off putting our pads on him, grabbing cloth, wrapping up, and accelerating our feet and taking him down. He's a catch it, get vertical type of runner. He kind of typifies their team."
As well as snapping for punts, DeOssie is the Giants leading tackler. He's surrounded by linebacker Chase Blackburn, running back Reuben Droughns, safeties Sammy Knight and Kenny Phillips as core special teamers.
Fipp sees the Giants special teams coverage units as a reflection of their hard-nosed head coach in Tom Coughlin.
"They are a tough, physical outfit and they play a tough, physical brand of football. It's kind of a throwback style. We have to do a great job of protection, cover our tails off down with the field. We are going against a good football team that does a great job with pad level and leverage, and they play a physical brand of football. They all run well. We have a great challenge playing last year's Super Bowl Champs, and it's a great opportunity for guys to show what they can do. We're excited."