During Mike Nolan's tenure, the 49ers have bested the Arizona Cardinals only once, but that one win started off the 2007 season for the San Francisco 49ers on the right footing. It's been a mostly uphill battle since with the 49ers adding only one other win on the season. As they look to put those losses behind and repeat their earlier win over the Cardinals, 49ers.com checked in with the team's coordinators to discuss some of the aspects of the game.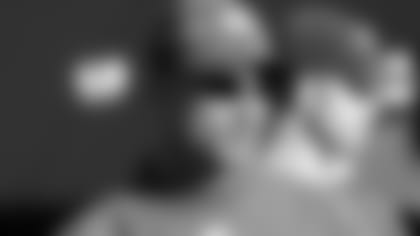 49ers Offense/Cardinals Defense, Offensive Coordinator Jim Hostler**
Arizona's defense sold out to stop Frank Gore and the 49ers running attack in the first meeting between these two teams, and it was a game plan that worked. Gore was kept in check with Alex Smith unable to capitalize on one on one coverage on the outside, not until the final two minutes of the game.
"Everybody sells out to stop that facet of our offense and it has worked," said Jim Hostler. "We haven't gotten the run going when we should and we've been hit or miss with our shots out on the perimeter."
This time around, Trent Dilfer will get his crack at this Arizona defense this Sunday, and he'll need to be prepared for pressure coming from up the middle. Among all league interior linemen, Darnell Dockett leads the NFL in sacks with 8.
"Dockett has always been very disruptive in our games. He's dominant, extremely quick of the ball and very powerful. He's a guy we have to keep a close eye on because he's playing at an extremely high level."
Gabe Watson plays alongside Dockett with Antonio Smith to his left and Joe Tafoya and Darryl Blackstock working at right end in place of Bertrand Berry who was placed on injured reserve with a triceps injury. Arizona relies more on Blackstock, an outside backer, in passing downs.
"Watson is similar to Dockett, in that he's quick off the ball and very explosive. Antonio Smith is a younger play who has gotten some production for them with his pass rush, but they did lose an experienced guy in Berry who really was a disruptive force. I think they are trying to find two guys who can give them what they had in one with Berry."
Arizona boasts a very talented and active group of linebackers in Calvin Pace, Gerald Hayes and Karlos Dansby. All three are at the top of the tackle chart and all three also show up in just about every defensive stat category including sacks, pressures, tackles for losses and turnovers.
"They are very good linebackers, all of them are active, very good in space and on the perimeter, and they are very physical. They've got a very good front and it shows up on film every week. They are physical, downhill and they are aggressive."
Arizona's most aggressive defensive player is Pro Bowl safety Adrian Wilson. Wilson was out last week with a heel injury, has been limited in practice this week and is doubtful for Sunday. With as much pressure as they've gotten from their front four, Arizona hasn't blitzed Wilson as much as they have in the past, but the top notch safety still shows up all over the field.
"Adrian is probably one of the best in the league. He's dominant in the run game, good enough to cover guys one on one, he can match up on people and he's really the total package. You have to keep a watch on him in the run game, he's a threat to blitz and then you have to beat him in your one on one match ups. If he's not in there, that's a loss for them, but they did play well without him last week."
In Wilson's absence Oliver Celestin started last week against the Bengals with Arizona often running a nickel defense where they used cornerback Antrel Rolle more as a safety.
Rolle was chosen as the NFC Defensive Player of the Week after coming up with three interceptions, including two that he took back for 50-yard touchdowns.
"He had an outstanding game, played inside in nickel and he got a lot of work inside, came up with some big, big plays which is what they drafted him for. He definitely impacted the game with his big play mentality."
In the last two weeks Arizona has kicked it into high gear in creating turnovers, coming up with ten takeaways.
"Ball security is something that makes a difference every week and we continue to stress that. If we can protect the ball, we do a better job at keeping games within reach and hopefully coming out with a win. The biggest key for us, as it has been, is doing a good job with our first down offense, getting positive yards and keeping those third downs manageable. Then, we've got to be able to execute better on our third downs than we have been, and keep ourselves out there on the field."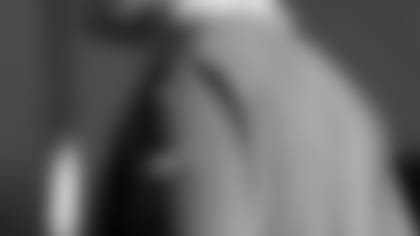 49ers Defense/Cardinals Offense, Defensive Coordinator Greg Manusky **
Arizona's offense has yet to score a touchdown in the first quarter this season which is good news for a 49ers defense that would like to start off fast after allowing St. Louis to score their only touchdown of the game last week on their opening drive.
"Definitely starting fast is important for us because it sets the tempo and sets a message," said defensive coordinator Greg Manusky.
The primary change since the prior meeting has been the change in quarterback from Matt Leinart to veteran Kurt Warner, who is enjoying an 88.8 QB Rating.
"He's a smart player, he's been in the league a long time and he's got a good arm and great receivers to get the ball to. He gets the ball out quick ,and as usual we've got another formidable task on our hands."
Arizona's line has also solidified this year under the direction of line coach Russ Grimm, allowing only 13 sacks on the year.
"The line has done a good job of locking the front but Kurt's a veteran quarterback and he knows how to get rid of it, so he's a big part of that low sack number. He knows where the outlets and check downs are and he's a lot like Drew Brees in that he'll flip it out of there if he's in trouble."
Larry Fitzgerald leads the Cards in receiving with 66 catches for 904 yards and four touchdowns. Although he missed time with a hip injury, Anquan Boldin is second on the team with 40 catches for 451 yards, including a 44-yard touchdown catch last week against Cincinnati.
"Those guys are good. They've got amazing ability and  we were able to hold them starting out, but they were still getting their feet on them in that first game and we kind of snuck up to them. Now they've got their groove down, their line is playing well and that quarterback gets it to them so we really have to step up."
Wide receiver Bryant Johnson and tight end Leonard Pope are also getting their fair share of plays, ranking third and fourth on the receiving charts. Pope has become a touchdown target as of late, and has four scores on the year, tied with Fitzgerald for second most on the team.
"I think you take away the big guns in Larry and Anquan and sometimes you can fall asleep on some of those other guys. If those guys are covered, Kurt is smart enough to go find a guy like Pope or Bryant Johnson and get the ball to them for big plays."
Grimm and head coach Ken Whisenhunt have tried to install their power zone run game in Arizona with Edgerrin James but the former Pro Bowl back has finished with only one game over 100 yards. James did have one of his better days of the year against the 49ers with 26 carries for 92 yards.
"They are a pretty big offensive line and they'll try to overpower you to get some holes for Edge. He's still a hard runner. He's got good vision, still has quickness and he can break tackles."
On third downs, look for the ball to go to James or Fitzgerald. Fitzgerald is tied for 6th in the NFC in first downs with 41, while James ranks 8th on the list with 40 first downs to his credit.
The 49ers have worked heavily on their red zone defense the last few weeks but they'll be facing one of the better red zone scoring offenses in the NFL. The Cardinals are second overall in the NFL in average points, which trails only the undefeated New England Patriots.
"We've been preaching about starting fast and keeping them out of the end zone, regardless of where their offense gets the ball. That's not always an easy assignment, but that's our task."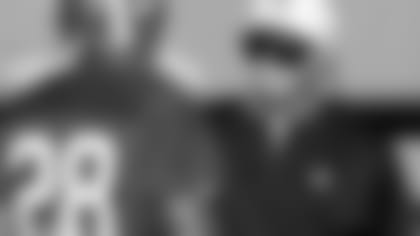 49ers/Cardinals Special Teams, Coordinator Al Everest **
Arizona will look to shore up their special teams units which leads the league in penalties with 17, and gave up a blocked punt for a touchdown last week against the Bengals.
The blocked punt didn't do much to help the average for a young punter in Michael Barr who has only a 33.1 net.
"He's a young guy and he is struggling a little bit, but he's there for a reason," said Al Everest. "We've got to get some pressure back there and keep squeezing him."
The Cardinals kicker Neil Rackers is 2nd in the NFL with 14 touchbacks. The former Pro Bowl kicker has been solid in field goal kicks under 40 yards with his one miss under that range coming on a block by Rams Adam Carriker. Rackers, who has a low trajectory, also had an extra point blocked against the Redskins.
Known for a strong leg, Rackers has missed one from the 40-49 yard range and is only 3 of 7 this year on kicks over 50.
"We've got a good game to get pressure on him, and that's something we've stressed all year. We were able to take some points away against Seattle and that's something we need to do every week with our field goal block unit."
Steve Breaston is now handling both punt and kickoff return duties for Arizona after starting off the year as the primary punt returner. Breaston had a 73-yard punt return for a touchdown against the Steelers, and a long kickoff return of 52 yards.
"He's not a fair catch guy. He's trying to return every punt so we have to go down every time and be ready to go get him. He's quick and he's made some guys miss for some explosive plays so we've got to contain him in both kickoff and punt returns."
Sean Morey and Monty Beisel lead the Cardinals in their coverage efforts with 13 and 11 tackles respectively. However, Arizona could again be without one of their better coverage players in Aaron Francisco, an alternate to the Pro Bowl last year, who is doubtful on the injury report with a knee/calf injury.
"We thought Aaron would be back but Beisel and Morey are obviously two key players for them. They are true specialists on special teams. But, this game is going to come down to field position as it does in any good game and we need to do a good job in all areas and get after them."
The 49ers have had their share of successful onside kicks but the Cardinals came up with a successful onside kick against Baltimore, something the 49ers will be ready for.
San Francisco, as always, will have their own fair share of tricks up their sleeve, like the 41-yard punt return on a reverse last week by Nate Clements.
"That's something we've worked on in practice all year, a couple of different ways and we'll continue to find ways to get Nate involved because he's an explosive returner who can soften things up for us."