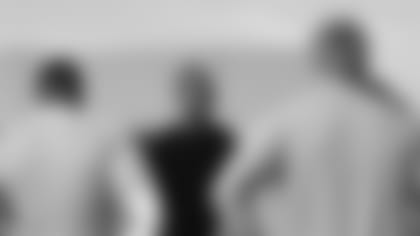 Head strength & conditioning coach Duane Carlisle "can't wait" for Monday's start of the 14-week program.
Sure, the helicopter tour of the Bay Area certainly helped propel former Bengals defensive end Justin Smith to sign with the 49ers, but the 49ers weight room didn't hurt either.
"As soon as he saw our platforms for the Olympic style lifting during his tour of the building, his eyes lit up and he told me it was 'awesome,'" said head strength and conditioning coach Duane Carlisle. "He let me know immediately he's a fan of that type of training."
The ink had barely dried on his contract that Saturday when Smith asked Carlisle if he could borrow some shoes
"That let me know right away how seriously he takes his training," said Carlisle. "I think he's totally on board with what we have planned and so he'll fit right in with the rest of the guys."
Carlisle expects the rest of those guys – in fact nearly the entire 49ers roster - to check in Monday for the start of the team's voluntary 14-week off-season strength and conditioning program.
"We are anxious to get the guys here because we've really spent a lot of time individualizing our program and we believe we'll be able to help our guys at a greater level," said Carlisle. "We are going to work hard as a group, work hard as a team and when game time comes, they should see the results of what we've put together."
The 14 week program will be a continuation of what was established three years ago by Johnny Parker, who retired back in February, but there will be some new twists when the bulk of the players arrive on Monday.
The weight room has been re-arranged with all cardio machines having been grouped together in one area, as well as a few new toys in the mix.
"We tried to organize things a little better in the weight room so that there is more space for the players," said Carlisle. "We've also added a few new machines in the weight room that I think the guys will enjoy putting to use."
There will also be new additions to Carlisle's outdoor program, including heavy sleds that should allow a more realistic football motion.
"The past few years the guys have pulled sleds with weights, but these are much heavier sleds that one or two guys can stand on while the guys push the sleds instead of pull," said Carlisle. "This way they can basically come out of their football stance and just go. That should help their explosion as they come off the ball in a game."
As well as new gadgets, the players will also meet two additions to Carlisle's staff in assistant strength and conditioning coach Mark Uyeyama and a full-time intern in Brett Nichols.
"Mark has really established his presence around here in the last few weeks, and he's done a great job," said Carlisle. "I also think having a third guy to work with the players gives us a tremendous boost and will really let us give more attention to each person."
Uyeyama joined the 49ers during the week of the Senior Bowl in January and although it's been fairly deserted around team headquarters for the last several weeks, the former Utah State head strength coach has had a chance to work with some of the team's key players, including quarterback Alex Smith. Since coming off shoulder surgery that ended his 2007 season, Smith has been rehabbing at team headquarters and hitting the weight room.
"Mark has worked extensively with Alex the last several weeks and he's really put on some significant muscle weight," said Carlisle. "He looks very strong and we're excited about the progress he's made. There are certain planes of motions they still don't want Alex doing, but he's really been doing full workouts, so he'll be ready to participate along with the rest of the guys."
In fact, most of the guys coming off injuries are expected to participate in the program with only a few modified workouts. WR C.J. Brewer, DT Joe Cohen and LB Manny Lawson are still rehabbing ACL injuries that ended their 2007 season and are expected to be held out of certain movements.
Although this threesome has yet to be cleared for a full-go routine, they will have a leg up on when it comes to one of Carlisle's additions for the upcoming program. Every Thursday for the first four weeks, Carlisle plans to have the players take part in an extensive pool workout, something that has in the past been reserved for players recovering from injury.
"I'm always looking to offer variety in our program and it'll be an intense session," said Carlisle. "These guys get tired of doing the same thing week in and week out, so I think this should offer them yet another tool to use in their training."
Be sure to check back on Monday for photos, video and updated feature on the first day of training!