Here are some of the things gathered and learned on Sunday at the Combine about the 2008 NFL Draft prospects.
COMBINE INJURIESFlorida State wide receiver De'Cody Fagg exited his workout early on Sunday after sustaining a knee injury. He left the field with assistance after planning his right foot after making a catch along the sidelines.
Boise State left tackle Ryan Clady also reportedly suffered a pectoral injury during his bench press a few days ago.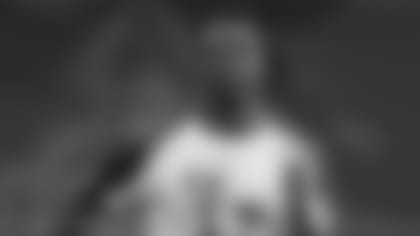 The quarterbacks, wide receivers and running backs ran the 40 and went through the rest of their workouts.
The fastest at each position in the 40 according to NFL.com…
WR – Cal's DeSean Jackson (4.35) – Jackson promised to open some eyes with his 40 time, looks like he delivered.
RB – East Carolina's Chris Johnson (4.24) - scouts knew this kid was fast but no doubt his time improved his draft status
QB - San Diego's Josh Johnson (4.55) – this kid was the fastest with most of the elite quarterbacks in this class running more in the 4.8 – 4.95 range.
For more on the workouts, check out Chrissy Mauck's From the Combine blog or area scout Todd Brunner's Blog.
MOVING UP, MOVING DOWN
This is a year in which many "experts" claim there is no clear cut #1 overall pick. Running back Darren McFadden might have made a strong argument on Sunday with the second fastest time in the 40 among the backs. According to official times on nfl.com, McFadden ran a 4.33. McFadden also had an excellent workout.
LSU's Glen Dorsey was also considered a solid candidate for the overall #1 status but reports coming out of the Combine from some media outlets indicate that there might be some concern over a stress fracture suffered during his 2006 season.
Dorsey and USC's Sedrick Ellis are considered the top two tackles in this year's draft. Any serious concerns of injury with Dorsey could increase Ellis' stock.
"As a player you always thrive on competition and it would be cool to be that elite guy and I'm working toward being that elite guy," said Ellis. "You've got Glenn Dorsey who is a great tackle from LSU so I'm looking forward to meeting him. We're going to battling for a lot of stuff in the next few months. He throws a punch and I throw a punch. It's going to come down to pretty slim pickings up there. I think there are three of us in the top 15 or something like that. Teams need tackles and tackles aren't something you can make from a different position. We're kind of born. Not everybody has the body type. It will be interesting."
A FAMILY AFFAIR
Football runs in the family for Arizona's defensive back Antoine Cason. His cousin Aveion Cason is a running back who has bounced around the NFL and is currently with the Detroit Lions. Another cousin, wide receiver Ken-Yon Rambo was drafted by the Raiders in 2001 and plays now with the Calgary Stampeders. His father, Wendell, also played in the NFL.
As for his dad, "That's benefited me greatly," said Cason. "That's a thing a lot of people don't realize, that I've had coaching since high school from someone who's played at the highest level of football. He taught me a lot of things from high school to college to now. It's been a blessing for me to have him."
Family is important to Cason, who with friend Matthew Brooks, began a foundation called Cason Cares for his grandfather Royce Rambo who died of leukemia in February of 2007.
"He was a role model to me," said Cason. "He's done everything for the family. My senior year I wanted to do something to honor him for what he's done for me and my family. And I sold the bracelets, $3 apiece at Arizona, and all the money went to the American Cancer Society. Mathew and I raised about $7,000 in two months just between the two of us. It was a great experience for me to see the foundation side, how the business side works, in college, being a young man growing up trying to do some things that don't benefit me. Everything is not about me, me, all the time. I wanted to give back and do something positive, and pretty much everyone can relate to."
Cason is highly regarded as one of the better backs in this year's class, but there are some questions about Cason's speed.
"It doesn't bother me at all. I'm a competitor. I'm ready to prove myself every time I step out on a national platform or just playing anything. I'm ready to prove myself again."
NO REGRETS
Wisconsin defensive back Jack Ikegwuonu opted to come out as a junior, but his chances in the draft quickly dimmed when he suffered a serious knee injury. During his training for the Combine, Ikegwuonu got caught up in a sled he was pulling. He planted his right foot to regain his balance and hyperextended and dislocated his knee, suffering a torn ACL and a partial tear to his MCL.
"Everything flashed," said Ikegwuonu. "I was laying there and I've never cried like that before in my life. You think about your family and your career. I really thought that my career might be over. It was a really hard day for me."
A month removed, Ikegwuonu said he feels good about his decision to come out but admitted that initially, he did some second guessing.
"I think I made the right decision but when the injury happened I was thinking whether I had or not. I was thinking maybe it was god telling me I didn't make the right decision and I was wishing I was back at school. It's been a month now and I'm confident that I made the right decision. This could have happened playing next year, so you just don't ever know."
Ikegwuonu will have surgery to repair the ACL in a few months and says that he's been told by his doctor that he could be back in six months. That's a relatively short rehab time for an injury that most say takes 9 months to recover from.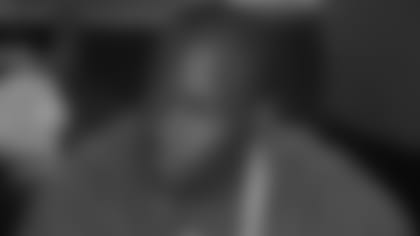 Nebraska's Zackary Bowman doesn't know how many other players from Alaska have received a Combine invite, but he knows there aren't many.
"I know there's one guy – Cole Magner out of Bowling Green who was a draft prospect," said Bowman. "I actually played with him. I don't know if he was here or not though."
Football isn't huge in Alaska, but it's not all that small either.
"It's just like anywhere else, we just didn't have a lot of teams," said Bowman. "There were 16 big schools and we all played against each other."
Bowman's father worked in the Air Force which meant several moves as a kid for the Nebraska defensive back, including as far away as Germany. The hardest miles he traveled may have been the hurdles he's overcome in terms of injuries. He tore his left ACL in 2006 during practice and then ruptured his patella in his right knee in March of 2007, yet still returned for the season.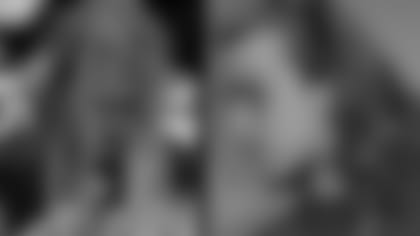 "It just tells the NFL that I'm a hard worker, that I'm determined," said Bowman. "A lot of people didn't think I'd come back and play in the 2007 season, a lot of people didn't think I'd come back and play period but I was determined to prove them wrong. I worked hard in the summer time and came back and proved them wrong."
LOOK ALIKE
49ers fullback Zak Keasey has taken a lot of grief in the past for his long dreds and resemblance to actor Mel Gibson in Bravehart. Well, there's someone out there who resembles Keasey. Check out Boston College defensive back James Silva, who even sounds somewhat like Keasey.