The action at the Combine picked up speed on Friday with the first workout and the first bench press. Here are some off the odds and ends gathered from Day Two at the Combine.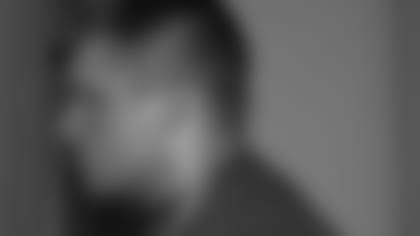 Ohio State's Kirk Barton watches as the remainder of his group benches.
Bench Press**
Michigan tackle Jake Long churned out the most reps of the 225 bench press with 37, followed closely by Rutgers Jeremy Zuttah (35) and Ohio State's Kirk Barton who finished with 34. Next up were Cal's Michael Gibson, Northern Iowa's Brandon Keith and Nebraska's Carl Nicks with 31 reps, followed closely by Toledo's John Greco and Pittsburgh's Michael McGlynn who had both had 30.

Members of the 49ers staff watched the group intently and offered their philosophy on the amount of reps each player did.

"You just hope that guys get up in a respectable rep range," said 49ers strength coach Duane Carlisle. "For guys with longer arms, that's a little tougher so you don't judge them the same as some of the barrel-chested guys but you just want to mainly see how they compete. If they are stuck on a rep, it's always good when you see them really push through and fight to finish it."

First Workout
The punters and kickers were the first to take the field at the RCA Dome with a Friday afternoon workout. Louisville kicker Arthur Carmody proved to be the most accurate with perfection on all 15 of his kicks. Wisconsin's kicker Taylor Mehlhaff missed one field goal, but proved to have the strongest leg of the bunch.

49ers Steve Young Gets Shout Out
Notre Dame offensive lineman John Sullivan heralds from the same Greenwich, Connecticut hometown of 49ers Hall of Fame quarterback Steve Young. Sullivan said he's met the former 49ers a few times at some athletic dinners in his hometown.

"A lot of people take a lot of pride in Greenwich that Steve is from there," said Sullivan. "Growing up in Connecticut, you'd never expect to see so many San Francisco 49ers fans but there's quite a few."

Sullivan has had other NFL exposure at Notre Dame with head coach Charlie Weiss.

"I think it should help me with learning a new NFL system wherever I end up because I've been through that process with Coach Weiss. It could help me understand a new NFL system better when it's my time."

49ers Jerry Rice Also Gets Shout Out
Cal wide receiver DeSean Jackson said his mentor has been former 49ers receiver Jerry Rice. Rice spent ten days down in Pensacola, Florida training Jackson in order to get him Combine ready.

"Jerry's a great dude. I'm just very fortunate to be able to work with him. Like I say, he came on and he was just very supportive of me. Like I said, great mentor. He has all the right things to say. Basically off the field was the biggest thing that he tried to preach to me. How you treat people when you go meet people and things like that because you'll always be able to build relationships and people will remember you. Through this whole process I was definitely in the books with him, talking to him, just hanging out with him just trying to pick his mind and do the best things I could do and learn from him."

Who Will Work?
Boston College QB Matt Ryan will run the 40 but he doesn't plan to throw at the Combine.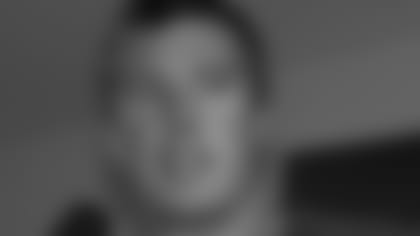 QB Matt Ryan
"We have a bubble up over our stadium at BC. We've got great conditions to throw on Pro Day. For me, I want to portray to the teams that are going to be looking at my skills in an accurate representation of what it would be like in a game situation. I want to throw to the guys I know and give the teams a chance to look at what I'm capable of doing."
WR Early Doucet had a hamstring injury that kept him out of the Senior Bowl and will wait to run and do his drills at his Pro Day at LSU.
"God has things happen for a reason, so obviously there was a purpose behind me tweaking my hamstring," said Doucet. "But at the same time it was also a good experience to go down there and interact with some of the NFL coaches, have some interviews and just get accustomed to running the NFL offense. I mean, you can't let it get you down. Like I said, God has a plan for you. So I'm just putting all my faith in God and he's going to eventually have me ready for my pro day and allow me to perform at a high level."
Texas WR Limas Sweed also aggravated his wrist injury at the Senior Bowl during the first day of practice.
"The wrist is 100 percent healed. I've been going through a lot of MRIs, x-rays and it's 100 percent healed," said Sweed of his injury. "The range of motion, out of 100 percent is I'd say about 65 percent – more than halfway, which is good. I talked to a lot of people in there and they said considering the amount of time that's a pretty speedy recover. So I'm happy and I'm on my way back to being 100 percent."
Sweed will run the 40, but has not yet determined whether or not he'll catch balls at the Combine. He's not worried however about coaches or scouts doubting his competitive nature, thanks to the Senior Bowl.
Said Sweed of why he tried another day of practice in Mobile after tearing some scar tissue in his wrist," I wanted to show: A) that I could get open, and B) that I could run by guys; but also that I am a tough guy willing to compete – because I felt like coaches at the University of Texas, they knew that every day I come out there and compete. But the NFL coaches, they never had a chance to meet me, so I wanted to come in and leave an impression on them that I'm here and I'm going to compete."
Division III in the House
Wide receiver Pierre Garcon came through the media room and drew attention as he's a rare Division III player to receive a Combine invite. Garcon played at Mt. Union this year, losing in the National Championship.
"I'm very blessed to be here, whether I get drafted or not," said Garcon. "There are a lot of D-I guys who aren't here. I feel like I will get drafted but I need to show everyone what I can do because we don't get a lot of coverage so people don't know too much about me."
Now that he's here Garcon, said he feels like he's just as deserving as any other player at the Combine, although he admitted the invitation was quite a surprise.
"I got it in the mail, and I thought it was an agent, one of those packages a lot of agents send to your house," said Garcon. "I saw the return (address), it said Indianapolis. I was like, 'Oh, man.' I couldn't even explain. I was thrilled to have it, but I thought it was a joke at first. I was afraid to open it, but I found out it was real and I was happy about it."
Garcon said he didn't have the grades to play at a Division I school, but that his sisters eventually got him straightened out.
"In high school I didn't have the best grades to play all four years so I played my last two years. I was overlooked because of that. My sisters really convinced me. I thought football would just take me anywhere.
I didn't have the grades to go D1 and my sisters got on me so I decided to change that up real quick."
Turning the Tables
Louisville receiver Harry Douglas may have been the media darling during Friday's interview sessions, sticking around even to watch his teammate, Brian Brohm, answer questions.
Douglas also noted that the interview process, which includes media, scouts and coaches does not always involve being on the receiving end of questions.
"I think sometimes you've got to turn it around and ask questions too," said Douglas. "I think maybe I've surprised a few teams by that, but I think if you've got questions, you need to ask them."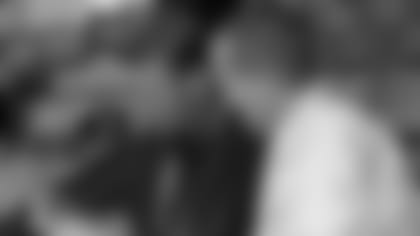 General Manager Scot McCloughan and head trainer Jeff Ferguson review the day's medical report.
Medicals **
The thorough Combine medical evaluation process is about the most important thing that will come out of the next few days in Indianapolis. 49ers head trainer Jeff Ferguson said they saw 89 players on Wednesday and 109 on Thursday.

Cleaning up Character Issues
Hawaii quarterback Colt Brennan left his first university of choice, Colorado, after an arrest.

"I was accused of some crimes a jury found me not guilty of. For instance, the trespass and burglary charges that stuck - Trespass for entering a room unlawfully, yet three people testified they witnessed me invited into the room. Burglary charge for not leaving the room when asked to leave, yet I passed a polygraph test that I was never asked to leave the room. At the same time it's not like what I did that night was innocent. I was drunk and I put myself in a bad situation. I've learned from that and I take full responsibility from that."

Asked what he learned from the situation and how he's changed, Brennan responded, "It basically taught me life is not fair. I'm the one who is at fault for putting myself in that situation, but there were a lot of things that transpired after I got in trouble that wasn't right, that wasn't fair. I had to go through a lot of tough times and it made me a lot tougher internally. It made me realize life is not fair, you have to make life what it is. I was able to go on and have some success and experience some great things because of the mental way I changed. I think it's really helped me for the lifestyle you're about to enter, going into the NFL."