Jason Tarver didn't study for biochemistry tests in college. That would have made them too easy.
Instead, Tarver went into tests and figured out the problems as they came. That made it more challenging – and more fun.
Tarver loves problem solving. It is part of what makes the 49ers outside linebackers coach so good at what he does. He enjoys analyzing opponents, then figuring out how to stop them.
Now entering his tenth season with the 49ers, Tarver has solved countless problems, and for him, that's the best part of the job.
"I like figuring out what the problems are and how to attack things and how to fix things," he said. "That's what drew me to coaching."
But, if Tarver wasn't coaching, he could probably be doing anything he wanted.
Bill Walsh knew it the first time he met Tarver. When Tarver interviewed for a coaching position with the 49ers in 2001, Walsh asked the then 26-year-old why a man with a masters degrees in biochemistry and microbiology would want to coach football.
For Tarver, the answer was simple.
"I just knew this was what I wanted to do, and I told him that," Tarver said. "There's nothing else like coaching, and it is truly what I love doing."
Tarver grew up in nearby Pleasanton, and loved football from a young age, but he didn't start playing until he was 12. He was too small, and his parents didn't want him to get hurt.
But, by the time Tarver was a senior in high school, his size didn't matter anymore. Tarver had become one of the better defensive backs in the state and his skills earned him scholarship offers to several small schools.
But when he tore his anterior cruciate ligament during his senior season, those offers disappeared. Tarver's grades, however, did not. They were good enough to give him an academic scholarship to Santa Clara University.
He enrolled in the fall of 1993, but the Broncos had dropped their football team the year before. Tarver still wanted to play.
So, a year later he was on the field at West Valley College where he played two seasons. In his second season however, Tarver blew out his knee again, and his playing days were done.
He then spent his senior year as an assistant coach at West Valley and thought it was what he wanted to do with his life, but he wasn't positive.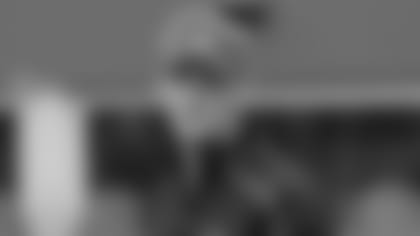 All of his knee surgeries intrigued him, and he thought he might want to use his chemistry degree to become an orthopedic surgeon.
In 1998, Tarver had a chance to pursue both career paths when he went to UCLA to earn his masters and coach as a graduate assistant for the Bruins.
Those days were hectic for Tarver, but they were some of his most fun. He would focus on football work all day before practice, then after practice he would sprint across campus, put on a lab coat and teach a four-hour lab. After that, he would start his masters research.
"There was so much going on with teaching and coaching, but it was amazing," Tarver said. "I learned a lot about football, chemistry and myself."
Tarver sees lots of similarities between chemistry and football. He said football is more mental than physical, and Tarver uses the same problem-solving techniques on the field that he did in the lab.
"You have to adjust very fast to everything else that is going on in both," he said. "In chemistry you have to deal with chemical reactions and things like that, and out here you have to adjust to what the other guys are doing."
Tarver is only in his mid 30s and could see himself as a head coach in college or the NFL some day. He's not out looking for those opportunities, but he knows if he keeps working hard one will present itself.
And when it does Tarver will be ready.
He has notebooks filled with everything from how he would recruit in college, to how he would organize a road trip, to the plays he would like to run.
"But, like the great John Wooden said, 'Stay in the moment,' Tarver noted.
And in the moment, Tarver is doing something he didn't do much of in college – studying. He spends more hours preparing for opposing offenses than he ever did for tests.
Just don't tell his old teachers, he doesn't want them to think football is tougher than chemistry.