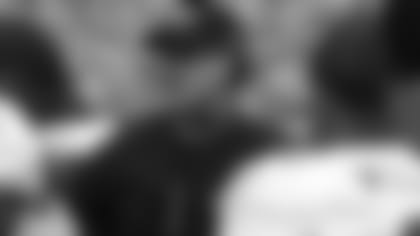 Jim Harbaugh addressed the media on Monday, following a 34-0 win against the New York Jets.Opening statement:**"Good morning. Good to be back, back here in our facility and back in California, and 3-1. It's good, positive."
What was it like seeing the weight room last night, just coming home to a gift of sorts?"It was really neat and really special. [Head strength & conditioning coach] Mark Uyeyama and [assistant strength & conditioning coach] Kevin Tolbert were the first two over there. A bunch of players got off the bus and walked through it, several coaches, and [Chief Executive Officer] Jed [York] and [General Manager] Trent [Baalke]. Everybody was just looking at it and admiring it, thinking about all the possibilities. It's a great gift for our players. There's been a lot of construction going on around here. A lot of things, in a good way, have made it harder on the team, on the players. There's a reward there. That building, think it'll make us better, make us stronger. It's a good symbol of that. Guys were in there cranking it out today, throwing the iron around. "
Did anyone lift the ceremonial first weight?"That's a good question. It was christened today."
So not last night?"Threw one up? No, didn't see anybody throw one up last night. But there's a lot of planning and eyeballing it and thinking about the possibilities. But I don't know who threw the first one up today."
You talk about humbly going to the next game. What was the phrase that you use?"I don't recall."
49ers Director of Public Relations Bob Lange, can you help me out?KTVU Sports Reporter Joe Fonzi: "Go forward with humble hearts."
Go forward with humble hearts. Thanks Joe. What's behind that? Why do you say it? And what's the message there?"Well, the message is, 'we've attained humility.' I couldn't really say when that is for each person. Personally, it was a long time ago. But, that carries with it no loss of true pride. And the idea of - nobody's walking around here like we're the greatest thing since sliced bread. And you've got to get better, you've got to improve. The single most important thing is winning the game. Fundamentally, the single most important thing. But, also you want the feeling of improvement, otherwise it's short lived."
LB NaVorro Bowman was telling us maybe a couple weeks back about takeaway Thursdays. Is that a defensive thing? Or did you instill that? Did defensive coordinator Vic Fangio instill that? And how does that mentality from takeaway Thursdays go onto the field for game day Sundays?"The drills that the defense does are Vic and the defensive coaches and players have installed that."
What's your thought on that and maybe what that does for them on Thursdays that pays off on Sundays?"The practice of the fundamentals of recovering footballs, diving on mistakes, clubbing, ripping, jarring the ball loose. And then the technique and fundamentals of attaining a turnover."
Does that get pretty heated on the field on Thursdays? NaVorro claims they've had nine takeaways on one Thursday. QB Alex Smith argues that number is exaggerated. But, is it a pretty big deal?"With the competition between offense and defense? I'm not keeping track of those. I couldn't tell you if it's eight or nine, or seven or six. There's good competition on the practice field. Not just on Thursday, but every day. And it's competitive but not self-centered. It's a noticeable thing. They really treat each other with a great amount of respect, which I've always admired with our team. They respect each other's personalities. They respect each other's talents. They respect each other's work ethic. And they enjoy the competition. Like we say, it's competitive but not self-centered. And above that, it's respectful."
How much enjoyment did you get from watching your offensive line when you reviewed the tape last night?"Well, there were a lot of positive things from all of our units across the board, especially defensively. That was a gem that our defense turned in, both players and coaches. Every guy playing within the framework of the defense. Really playing their ace that they had individually as players. Hustle all-out play. Hard, rough tackling. Specific guys to a man defensively did a great job. And also Vic Fangio, I thought he called a tremendous game. And then had our guys prepared for almost every scenario. The pass that [Jets QB Tim] Tebow ran, the fake quarterback run, which could have been a designed run and then if he doesn't get the run he pulls up and throws it to the tight end. Vic and the defensive coaches had covered that during the week even though the Jets had not shown that this year, or in previous years. Just great intuition and preparation on Vic and the defensive coaches' part, as an example."
Do you remember rushing for 250 yards in a game and just kind of enjoying the way the linemen were blocking downfield and being a part of it, getting to the outside and sealing the perimeter?"Well next, that was an excellent performance by our line. Yeah, there's a lot of enjoyment watching that. And, thought our backs ran particularly well. [RB] Frank [Gore] and [RB] Kendall Hunter, especially. As well as [QB] Colin Kaepernick, [WR] Mario Manningham, and had a bevy of other guys that carried the ball. But yes, up front, that group did a fine job. It was a job well done. And for an offensive lineman, I think that's one of the highest compliments that you would want as an offensive lineman. Did your job, did it very well. It was a fine day's work. They earned their pay. Put in a solid, good day's work. And that speaks volumes for that unit that we have and where they're coming and where they're going."
When you look at the offensive tape though, what bothers you? You can maybe point out third down conversions, still rather low. Maybe some points still left on the field. Is there anything that bothers you about that game offensively?"Well, first and foremost very happy about the game. And across the board I thought our guys played extremely well. Thought our special teams units did a fine job. You point out the job that [P] Andy Lee did. Two punts pinned down inside the 5-yard line. Cover units were really good. Return units came up with some plays. I thought it was good. Just about every drive that we had, there was some production there. Moving the football, gaining field position, scoring points, finishing drives. There were a lot of positives there."
I know you like to bring positive, so let me rephrase it. What would you like to improve from that game offensively?"Everything. As we said it earlier, you want to keep improving. I think we did that in this game and we'll set out this week to do the same. And you can pick up the stat sheet and write your column."
In terms of Kaepernick in the last drive, did you want him to hit the deck there? Or was that the smart thing to do?"Yeah, it was very smart on Colin's part and that's something that we went over with him before the play. And all the different possibilities that that play could have. He had some options. And executed it flawlessly. He did a fantastic job. And then when you're out there running in the open field and the end zone's there right in front of you, that's still up to the man. In this case Colin Kapernick to execute and finish the play properly. But Kaep's a smart guy, understands at that point you make the first down there, this game's for all intensive purposes over. It's a matter of running out the clock and you don't line up your extra point team and kick another extra point. You don't kick off again and expose players. And then defensively to put the defense back out there again. We had enough. We had enough. And Colin understood that. But then also, there's the goal line. There's the wide-open field. Colin's a great competitor. I'm sure there was great temptation to stick it into the end zone. But, very disciplined play on his part."
Could you have done that in your second year in the league?"Yeah, think so. Oh, well, I don't know if I could have executed it as well as Colin did. He's a pretty dynamic runner. Could I have gone down after making the first down? Yes, I could have done that."
Would you have though?"Yes, certainly."
Just to follow up on that with Kaepernick, does he sort of earn his play during the week of practice? Or was it something that you saw in matchup that you wanted him in this game?"It's definitely been earned. Colin's a very dynamic player. A great team player too. Everybody wants to play and feel a part of contributing to the winning. But there's been no self-serving, shameless self-promotion by Colin, as he's been in this understudy role, this backup role, to lobby for packages or play time. He's really been good. He's a competitior, he's got a pretty stiff jaw and goes about working every day and being prepared to play. You never know when that chance is going to be when you're the backup quarterback. But you'd rather be prepared and not be called on than be called on and not prepared. He's been great in that regard, but also very good from a team standpoint of not pouting or moping or complaining, or just the lobbying. He comes at it from a great team approach. Just, preparing and getting better and being ready. Just working, when his number's called upon. And then, to have the toughness, the mental toughness, talent, the ability to work at your craft when you are called upon, the toughness to take it out there on the field and make it happen, speaks volumes about him as a person and a player."
When you're designing those types of plays that he's in for, do you ever consult with him about stuff that he ran at Nevada to kind of see what his comfort level was there and kind of maybe let him share some of his experience in those types of plays?"Yeah, Colin's a very confident guy. He sees himself as having the ability, whatever the coaches and [offensive coordinator] Greg Roman come up with, he's got the attitude to go in there and making it work. So, like he said after the game, it's not called anything, it's not a package. He works on running the offense and running plays."
Are there specific plays that he practices that Alex doesn't or all those plays that he ran in the game available for any quarterback?"That's a great question. They both practice them. There really aren't specific Kap plays. All of those plays, Alex has practiced and worked on as well."
The guys almost to a man last year said that the Youngstown experience was really a good bonding thing. Did you find it to be that way again this year, especially after a loss, kind of refocus which undoubtedly teams have to do couple, three times a year?"I think it was positive. I don't know the effect. Had we come back and practiced all week in San Francisco, the way our players went out and played in this ball game, I don't think the result would have been significantly different. I think this was a real high-level of performance by our players that made the difference. I think that's the greatest share of anything we can talk about. It was a great win for the players."
What growth did you see from those guys, from one game to the next? I mean, growth might not be the right word, but strides from leaving that Minnesota game to what happened yesterday."I think it was positive. Positive strides. Good improvement by the ball club, really good on game day."
Was it nice to have WR Ted Ginn Jr. back with the team and what was your impression of him, first game back?"Good. Contributed, was back in there. Had a good week of practice and was great for him to be back in there playing and contributing. We felt the same way about it."
What is your take on icing the kicker? On whether it works, how does that play into a coach's strategy?"I have some opinions about it."
Please elaborate."I don't have any need to. It hasn't come up yet. So, I don't have a real good reason for elaborating on it right now."
Maybe how it relates in the game, not specifically to the 49ers?"Not really. Not a real good reason to do it."
LB Larry Grant on the blocked punt said he was able to go to his special teams coach and tell him he saw something earlier that allowed him to get through. What has he brought to special teams, what kind of knowledge does Larry bring that might be unique?"Well, he's an experienced player, a talented player, another guy that loves to contribute. You like hearing a story like that. You like when that happens on the field with the communication. A player seeing something on the field and talking with his coach about it and then having a real positive outcome because of it. That's good."