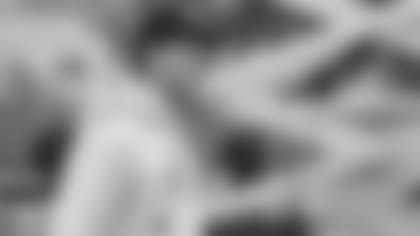 Head coach Jim Harbaugh addressed the media on Monday following the NFL and NFLPA's agreement of a 10-year Collective Bargaining Agreement.On what he will do first thing tomorrow:**"Open the building. The building will be open, our building will be open at seven AM and players will be welcome back in."
On the most important thing to get done in the next week:"Well, the next week is going to entail a lot of things. You're talking about practice starting, you're talking about signing undrafted players, college free agents, our own drafted players, unrestricted free agents, meetings, all that's going to take place simultaneously. So, first order of business is to start seeing our players, getting knee-to-knee and eyeball-to-eyeball with them, and honestly that's the thing I'm most excited about; that there will be an equilibrium there that's going to be good for me personally just to be back with those guys."
On whether he has talked with any players in the few hours since the lockout has been lifted:"Yeah, that's what we're doing right now. We're getting those guys on the telephone and letting them know where things stand as of now, where things will stand as of July 26, tomorrow. To the best of our ability, let them know what the rules are as we know them and let them know that they're welcome to come back."
On whether QB Alex Smith will be allowed to work out until he likely signs on Friday:"As I understand it, our own unrestricted free agents will be allowed in the building tomorrow and right up until the time that we start training camp on Thursday, and then they will not be in the building until Friday when they can sign. So that's the way I understand the rule."
On whether he can work on the field with players before training camp:"They're saying we can have meetings, and right now, that's what I know. There can be conditioning, we can work with them in the weight room once they have a physical."
On his reaction to the player organized workouts at San Jose State during the lockout:"Well, I was excited to see what was going on, that the players were taking the initiative and organizing workouts and practice, and hopefully that bodes well for us and everybody that participated in those workouts will have a leg up. I hope that's the case."
On whether Smith sent him videos of the player-organized workouts:"No, I did not get any videos from Alex."
On how many 49ers players he still has not met yet:"Quite a few. I'd say, I don't know the exact number, but it's 10, 15, 20. I've spoken to a few of those guys today and like I said, it feels more like football talking to those guys, even on the phone. So I can't tell you how good it's going to be having those guys in the building, face-to-face, knee-to-knee, smelling their breath, just getting to know them, let them get to know me, that's what I'm looking most forward to."
On whether it seems like a long time ago that he was hired as the 49ers head coach:"It does, it does, there's no doubt about it. A lot has taken place since then, everybody that's had to navigate these unchartered waters, and you included. Everybody here knows what that feels like now and how that's affected each and every one of us. I'm happy for the people that got this done and that we can finally say that we're back to football and the sacrifices that they made, all the people, the owners, the executive committee, the players, [executive director of the NFL Players' Association DeMaurice] De Smith, everybody. I'm thankful that they put in that work and they got this deal done. So now, though it's still unchartered waters and there's a myriad of obstacles that are out there right now, the good news is that we can get back to work and we've got some timeline to this endeavor now and I'm excited as heck to get working on it. Yeah, I'm nervous, I'm worried, and that's part of my job to be that way. Me personally, it keeps me on my toes, anxious, all those feelings to get started and get going. But that's the good news, we can now start."
On whether all the rookies will be able to come to the facility tomorrow:"We hope so, we hope so. That's something we're allowed to do now is to call them and make that available to them. It'll still be on a voluntary basis to come in, but the way I understand the rules, we can pay for their flights, we can house them when they get here and not a minute to lose from my perspective, so much to do and so little time to do it in."
On whether he knows how many players he will have tomorrow:"No, not yet. Tomorrow? When the doors open? I don't."
On how long before the team can put pads on once camp opens:"Camp will open Thursday the 28th to physicals and condition and meeting. Friday would be day one, that would be helmets-only practice, so we'll be on the field practicing Friday and Saturday. And then you asked about pads, pads would come in day four, Sunday."
On whether he had to rearrange some practice schedules when he heard of the new rules limiting practices to only one padded session per day:"We had scheduled two-a-days as a part of our plan, but the plan has changed. Obviously there are things that were important to the players and there are new rules that will go into effect in this training camp. So we're going to honor that, we're going to play by the rules. So a lot of the thinking is how best to manage the time that we have and it will really come down to that, the teaching, the quality, reps on the field, and who can do that the best will eventually get a leg up. I'm not concerned about getting around the rules because those rules are important to our players and they're part of our team and our organization, so we'll honor those. So it takes some thinking through, think it through and how best we can get ourselves prepared for the season."
On whether those new rules changed the old, basic ways of thinking about what football practice and training camp is:"It's different, it's different. It's still going to be our intent to get our team ready to play for the preseason games, for the opener on September 11th. There will be four hours on the field and that's pretty much dead on what we had scheduled our training camp, sometimes in a two-a-day, sometimes in a one-a-day with a walk-thru. So, I just feel good knowing the parameters now, once you know the parameters you can start thinking through to what fits your team the best. The main thing is getting to know our team because we haven't been around them, haven't been around them on the field, we haven't been around them in the classroom, so that time, whether it's in the meeting room or on the field, is very valuable and I don't even have to talk about being on time, how important that's going to be this year and use every minute wisely in practice time."
On how he evaluates the quarterback situation and whether he feels that he needs to bring in another veteran quarterback through free agency:"Well, we're going to, at every position, address all avenues that are out there and not give away any plan. Almost think of it schematically, going into a game you're just not going to talk about what your plans are, how you plan to attack a defense or an offense. And we'll treat free agency and building our roster in the next week, 10 days, exactly the same way, just keep it as our plan."
On how the media will know if the 49ers' plan has succeeded or failed:"You'll see, you'll see. You're always going to judge us on how we do, right? That's the nature of the business, but don't think it's in our best interests to be talking about, 'Hey, here's how we're going about it, here's what we're going to do.' In all instances, in position and in specifically each and every guy, we just won't talk about it. We'll keep that close to the vest."
On how he will balance the need to get so much work done early on with not knowing how good of shape some of the players will be in:"Everybody's got to do just a great job of teaching and understanding where guys are because guys are going to come in in tip-top shape, there's going to be some guys that come in close to tip-top shape and you just don't know. There's the unknown with every single guy on your team, every rookie free agent guy, drafted guy that you sign, you just don't know. So, the idea of the unknown, now you know why I'm nervous. I've got some angst on a lot of different fronts, but like I said, it keeps you on your toes, heightened awareness of where everybody is, physically, emotionally, mentally and all those different areas."
On RB Frank Gore:"I have not talked to Frank yet. Like everybody, you know we're waiting to find out, waiting to see him. And like I said, get knee-to-knee and eyeball-to-eyeball with him and answer some of those questions."
On whether he is interested to see how his staff works together:"I am. Myself, the players, our coaches, I think we are all just sitting on a spring and we are ready to go. Haven't had a chance to work on the field with all of our coaches, but you know there has been a real trust that's built up in this long period where we've had more extra time to be together and get to know each other and see how each other operates, so hopefully that's going to be beneficial. I'm sitting on a spring, excited to watch them coach, watch myself coach and coach. Talking with some of the players, I mean, it's just set, they're echoing that. They are feeling the exact same way. You know, that's all good."
On whether he has an advantage coming from college, in terms of scheduling:"Interesting, you know and definitely I've thought that line of thinking through. Also, I talked with [49ers defensive line coach] Jim Tomsula about his experiences in NFL Europe, where it was even more so in that way. The whole team reports to training camp, and you start right there from square zero. There are a lot of those things that have been factored in and make up our plan."
On meeting with Alex Smith about the player-held workouts?"It's going to be a scorched-earth plan of teaching and coaching when this gets started and I'm happy that the players organized those workouts and the initiative to learn and to understand. I'm sure they are going to have questions and details that need to be answered and ironed up. I think it gives us a leg up and we'll find out just how much it does."
On whether he followed reports through the media of workouts at San Jose State University:"I don't know about gleaning, but as far as reading it, I had a lot of time on my hands. So, I was interested and I think what interested me the most personally, I don't know if this is right or wrong, or should I had been gleaning more, but I was just happy for these players and this generation of guys to be able to organize their own workouts, their own games, their own workout sessions. Because, it's a generation that has been in a lot of ways over-supervised, over-officiated, over-scrutinized. It's not the generation where the leather in the baseball starts getting soft and comes apart. You figure out to get some gray electrical tape and wrap it around real tight so you can keep playing. You know, some of these parents come in with a new ball, so I'm just excited for those guys in that regard and I feel like it will bode well for us. And I don't know if I'm right or wrong."
On whether he has been waiting to get out on the field and start coaching:"You know I just, like I said before, I get angst about things. I get worried you know and it just spurs me on to do more so we're not going to be unsuccessful. Maybe that's a double negative in there somewhere. But you know, don't want to be unsuccessful. So you're constantly thinking of things to do, how can we do this better? How can we do it if they come in with a full training camp? What if it's only 10 days? What if it's only three weeks? What if we get them 10 days before training camp starts? So it's been a kind of a constant planning for all those scenarios. So, now that we have the timeline, a lot of those things that we were doing and thinking about are working well into this, now that we have the plan. Long story short, I mean I'm just glad that we have a timeline and we can plug a plan in and get started. You know, once that happens, once I feel like I know that is in place, then let's go and let the low part drag and we'll think our way through it and figure it out. So, that's the good news. I'm happy that football is back on and we have a timeline."
On what time schedule he is on now that football is back:"Well, we're on the full training camp, minus some off day, which had to be tweaked a bit and the new rules, in terms of time limits, one-a-day, two-a-day, etc. It's a new version, it's a new rules version."
On evaluating 49ers players first and the possible jump into free agency:"You know, define major player, we're going to look at all avenues. Hopefully, we'll think our way through and do what's best for our organization. We do have a plan and now it's a matter of executing it. Just like players, when they jump on the field, they try and execute that plan. Let it begin."
On how much patience he will have with players coming back who are not in shape:"Well, I think that all part of the teaching, the organization, the planning, realize that everybody's got to get to – they can come in from A-Z, you got to get them to Z. And everybody may be at a different stage along on that line, whether it's physical conditioning or understanding the playbook, or the way we do things, so it's just a matter of getting guys emerged into how to do things. And showing them and telling them how to do it. Then let them do it and then tell them what they did right and tell them what they did wrong and see if we can't get better, you know, better tomorrow than we were today, better today than we were yesterday. That will be how my patience level is and how we judge success, if we can get better. Get better than we were today."
On the amount of time he plans to work with the quarterbacks:"Well, yeah, the good thing about being the head coach is you get to work with all of the players. You get to coach them all. So, pretty much my plan is immerse ourselves in football, all day. Make it as much about ball as possible. We have structure on how we're going to coach and I'm involved with that. So, I can't be specific about minutes, but pretty much all day we'll be attacking ball."
On whether he has an idea on how many undrafted players will be 49ers tomorrow:"How many undrafted guys will be 49ers tomorrow? No I don't. I don't have a guess-timate on that. We're going to work really hard to – we can't sign anybody today, but getting on the phones and talking to guys and seeing the best possible guys we can bring in here."
On whether his college recruiting experience gives him an advantage:"Yeah, I think, somewhat. These young me are savvy and they want to go to a team that gives them an opportunity to make the team, to win, to play early, all of those things are on their mind.  We'll talk to them about the merits of coming to the 49ers."