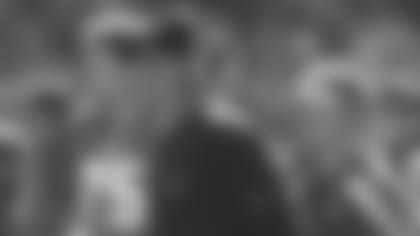 Coach Jim Harbaugh addressed the media on Wednesday at 49ers headquarters as his team prepares for Sunday's contest at the Arizona Cardinals.When you play a team with such a quick turnaround as the Cardinals, do you have to do much work between those games or can you use a lot of the same stuff that you did for the first week preparing?**
"There's some carryover. Then you know them from doing them a couple weeks ago, but there are things that are new as well. Treating it like a normal week in terms of making sure we're doing all of our preparations, like we were if we hadn't played them already."
With most of the focus on what they've done since you last faced?
"Pretty much treating it like we would a normal opponent that we hadn't played. Doing all of our necessary preparations that way. It's my first experience going through this."
Are they a different team with Kevin Kolb quarterbacking them than with John Skelton? Do they do different things on offense?
"No, I think their general identity is the same."
You said it's your first experience in doing that. Is that something you're sort of figuring out this week; how to go about this week when you just faced the team so recently?
"Could be. Could be something to glean there that I didn't know going in to this week."
Did you get results from LB Joe Staley's MRI exam?
"Yes."
Will you share with us?
"No, we wouldn't share those."
Would you call it a strain or is it more serious than that?
"Wouldn't share any information about it?"
Do you expect him to play?
"Don't know, don't know yet. Can't make that determination today. He's not going to practice today. But, that doesn't mean he won't play Sunday."
A lot of guys were optimistic that he could be a quick healer from this. Do you still feel that way?
"That the guys are optimistic? That I'm optimistic? I'm optimistic, yes. Is he a quick healer? Absolutely. He's a stud."
What intrigued you about the fly offense when you were at Stanford?
"Just wanted to learn about it. Saw teams that were incorporating it and there were teams that were actually using it as an entire offense. Reached out to Pete Lavorato over at Sacred Heart Prep. Thought was an outstanding article you did, Matt (Maiocco of CSNBayArea.com). That was really informative. Wanted to learn from somebody who was an expert at it. Trying to move the ball. What was the motivation for learning about the fly sweep? Trying to find ways to move the ball."
You mentioned PAC 12 teams incorporated it, but at an NFL level a straight fly sweep is generally not seen. Why did you think it could be done at the NFL level?
"Evidence of what you see on tape; that it could work."
Is it because you see so many teams zeroing in on RB Frank Gore and that inside running game? That makes the outsides vulnerable.
"Sure. Ways to stretch the defense. We don't really talk too much about scheme. But not just compacting it, guys in the box, but compacting it from the side like an accordion. The way they want to squeeze the gaps down on us. It's a good compliment."
You had the 52-yard touchdown pass from Alex to WR Michael Crabtree Sunday. Afterwards, both of them were talking about how they practiced that play over and over throughout the season. They just seem really satisfied that all that practice finally culminated. As a coach, how do you feel when you see it actually unwind like that?
"Felt the same way. We have gotten a lot of reps on that play. Alex and Michael have gotten a lot of extra reps after practice on that particular play. Very satisfying to see a plan come together."
As Alex gets more comfortable, do you see him just going out and playing and not thinking so much out there on the field?
"It's always going to require thinking at that position. When you're in a system for six months, you know it better than you did the first month. When you're in it 12 months, you know it better than you did at six months. Particularly with this system, I've seen evidence of that. I think by two years in it, then you're an expert and they're able to coach guys on it they know it so well."
He was in it for a month, in the playbook for a month, before he was able to coach guys on it. Do you think, looking back, do you think that time really helped him get a handle on it because he knew not only did he have to learn it for himself, he had to learn it to teach it?
"I think you're on to something there. It's well-documented; I thought the same thing back then. Just what a fabulous thing this was, not only for Alex but for our team. That those motivated players were getting together in the summer and holding workouts and team workouts. Really player-led practices. I pretty much knew back then that that was a very good sign."
What convinced you that defensive line coach Jim Tomsula was a fit to stay here on your staff? Often when a new coach comes in, things change across the board. What do you recall from your first meeting with him?
"It was just obvious that he was a very special man and coach in terms of presence and the way he cared about his players and football knowledge. We were dealing with somebody that was very, very gifted and special. Those virtues showered down right away from the first meeting."
Is he as animated with his hands as he was with us the other day? Just demonstrative when he's out on the field?
"Yes, all the time. It's not a show. It's every day, in every meeting, in the office. He just doesn't have a bad day. He doesn't roll out of bed and have a decline. It's on the bus rides to the airport. I've gravitated to bus three like a lot of guys have because Jim T is on that bus. I enjoy that ride and so do the fellas. I could give you so many different ways. Just well-documented what he's been able to do on the field with his group. There is such a bond there with the guys in the front seven and the defensive line group and the outside backers with Coach Tomsula. He'd do anything not to let them down, and they'd do anything not to let him down. It's rare. It's special."
He also considers himself a strong talent evaluator. He said he's not going to keep his mouth shut if he feels some way about a certain way about a player. Do you appreciate that?
"Absolutely. You always want to have guys on the staff who are winners. Winners have strong wills. They're going to speak their mind. They're going to speak the truth as they know it. Jim's been a great resource not only for the players but also to me in this job. A tremendous resource for me on a lot of different levels."
WR Kyle Williams has taken advantage of his opportunity in some way. Talk a little bit about his play.
"He brings juice out there. The run he had, I thought that was a real fearless run the way he took that up in between the hash. We were talking about the middle of the field now, the way he ran up in there. One of the best stiff arms I've seen, not only this year but really ever seen. That was a classic stiff arm. Want to put that on the teach tape. He's caught the ball over the middle well. He's really shown some courage and also speed, quickness, catching ability. I think we really feel good about where Kyle is right now. He's really asserting himself."
You said on Monday that you didn't like the clip.
"No. Did not like the clip."
He's had several blocks like that. Do you think he might be over reaching to prove to you guys that he's a rough and tumble player because he is a little bit smaller than your normal wide receiver?
"I hadn't thought of that. Maybe you have something there. I'm not a psychologist. I just like them to block in front of the runner. Do not block somebody if you can see the back of their numbers. I think he just has to play within the framework of the offense and understand that there's a technique in not clipping somebody. Just like there's technique in not holding. I think it's more of understanding that. I don't think he has a, this is my unprofessional opinion, psychologically I don't see him as somebody that has a fear or any complex of a "small man's disease." I'm trying to find the word for it. I'm not a professional when it comes to psychology."
What I'm saying is he wanting to prove to you guys that he can handle the downfield blocking part of it. The more blue collar aspects of it than perhaps he came in with the reputation for. How has that part been for him aside from the penalties?
"It's been great. There's no evidence that he has anything to prove in that area. He's a tough guy. Evidenced by the fact that he catches the ball over the middle, he blocks. We talked about the stiff arm. Runs extremely hard when he has the ball. Straight line and explosive. He's got nothing to prove in that area, that's my point."
Has he done enough to earn a starting spot yet?
"Just look at [WR] Michael Crabtree, [WR] Ted Ginn, Kyle Williams, all three of them did a fantastic job in this last game. Very pleased with the way those receivers played. They're all contributing in a big way."
Are you expecting WR Braylon Edwards to practice today?
"Yes."