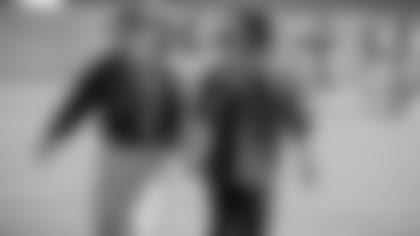 Jim Harbaugh addressed the media a day before his team starts the 2012 preseason.How much do you expect to play the regulars on Friday?**
"Well, it'll vary from regular to regular."
How about the starters?
"The starters? We've got a number in mind."
What's that number?
"I'd rather not pin myself down to a number right now."
Will WR Randy Moss be starting?
"The starting receivers will be [WR] Ted Ginn [Jr.] and [WR] Michael Crabtree."
Will Randy be playing?
"Yeah, Randy's playing."
What do you hope to see out of that starting unit?
"Well, individually, collectively, all those things, you want to see the units play well as a group. Then there's a lot of exciting individual play that we'll be keying on, and excited to watch those guys compete."
Do you put more emphasis, more evaluation, on these games? Or is it just an equal part of the puzzle as a normal three-hour padded practice out there?
"It's a game. The score board's lit up. We put a lot of value on everything we do. But, definitely the games are heightened, fun, competitive, and it's highest output for a football player… But you didn't need me to say that. Did you? Did you really need me to tell you that?
Yeah, because you've always talked about how it's one piece of a puzzle. That you try to create that kind of competitive atmosphere out there, a game-like atmosphere on the practice field.
"Well, you definitely try to simulate it out there. Get it as close, as we've said before, as close to real football, game-like football as possible. But, the games are the closest thing to the games. They are the games."* *
Have you been pleased with Ted Ginn in training camp?
"Ted's had a great camp. Really pleased with Ted."
Anything specifically stood out to you about his performance?
"He's catching the ball. He's blocking. He's playing all the positions. Playing the X, the Z, the slot. He's doing it all. He's running good, getting out of his cuts. Just performing at a high level.
QB Colin Kaepernick had said this week, out of the preseason he wants to prove that he can be a starter in this league. What more do you need to see from him to convince you that he could start?
"Well, we have him prepare like a starter. We'd be very confident if Colin went into the game, or started a game."
Are there some traits you've seen him grow or improve more, or some areas in specific where you'd like him to improve more?
"Well, all areas for quarterbacks, that's just the way they go about it. If you ask him, 'what area are you working on as a quarterback?' I've asked a lot of those guys that same question. And pretty much unanimously they'll tell you they're working on everything. Trying to get better at every detail - heir strengths, things that they'd like to be better at. They're just pretty unanimous that way, the way they approach it."
Are QB Josh Johnson and QB Scott Tolzien also going to see action tomorrow night?
"Yes."
And this is going to be Scott's first time playing for you guys since you've had him. What are you going to be looking for out of Scott?
"Well, continued good play. We expect really with the quarterbacks that what they've been doing in practice will translate over to the game. Good in practice, good in games. Accurate in practice as a quarterback, accurate in games. Running the offense. We'll just look forward to them getting the experience of live bullets and game action."
The last time we talked to you, RB Anthony Dixon had just started playing some fullback. How has he looked in that role these last few practices?
"Good. He takes a lot of pride in his personal performance and now his two roles, three roles, multiple roles when you consider what he's doing on special teams as well. He's doing a fine job. There's a lot of carryover from halfback to fullback. It'll be great to see him in that role Friday night. That's one of those individuals that you look forward to watching him play as a coach. Excited for him to compete."
Will he also see action at tailback, halfback?
"Most probably, yes."* *
One of the criticisms - I don't know if you've had this criticism- but in the past, the past regime has said that he needs to play like a big back. That he dances around too much at the line of scrimmage. Do you see less of that this year? Does he seem more direct in the way that he runs the ball?
"Yeah, I think we saw that last year too. He had some big runs for us, some big first down pickups. He's got a lot talent. Excited for him to get some more opportunities. This is more opportunities for him. I think he'll acquit himself well."
What were your initial impressions of Vikings RB Toby Gerhart at Stanford and are you excited to see him in person?
"My initial impressions of Toby when we first got there, was that he was and outstanding back. The first game we were there he rushed for about 136 yards and then got hurt in the third quarter, and he was out of the rest of the year. Then we didn't have him in spring ball, he was in baseball. Then came back the next two years and had very productive years for us, over 1,500, 1,200 yards in both of those seasons. I've just got a ton of respect and admiration for Toby as a player and a person."* *
What happened on the practice field last night with WR Kyle Williams toward the end?
"A scuffle. A scuffle happened."
Did you order him off the field?
"I took him out of the drill, yeah."
But not off the- you didn't order him back?
"You were there Matt [Maiocco]. You were there, you reported it."* *
It looked like he stayed around…
"We've addressed it, and I think we'll be good and be better for it."* *
What do you expect-how do you expect the fans to react to him tomorrow night. The first home game after the way the season ended?
"To Kyle? He's a 49er. He's one of us."
Will he return punts?
"Most definitely."
Is that part of just, got to get him back out there and do it as quickly as possible?
"It's part of the depth chart. He returns punts for us."
This will be WR Michael Crabtree's first preseason game in the NFL. Is that important for him to develop a rapport with the quarterback in games?
"Michael's got a great rapport with [QB] Alex Smith. Our leading receiver last year. They've had a heck of an offseason together. Practice is going well. Of course all of those things are important. Yeah."
He has had some slow starts to previous seasons, which people have attributed to not taking part in the preseason. Was that an issue at all last year?
"I can't say if it was or wasn't. A lot of obvious questions, a lot of master of the obvious questions today. These could be really answering themselves up here."
Could I just ask you, what your memories are of Vikings Special Assistant to the Head Coach/Linebackers Coach Mike Singletary as a teammate?
"Good. Hard worker, great football player. Good man. Leader."
Since you're playing career, have you kept in touch in any way?
"Not often have we had the occasion to have in-depth conversations since playing together."