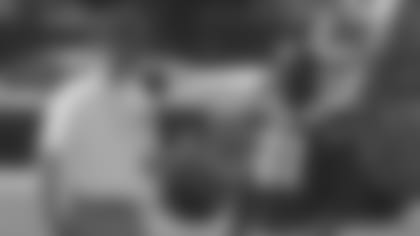 Coach Harbaugh addressed the media following Monday's practice at 49ers headquarters.On whether he is adding more situational plays into practice due to the upcoming preseason game against the New Orleans Saints:**"Yes."
On where he would be in training camp if the lockout had not occurred:"We would have been a little bit ahead if there were more practices, but not that significant. A couple days maybe."
On what he would like to get out of the preseason games:"Haven't been a head coach of a preseason game yet. The biggest thing I'd like to get out of it is to stay healthy. [I would] like there to be sharp execution, be able to take the snap from center and get lined up on defense, play calls, on the special teams, being in the right spots and not getting kicks blocked. Have a level of execution and see our guys under live bullets and crowd noise, be able to play under pressure. Also, see fanatical effort."
On how long he plans on playing his starters:"We have a pitch count with the starters. It will be somewhere around plays in the twenties."
On whether he plans on playing RB Frank Gore in the preseason:"Yeah, I would like to see Frank get some touches."
On whether Gore will get more than a handful of touches:"We'll see."
On how many players assistant head coach/special teams coordinator Brad Seely will be able keep on the 53-man roster solely as special teamers:"We'll make all of those decisions as an organization. With one priority, what's best for the team."
On evaluating special teams players during preseason games:"We'll be looking for…there will be anywhere from four, to six, to seven players who will make this team because they're core players and they play on all four phases. There will be also backing up in other positions and making the team because of their talents elsewhere, or young and working their way up the depth chart. There's definitely going to be guys who make the team that they feed their families on playing on the special teams."
On his level of enjoyment coaching the quarterbacks and whether his expectations are being met:"My expectations are to have good practices and to go out and get better. Those are my expectations. To be better today than we were yesterday. I felt today's practice was our best practice of training camp so far. We'll try to make tonight's meetings the best meetings of the year and see if we can't come back tomorrow and be better. Definitely coaching the finer points and they've grasped things very quickly so we can start getting into a lot of the finer details. I'm really pleased how fast they've come along, in all regards, mentally and understanding the offense. Now we can really get into a lot of the mechanics and finer details of the system."
On what made this practice the best one of training camp:"I thought the effort was really good. I thought the execution was good on both sides of the ball, both sides made plays. I thought our defense played well. We didn't get our hands on as many balls today, defensively, but offense made some…there's a lot of give and take. That's one thing as a head coach you like to see. You like to see defense making plays. You like to see offense making plays. Both had their moments, but I thought it was a higher level of execution and effort. Just overall, that was a good practice today."
On how he feels about the depth of the safety position and the different kinds of athletes he has back there with S Dashon Goldson now returning:"I feel good with the talent in the secondary and I think that really makes the competition all that much better. Dashon's a 49er and pleased that he's coming back. We've had a couple of conversations and I think he's ready to get to work and iron sharpens iron, so, looking forward to that."
On whether he'll just let the guys in the secondary compete and find out what their roles will be:"Yes. Yes, I mean, that's what we've really said that all along and that really does go for every position."
On whether he gave Goldson a call like he did to S Donte Whitner before he signed:"Yes, yeah. I mean, you got to pick up the phone and call, that's what you got to do."
On whether he's the closer:"No, gosh no, no, no. There's really no recruiting going on. We're really, in the sense you would think of it as, just tell him what we have to offer, why this would be, in our opinion, the best place for him to be and you know guys are going to make the best decisions for their family and themselves. Just excited he wants to continue to be a Niner."
On whether Goldson would have been signed had S Reggie Smith not been dealing with an injury:"Would he have? Yes."
On whether Goldson would have come back regardless:"Well, I mean I can't put myself in somebody else's mind and speak exact, so…"
On whether he thinks Goldson will play in the preseason game this week:"We'll see, yeah, we'll see."
On Goldson stating on Twitter that he wasn't coming back to the 49ers and whether the team felt the same way:"We're just excited he's coming back. I mean, I'm not debating what was on—I don't even know what was on Twitter, so I can't really, again, speak intelligently about something I don't know about."
On whether he follows Goldson on Twitter:"No. No."
On whether the workload at practice will lessen and be less physical as they prepare for a game this week:"Well, they got…no, there's no attempt at that. We're still going full throttle."
On whether he is pleased with QB Alex Smith and QB Colin Kaepernick picking up the system:"Yes. I thought they both made plays today and executed it at a pretty, darn high level today and I am pleased with the way they are picking things up. Like I said before, they've really kind of mastered the overall game plan and really, and a lot of the parts of it and a lot of the finer details of it and just keep getting better at it. They're both really bright guys and they are both talented guys, so I'm very pleased with how they are progressing."
On whether Goldson will practice tomorrow:"We'll see."
On how he sees QB Alex Smith being effective for this team:"We want him to be good at everything. We want him to get as good as he can possibly be. Playing the quarterback position, exactly what we are going to do schematically to move the football, are we going to run the ball, are we going to pass the ball, are we going to play action? Yes. Are we going to go from the shotgun? Yes. Those are all things that will be incorporated into our offense."
On players saying the coaches have shown the team tapes of other NFL teams:"No, a lot of the plays we're running, when you install them, there's a playbook and that's on paper and it's diagramed, but we also want to show them visually the principle and the other teams in the NFL are running them. Whoever we can find that was running that principle, we wanted to show NFL players doing those principles."
On whether he will game plan for the Saints or stick to his own game plan:"We're going to be honing in on what we need to get improved. You saw today, we're still installing. Today we got backed up coming out of our own end zone, four minute, two minute situations, so we're still installing."