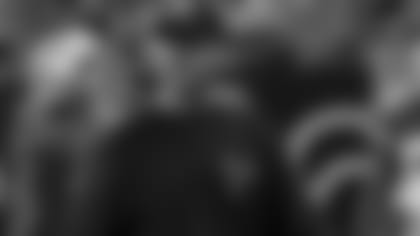 Coach Jim Harbaugh addressed the media following Thursday's practice at 49ers headquarters.**
On whether he has a snap count for his starting offense for Saturday's game:"It will be fairly similar to last week."
On whether that include QB Colin Kaepernick playing most of the game:"We'll see, we'll see. I want to see him get at least a couple quarters, at least two quarters and fourth quarter. He may or may not play as much as he did last week, but hopefully a good amount."
On whether it is too soon to see QB Josh McCown play in Saturday's game:"He might see some action."
On what he liked about McCown:"We thought he was a good fit and watched him when he came out, followed his career and worked out very well. So, I thought it would be a good fit."
On whether McCown still has the ability to make plays with his feet:"I believe he does. He's in very good shape and still 32 years old, still has his legs."
On what he looks for in a third quarterback:"Somebody that prepares themselves very well mentally, they don't get near the amount of reps that the first and second team quarterback gets, but that's why it's good. It's positive that he's an experienced guy, he's had game action."
On the young guys are who have really stepped up in practice thus far in training camp:"Well, thank you for that question. Thank you very much. Yeah, it's good. We talk so little about the rest of the positions on the team, first guy that jumps to mind is [LB] Ahmad Brooks. He's having a heck of a camp, played extremely well in the ball game the other night. At a very critical position, you talk about critical positions, the ability to rush the passer and drop into coverage. He's made several plays on balls, got us the ball on defense in our practice sessions. I've been pleased and just encouraged by his progress, and hope he just keeps right on coming at the rate he is. [LB] Joe Staley has been outstanding. [DT] Justin Smith has been a quintessential pro, every single day. [S] Donte Whitner, I've been very encouraged by him and his progress and several other guys playing really well on the defensive side of the ball. They are starting to play really well together, good communication from the guys in the back end and playing together back there, very good. Kickers have been outstanding, [P] Andy Lee, really impressed with him as a punter. Also, [K] David Akers is has having a heck of a camp, very encouraging. On the offensive side of the ball, [TE] Vernon Davis, outstanding. [TE] Delanie Walker, outstanding, both having really, really good camps. Up front, [T] Joe Staley's having the best camp, I would say, of any of the offensive lineman. [T/G] Chilo Rachal has been a real, kind of say surprise, because the guy's a starter in this league, but he's having a heck of a camp. I'm really pleased with that. Really all of the linemen are playing well individually upfront and deep too. [T] Alex Boone in there, now [C] Jonathan Goodwin being added. I feel good about where our offensive line is depth wise and then they'll grow in the confidence of playing together. So, I'm really encouraged by that group as well."
On whether CB Chris Culliver has had a good camp:"Yeah, he has. He has really showed good things right from the beginning. If I looked at his weeks, I thought he really played well the first week arrow up, arrow up the second week. Now, this third week I think he's got to push through some things and keep that upward trajectory going. So, in terms of taking care of his body, in terms of really detailing out every facet of his position. I think now it's the jumps aren't going to be as big as they were week one and week two and now he's really got to push through to keep getting the same improvement."
On whether center is the only position with competition on the offensive line:"I'm not really saying anything is set in stone. Right now there's a first unit carved out, but I really want to get the mentality that there are seven guys in there right now that are starting caliber. Not making any bold or definitive statements on what the game day lineup is going to be, but it's taking shape very well."
On whether there are three or four areas he feels need improvement at this stage of camp:"I wouldn't limit it to three or four steps or three or four specifics. We're trying to get better in a lot of areas. To be successful this season, there are a lot of things we have to do well in order, maybe there's 1,000 things and we're on step 50 right now. We're certainly more than three or four steps away and we're trying to improve on all facets of the game at this point."
On what challenges K David Akers faces at Candlestick Park:"I think just understanding the wind, understanding that part of it. Nobody knows the wind better than the punters and the kickers. They know it better than anybody that could teach it to them. It's a matter of just going out and doing it for them. I couldn't tell you how big of an adjustment it is, I've never kicked at that kind of level or anywhere even close. So, it's probably a better question for David. He's been around, he's been 15 years. I think this is his 15th or 16th camp, so he would be the better one to answer that question."
On whether C/G Adam Snyder would be taking snaps at right guard with the first group and whether T Alex Boone will be taking snaps at right tackle with the first group:"That's already been taking place in practice. That's very possible. We have to have that for versatility. The left tackle has got to be able to move over and play the right tackle, a versatile guy that can play both guard and center. Some guys can do it and some guys can't. Fortunately we've got a few versatile guys and we want to get them reps there and we'd like to get them those kind of reps in game situations."
On S Colin Jones and FB Bruce Miller playing both offense and defense:"It's kind of talking about the same thing; versatility, the more you can do…as you start getting down to the 48, 53, and the more that one guy can do, the better his chances are going to be and the better for our football team if we can take advantage of a guy's ability. In Bruce's case, it would be the position he played in college which is pass rusher, the outside backer here. Colin Jones has got quite a bit of speed and we're seeing if there's an opportunity to get him versed on the offensive side of the ball as well."
On what TE Konrad Reuland brings to the team:"He's brought a lot already. He's really having a great camp. I coached him in college and I've always had great respect for Konrad's game and he's elevated here and I'm really pleased to see that. Some of the guys were joking with him, calling him [former Dallas Cowboys TE Jay] Novacek through camp because he's really caught about every ball that's been thrown at him and he's grinding hard in the blocking. Konrad probably needs to put on about 10 pounds and get a little stronger, but with [Head Strength and Conditioning coach] Mark Uyeyama, we feel really confident that that will take place. But he is doing real well, giving himself a great chance to be in the mix and potentially make the team."
On how the new training camp rules have affected what he is trying to accomplish:"I've been okay with it. I think we're getting good work in, getting the necessary work in. I've been okay with the format. It breaks down to about four hours on the field, three in pads, one without helmets and not full speed after the ball is snapped, actually a walk after the ball is snapped. But it really lets you focus in on your alignment, your assignment, your communication, your technique, and it's been valuable. It's been a lot more valuable than…I think a lot of us coaches think there's more that we could be doing with that time and you end up not using that time for that purpose. But now with these rules, you have to. It's been valuable."
On whether he feels he needs to rally his team for a win this week:"Some of that I agree with. One thing is for sure, we want to protect our quarterback better in this game, handle the blitz better than we did as a unit in the last game. Teams are going to blitz you if you can't execute against the blitz, so that's been an important factor for us. Improvement, execution, those things, we want to take a step in the right direction this week. I don't think anyone is looking to kick anyone in the teeth though. We're just looking to play football and execute at a high level."
On whether the amount of blitzes against New Orleans was alarming:"I think it was just good learning, good teachable moments for our football team. With offensive line play, with offensive play in general, when it comes to the quarterbacks, the lines, the receivers, the backs, there are so many people that are working in tandem or trio or as 11, that communication and confidence in knowing what your assignment is and what the guys next to you are doing and being able to play together is just critical. On offense and on special teams, that's an area that we are looking to improve this week."
On whether there was miscommunication on the line last week:"I think it was what I said, was just building more of a confidence in playing together. There were individuals who missed assignments and that's the thing about offensive football, it's so important to play together because one guy makes a mistake and says 'hey I only made or one mental error' and then another guy only one. But every time, that's a negative play for the whole down. It's getting better, perfecting and going over every detail to make sure that there are no screw ups when you get to game night and our team is progressing in that regard."
On what he seen from G Chilo Rachal:"I'm seeing improvement. I'm seeing real focus, real want to from Chilo. He's working extremely hard to get into shape and game shape and playing shape. It's really important to him, this year, this season, this team. I'm seeing all those things from him and I'm really pleased."