On and off the field, Nate Clements is always a pro.
When suited up for the 49ers he is one of the top cornerbacks in the league, and away from the gridiron Clements spends countless hours helping the community around him.
But as he said Tuesday, "the kids are our future," and Clements wants them to Go Pro in their lives too.
So, Clements spent the day at Cabrillo Middle School in Santa Clara promoting his new community initiative, Go Pro. Go Pro is dedicated to empowering young people to Go Pro in life through education, exposure and athletics.
"Every child has a dream to go pro when they're growing up," Clements said. "Whether it is an aspiration to move in the career path of their role model, or be like their favorite athlete, they all have dreams. My vision for Go Pro is to help those youth achieve their goals by providing a solid foundation through education, exposure and athletics."  
As the program evolves, Clements will provide youth with a Go Pro Playbook, which will be a guide toward reaching their goals. It will provide an academic checklist, daily physical exercises as a resource guide to help students gain opportunities to earn scholarships, internships, do community service and find mentors. Clements will enlist the support of Go Pro coaches and advisors within the cities where he will launch Go Pro as resources for the students. Clements is also looking for corporations and community organizations to partner with him on this initiative to further provide today's youth with the tools they need to be successful in life.
The goal of Go Pro is to pique the curiosity and the commitment of the next generation of all-pro youth leaders.
At the Go Pro launch, Clements spoke to a class of sixth graders about setting life goals and working hard to achieve them. He talked to them about striving for greatness and how they should never be satisfied.
While Clements did have an inner drive as a kid, it was his father who pushed him to be his best.
"When I was in high school, my dad would always say, 'If you work hard for four years you can go to any college you want,'" Clements said. "Then when I was in college he said, 'If you work hard for four more years you can play for any NFL team you want.'"
Clements listened to his father and is today one of the top cornerbacks in the league.
The Pro Bowler remembers getting to high school at 5:30 a.m. so that he could lift weights and study in the library before school began. Then after school and football practice, he would go to an SAT preparation course to help him get into college.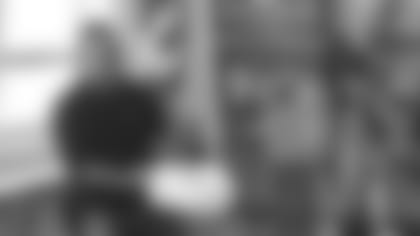 While it was tough, Clements realizes now how valuable all that hard work was. He knows why his family put such an importance on education.
"Football was the easy part for me back then," Clements said, "but school is where I really needed to put in the work. I put in a lot of effort to my studies and it really paid off in the long run.
"If I could do it again, I would do it the same way."
Weeks before Clements spoke to the sixth-grade class, the students wrote an essay about their dream job. Tuesday afternoon the students came dressed for their future profession and Clements couldn't hold back his smile when he saw the design engineers, artists, astronauts, athletes and doctors enter the room.
"You guys can have these jobs if you work hard and don't get distracted," Clements told the students.
After the youth listened to Clements, four students who wrote the best essays shared them with Clements and their peers.
"The students, teacher, principal and everyone else around had a fantastic time today," said Julianne Topliff, educational partnerships for the Santa Clara Unified School District. "This is an experience that these students will be able to hold onto and remember as they 'Go Pro' in their lives."  
Throughout the day Clements gave the students lots of advice, but one thing he said drove him more than anything were the doubters.  He told the youth that there will be people who tell you you won't succeed, but, he said, you have to work twice as hard to prove those doubters wrong.
"Don't let someone else's opinion become your reality."