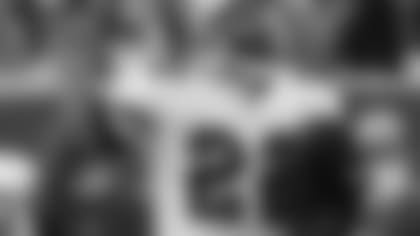 Clements scores on a blocked field goal against the Giants.
When Nate Clements signed on with the 49ers during the 2007 off-season, the highly sought free agent believed he was joining an organization on the rise. Although the team hasn't experienced the success he envisioned with a 2-6 start to the '08 campaign, Clements still feels San Francisco will return to its glory days. It's just a matter of putting in the extra work to get there.
A strong work ethic has been a staple for the veteran player throughout his entire life. As a youngster growing up in Shaker Heights, Ohio, a suburb of Cleveland, Clements learned early on that if he wanted to go places in life, he'd have to work his hardest to get there.
It was something he understood from his father, Nate Sr., an electrician and fireman who would take Clements and his younger brother along with him to rewire dilapidated houses.
"We'd go along to these boarded up houses that were in just horrible conditions – rat holes, roaches everywhere. There'd be no heat and it would be freezing in the middle of winter. We'd work twelve hour days with him, and I think it really opened our eyes on appreciating what we had. As we'd be there, he'd reiterate to us about going to school, and doing good in school so that we could do whatever we wanted in life and have better things."
Clements also believes he inherited his competitive spirit from his father, a former boxer in the Army who remained physically active throughout Clements' childhood by running in local 10K races and marathons.
"He'd always be training for those races and we'd just be with him always," recalled Clements. "He'd take us along and we'd run hills. Even when I was real little, I always wanted to win, and as I got older and developed, I was able to beat him."
In high school, Clements set his dogged determination on earning a football scholarship to nearby Ohio State. He worked out every morning before school and then stayed up till almost midnight every evening studying for the SAT's.
His efforts paid off as Clements landed his scholarship with the Buckeyes, and saw the field as a true freshman before enjoying his first start as a sophomore in the Kickoff Classic that was played at the Jets/Giants stadium. In that game against Miami, Clements racked up 14 stops and an interception.
"Of course I remember my stats," joked Clements. "My first start, in an NFL stadium, that's a game right there."
Clements enjoyed several more stellar games in his three-year college career before declaring early for the draft, where he was selected in the first round by the Buffalo Bills with the overall 21st pick.
"I think my confidence grew each year and by my junior year I definitely felt like I was one of the best corners heading into that draft, and since it was always my dream to play in the NFL, I decided to come out."
Clements played in all sixteen games as a rookie, commanding respect in his first ever career start against the Jacksonville Jaguars by holding Jimmy Smith, a four-time Pro Bowler at the time, to only 49 yards receiving.
"Unfortunately, I didn't get a pick in that game, but I did lock down Jimmy Smith, who was one of the premier guys back then," said Clements. "That was sweet."
Clements never missed a game during his six yeras in Buffalo, a streak that has continued in his one and a half season with the 49ers.
Clements credits his durability to "the man upstairs mostly," as well as his dedication to his training.
"It's a matter of physically preparing your body to take this type of beating and the wear and tear on it," said Clements. "As a rookie I always asked vets what they did to have stayed in the league so long and they all said to make sure you never stop working out and that you get in the ice tubs."
Once the season ends, Clements takes no more than two weeks before he resumes his workouts. Although some players give their bodies a few extra weeks than that to recover, Clements can't stand the sitting around.
"I've got to be active," said Clements. "A week off is really about all I can handle. I try to stretch it to two, but usually I end up playing basketball after about a week off."
He has fully participated in the 49ers off-season program in each of his first two seasons with the club, and during training camp, when teams typically go through their most grueling practices of the season, Clements added to his workload by running gassers.
Since the start of the season, Clements still does extra work on most days after practice. The veteran is typically joined by second-year corner Tarell Brown for some sled pulling, sled pushing, sprints, and/or back pedal drills before wrapping up their practice routine.
He gets in a workout every Tuesday, even though it's slated as the players' off day. Cardio and weights are usually followed by boxing, something he added to his workout regiment about two years ago when he was living in Houston for his off-season.
"Boxing is about being able to make contact and yet keeping your balance and it relates to football," said Clements. "A jab is the same as a jam for me on the line of scrimmage, so it crosses over."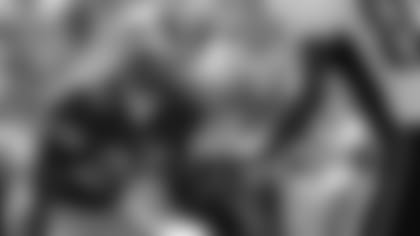 Did you Know?
Clements has his own website, lockdown22.com
His favorite meal is chicken parmigiana from the Olive Garden
His favorite at home meal is actually take out from Benihana's. Reason being? So he can use a special shrimp sauce that he has shipped in from a Cleveland based Benihana's. Apparently, the Cleveland location is the only restaurant of the Benihana's chain that sells this particular sauce.
His craziest experience ever occurred recently when a mouse entered his California home while his front doors were being changed out. His wife trapped the mouse in the pantry and waited for her husband to get home to deal with it.
"It took me about 20 minutes to find it. I was tapping at stuff with a grill scraper when it jumped out of this apron onto my shirt. I froze at first as it ran down my pant leg and onto the floor, but then I quickly grabbed a broom and killed it."

And before his "day off" is over, Clements hits the Jugs machine, catching at least 500 balls in hopes to keep his hands in tip-top shape for any opportunities that may come his way on gameday for interceptions. Clements has one pick on the season – a deep ball intended for Randy Moss – but he stays in constant pursuit of steals, knowing that a turnover is the surest way to helping his team secure victories on Sundays.
"If I drop a ball in a game, that's something that really always sticks with me for a long while," said Clements. "Those get me because turnovers are so important to getting wins in this
league. So, working on my hands is something I stay on top of every week."
He also always sticks to a film study routine that keeps him a day ahead of what's required by the team. In addition to studying the scheme and formations of the offense, Clements puts in significant hours critiquing himself, and then scouring footage of the receivers he plans to guard against so that he can discover any tendencies or potential weaknesses.
For instance, by studying the Giants for the week seven matchup, Clements, who already had familiarity playing against Plaxico Burress over the years, felt he had a solid grasp of the routes he'd see from the Pro Bowl receiver based on formations. He also had a game plan on how to play him.
"He's a big, tall receiver and it's hard for him to get going so I felt like I could jam him off the line and really throw that timing off," said Clements.
His studies paid off as Burress caught only three passes for 24 yards.
Clements has locked down other top notch receivers this year, helping to hold Larry Fitzgerald in week one to 3 catches for 31 yards and Anquan Boldin to 8 catches for 82 yards. Detroit's Calvin Johnson came into the week three matchup with back to back 100-yard receiving days, but Clements kept him to just 4 catches for 40 yards.
He's also had his mishaps on the year, like getting beat deep by Devery Henderson against the Saints. But as most corners in the NFL would say, those are the plays to learn from, and then quickly forget.
"You have to have a short memory," said Clements. "It's important to learn from your mistakes and make sure you correct it the next time, but if you dwell on them, you start to lose the confidence you need to play this position. I watch it, learn from it, and let it go."
In addition to curtailing the receiving production of his opponents, Clements has earned a reputation for his tackling tenacity and his knack for stripping the ball. He finished his first season with the 49ers ranked third on the team with 110 tackles, while leading the team in forced fumbles with three. His 16 career forced fumbles from 2001-2007 rank third among all defensive backs. So far this season, he's forced an additional fumble and is currently ranked sixth on the team with 27 stops.
The sure-tackler claims he owes his tackling prowess to a tree, yep you read it correctly, a tree.
Back when he started his football career as a five-year old linebacker for the PAL (Police Athletic League), his team couldn't afford extra equipment like tackling dummies.
"We didn't have the best equipment so we had to make do with other resources. It just so happened we had this huge tree where we'd practice. We used to run at it and then drive our legs. We hit it so much that there was a big hole in the ground right at the base of the tree."
Clements and his San Francisco team have likewise dug themselves a deep hole after dropping five straight games. The losses pain the competitive player, whose love for the game is obvious at every practice and in every game as his laughter resonates across the field loud and clear. But these days, Clements said he feels more like he's crying inside after each defeat.
Despite the mounting frustration, Clements knows only one way for the team to dig itself out – hard work, and lots of it.
"We just have to keep working and staying on top of our game," said Clements. "We need a solid week of practice and then we need to carry that over to the game. I think our best game has yet to be played, and we need to make sure we play it on Monday night against Arizona."
And as a creature of habit, Clements will do what he does before every single game he plays in – watch the locker room speech from the movie Any Given Sunday.
"It's very inspirational and it's all true," said Clements. "It just gets my mind right."
In part of his speech, Al Pacino tells his team, "Either we heal as a team or we are going to crumble. Inch by inch, play by play till we're finished. We are in hell right now, gentleman, believe me, and we can stay here and get the (crud) kicked out of us, or we can fight our way back into the light."
For Clements, and the rest of the 49ers, it's time to heal. The 49ers have eight games left to get out of the dark, and it starts under the bright lights and a national stage on Monday night.