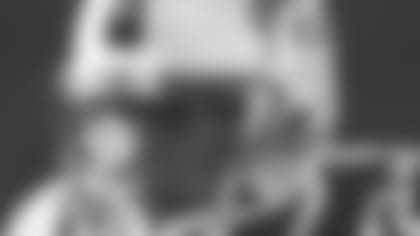 Pro Bowl cornerback Nate Clements was a marked man this off-season when his services became available at the start of free agency. The 49ers made quick work of getting him signed, sealed and delivered in San Francisco, and this season Clements will trade off every other week previewing the upcoming opponent in his column Clements' Coverage. **
We did some good things against Arizona, but we did some things that we also need to correct. There's always room for improvement but the most important thing was that we got the win.
I just relaxed after the win and celebrating by taking it easy, but I'm quick to move on to the next week. I'm always trying to do something to get the edge, whether it's working extra in the weight room, working extra on my film or doing something out on this practice field a little longer or a little earlier. I'm looking to be the best and those are the things you have to do to be the best so you can't get too excited over a win when you've got another game coming right on its heels.
Throughout the season we know we have to continue to improve every day in practice, in the film room, and get better as a defensive unit and collectively and go out there and showcase our skills on the weekends. We want to show all the things we worked on that week and go out there and really apply it on game day.
Each game is crucial, not just this one, but each game is crucial and every week it gets harder and harder to win in this league. We've got to take one game at a time though, and so we put this last game behind us and now we are ready for St. Louis and we have to take care of the task at hand.
As a defense our goals are going to be the same every week. We understand we have to get turnovers, we have to put our offense in position to score, get off the field on third downs, but most importantly we just go out there and have fun. This is a kid's game, growing up as a kid this was one of your favorite sports so it's just about going out there and having fun.
Coach Nolan wants phases of the game clicking this week – offense, defense, and special teams. He wants all of us to be running smooth out there.
The Rams definitely have some talented players on offense. They've got a few Pro Bowlers so they definitely want to get the ball in those guys' hands and so our job as a defense is to definitely prevent that.
Marc Bulger is a good quarterback and I notice that when he gets into a rhythm it's hard to stop him so we have to disrupt his timing, get him out of his groove and just try to make it a long day for him. We really need to keep them on their heels and keep them guessing.
Steven Jackson is a powerful back, a big back with size and stature. He can run and catch. I believe he led the team with receptions so he's shown he's versatile and is one of their playmakers.
He did put the ball on the ground last week, but that doesn't mean he'll do it again this week. It all depends on the player, some guys wipe it out of their head and get ready to play and don't think about it. Other guys let it linger on. I don't really know what type of guy he is but I do know as a defense we'll be looking to get turnovers.
The Rams did lose Orlando Pace, who was a huge asset for them. At that tackle position, it's hard to find guys like that but that's the nature of this business and when someone goes down the next guy has to step in and play. They've reshuffled their offensive line, and I know our front seven will do their best to make it a challenge on those guys.
In the secondary, we've got another group of talented players to cover.
Wide receiver Torry Holt, he's a play maker, he can run, he's an excellent route runner. He's got excellent hands, and is good against the jam or press coverage. He's the go to guy and he's going to get the ball. That's something we know and we just have to limit him.
Isaac Bruce definitely knows the ins and outs and trick of the trades of his position. This is his14th year so he knows all about the game. Drew Bennett has deceptive speed, he's a good route runner and he has decent hands.
Last week we were able to contain Arizona's passing game, and it definitely feels good when you are involved in the game and making plays for your team, but the most important thing is to get the W, no matter who makes the plays. I don't care how you get the win, or how it looks, as long as you get it, and that's what I'm looking for again this Sunday.