It's December 3, 2015 at Soldier Field in an uncharacteristically sunny Chicago, Illinois. There's 12:50 left to play and San Francisco is first and ten on their second possession of overtime. The score is tied 20-20. 49ers quarterback Blaine Gabbert is under center, Torrey Smith is in the slot. Gabbert takes the snap and fakes to Draughn. Gabbert sits in the pocket for a moment and then lets it fly to Torrey Smith, who takes it 71 yards for the game winning touchdown! A storybook ending to the first road win of the 49ers 2015 season.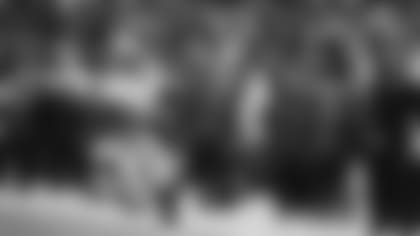 Tucked in the Soldier Field crowd is Jeff Ghan and Lisa Gill celebrating the dramatic win and perfect ending to a once in a lifetime trip.
Go back to November 27, 2015 when Jeff received a phone call from the San Francisco 49ers. The 25-year season ticket holder knew right away who was calling and was anxious to see what his favorite team was reaching out for him the day after Thanksgiving.  Jeff had won the Faithful 49 Road Trip Sweepstakes!
For the past two seasons as part of the 49ers loyalty program, Faithful 49 presented by Esurance has sent one member and a guest to an away game with airfare for two, a stay in the team hotel, and tickets to watch the 49ers take on an away game opponent. This year's winner Jeff Ghan and guest Lisa Gill were headed to Chicago for this classic NFC matchup.
Faithful 49 offers rewards and experiences to fans participating in daily activities by awarding yards for what most of the Faithful do already: browsing content at 49ers.com, attending home games at Levi's® Stadium, and following the 49ers social media accounts.
As members gain yards, they can choose to make purchases with their yards, save for higher value items, or try their luck in an auction or sweepstakes bid. The best part-yards never expire, and as long as members keep engaging in Faithful 49, their yards will always continue to accumulate.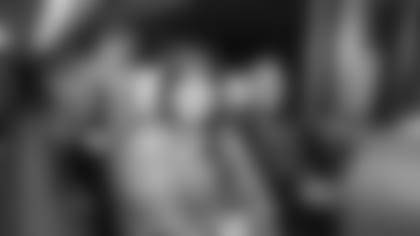 Each entry into the Road Trip Sweepstakes only cost 100 yards; the same amount awarded to each member after completing registration. After thousands of entries into the sweepstakes, Jeff had been selected as the winner after submitting just one entry! While he may have only entered once into the sweepstakes, Jeff checks Faithful 49 almost daily to see his yards accumulate when he reads articles, watches videos and browses photo galleries on 49ers.com.
Jump to Friday December 4. Jeff and Lisa met at the 49ers SAP Performance Facility to join the 49ers on a team chartered plane. After landing in the Windy City, Friday night and Saturday were open for the two to explore. On Saturday, they walked from their hotel to Michigan Avenue to enjoy the sights and shopping of the Second City. Throughout the day, Jeff recalls seeing the 49ers fans all around and was surprised to see how well the Faithful traveled for this game. That night they found themselves on Rush Street and had dinner at one of Chicago's finest seafood restaurants, Hugo's Frog Bar.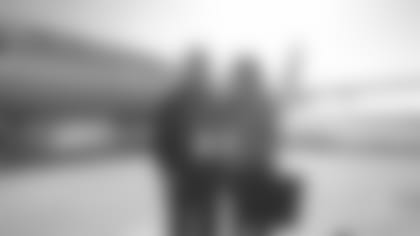 Finally, it was game day! Jeff and Lisa got to the stadium ready to witness the 49ers do battle with the Bears. The experience was much more than they could have bargained for. The two got to witness one of the most exciting overtime games this season, while making memories they won't soon forget. Missed this sweepstakes? Be sure to submit yards during the month of December for your chance at the Kickoff Kid Experience on January 3!