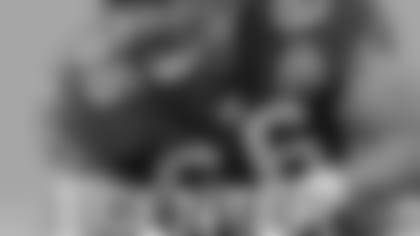 Eric Heitmann serves as the starting center of the 49ers offensive line. Back from a leg injury that ended his 2006 season prematurely, Heitmann has picked up where he left off and that's making the calls on the line, protecting Alex Smith and helping to pave the way for Pro Bowl back Frank Gore. This season, Heitmann will also be featured on 49ers.com in his very own column, Center Piece.**
The Monday night game was very exciting for us, because we won obviously, and we were able to finish strong in the fourth quarter. It was a total team effort that contributed to the victory. It is a win that we can build on, and learn from, heading into week two against the Rams.
I'd prefer not to really talk about my leg going forward because I really am putting that injury behind me because it's not something I want to have as a crutch, or ever as an excuse for what I do out on the field. But, it did feel great to be on the field for an entire regular season game for the first time since Seattle. You couldn't ask for a better comeback than Monday night at home with a stadium filled with screaming fans.  
This column is supposed to kind of share an offensive lineman's perspective so it was kind of funny to read in Joe Staley's diary about how he came ready for his first preseason game with some trash talking and that there wasn't really any. Because of the turnover in the NFL, guys have played on different teams and usually know a lot of other players that you are competing against, plus you just have a lot of respect for the different strengths your opponent brings to the table. If you were to pancake somebody or make a big play, you can jaw-jack a little bit but there's not much that is just straight derogatory. Every once in awhile you'll get a young guy who comes in and thinks they should mouth off every play, and you just let your pads do the talking with those individuals.
I guess aside from the touchdown from Arnaz Battle to close the game, another exhilarating moment for me was when Frank Gore scored on that 6-yard touchdown run. I was very fortunate to be an integral part of that play. I knew Frank made it in so my first thought was just to get up and celebrate with my teammates.
This week against the Rams, offensively we know we need to start fast. That was definitely a point of emphasis last week and we weren't able to accomplish that the way we'd have liked, so that's something this week we will focus on. We know we are a team that can finish, but we also need to be a team that can jump out early, and if we play a physical game from the start, we can do that.
But like I said, we did get the strong finish and came away with the win. My family was at the game talking smack to the Arizona fans so it was nice to join all of them, and the rest of my fellow teammates in the parking lot post victory to eat a lot of food and celebrate the big win.
My mom wasn't able to make the game so I made sure to give her a call at 2:00am Texas time. She stayed up to watch the game but was already in bed by the time I called, so I woke her up, told her I was okay, and then she pretty much hung up on me and went back to bed. Of course, she always tells me I played a great game – regardless if we won or lost, and regardless of how I actually played.
As a linemen, when you wake up and put your feet on the ground in the mornings you can always feel pressure and a few aches. The best way to get soreness out is just to move around, so I usually get up after the game and get over to the facility to do some running or lifting and really just get that lactic acid out of your body. It definitely takes a couple of days getting ready for Wednesday so having the two days before you start practicing again to recuperate is a blessing. Obviously, we don't have that this week but thankfully it's still early enough in the season to where that won't take as much of a toll.
The other thing which I think is not really worth talking about, but since I was asked is the number of random bruises and scratches you wake up with after a game. My wife used to make mention of these, but I think she knows I get a little upset about it when she points them out. My response always is that you should see the other guy, but now that we've been together for so long she's more like me in not even noticing them.
One big change for my wife and me this off-season is that we sold our house back in Katy, Texas. Since my wife works full-time for Gentry Magazine we just came to the realization that even in the off-season we spent such little time back there that it was more of a hassle than it was worth to maintain a home just to stay at a few weeks a year. Plus, after going to college at Stanford and playing for the 49ers I've been a mainstay in the Bay Area for the last nine years, so we just felt like it was time to have a home out here instead. We moved out to this neighborhood up in the hills of Redwood City.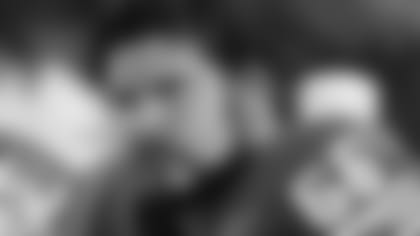 As I just mentioned, my wife works for Gentry Magazine, which has always been a big supporter of the 49ers Foundation. Sometimes Gentry will feature the 49ers in their magazine, but mostly they focus on real estate, fashion, and entertainment and my wife is always out tracking down articles to write along those lines. Her job also means that sometimes I tag along to some sophisticated events to give her my support, the same as she does when she shows up in my jersey and screams along with the rest of the fans at our home games.
Personally, I like to think I look as good in a suit at her events, as she does wearing my jersey at our home games. NFL players usually have a closet of suits since we have to dress up when we travel, so these extra opportunities to wear them make me feel like it's money well spent. (Even though I won't fit into any of them shortly after my playing career is over.)
I think Staley has talked about this but there is in fact a serious issue amongst the offensive linemen right now when it comes to our food order for our road trips. Honestly, for six years we've had Popeye's every single road game and I think I'm over it. A four-piece Cajun spicy fried chicken with a side order of red beans and rice really no longer needs to be a mainstay in my diet.
There's definitely talk about switching to a different venue, and there's been a mulling over of other food establishments to send the rookie to on road trips. If Larry Allen demands Popeye's, and he very well might as maybe the last 13 years hasn't been enough for him, then Staley is going to have to go get it obviously. But, if Jonas Jennings or Justin Smiley or myself want something like Giovanni's pizza, then he'll just have to make that trip as well. There are a lot of rookies so if Staley is wise, he can coax someone else into taking that off his shoulders. We'll see what transpires on Friday when we leave for St. Louis.
I honestly thought this whole time that Staley was writing his own diary on his own time and sending it in. I didn't know that 49ers.com does everyone the favor of recording us talking and then typing these things. Here I was ready to go home and write my 300 to 500 word essay, spell check it, use proper grammar and punctuation, and maybe even use a Thesaurus. Of course, I was more likely to be on the four times a season plan, but still, I was going to make that commitment. So, it was a great surprise to me to find out today how this thing actually works.
Moving back to the Rams, which is the main thing on my mind right now, defensively, the Rams have always been solid. They've got experienced, physical players up front in La'Roi Glover, James Hall, and Leonard Little, and speed everywhere else. We have to be our best physically and mentally this week up in St Louis, and especially start fast on offense.
I think when it comes to Frank there's always a desire to block hard because he's a special runner back there, and if we keep the line of scrimmage clean, he can make big plays for our offense. Our goal week in and week out this season is to get Frank 150 plus rushing a game, and so it will be no different this week.
Along with that as a line, we've got to be just as physical in our pass protection. That starts with the way you punch through defenders as they are making their first rush move or the way you pass off line stunts. I think that you can definitely still have a physical mentality and attack the defense regardless of if it's run or pass, and that's always the approach we are going to have going into the game.
This week is an opportunity for us to do so against a divisional opponent and to start out in the NFC West 2-0, and that's what we're prepared to go out and do.