During the course of his eight-year career with the San Francisco 49ers, former defensive back Merton Hanks endeared himself on a weekly basis to the 49ers Faithful with his eye-catching talents.
Most notably, Hanks' interception celebration dance became his instant claim to fame.
"It came from watching Bert and Ernie on Sesame Street with my daughters," Hanks said. "We were playing around with it and then one day it made its way to the practice field, then it popped up on game day. That's the long and short of it."
Locally, the dance was referred to as the "Funky Chicken Dance," because of the one-of-a-kind movements the lanky defensive back did with his neck. But for Hanks, he was simply having fun with his impersonation of Bert and Ernie imitating a bird walking around.
"It was a fun thing, you can't take a gyration like that too seriously," he joked. "You have fun with it and I think the thing people do forget is that if I do say so myself, some pretty good play went into getting to that dance."
Hanks' stellar play consisting of 31 interceptions (fourth on the 49ers all-time list), 413 tackles, 108 passes defended and 10 fumble recoveries made him an instant fan favorite. In addition to being a part of the 49ers fifth Super Bowl championship squad, Hanks was named to four consecutive Pro Bowl teams from 1994-97.
Playing on one of the best teams in the National Football League during that stretch, Hanks' play-making ability was constantly on display.
And so was his trademark move.
The dance debuted in the 1995 season against the Dallas Cowboys when Hanks picked up a Michael Irvin fumble and returned it for a touchdown. From that point on, whenever Hanks made an interception or recovered a fumble, the over-the-top dance repapered to the overwhelming adoration of the 49ers Faithful.
Often replicated by the likes of NBA superstar Shaquille O'Neal but never duplicated, Hanks' impersonators were never as good as the originator. In fact, since his retirement, no other defensive back in the NFL has come close to topping Hanks' dance by coming up with their own signature celebration.
"I'd imagine that they'd come up with something that's a bit creative that won't get them fined," Hanks said. "You have to be careful with the rules these days."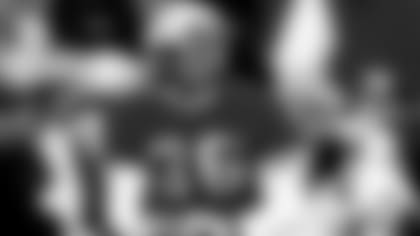 Ironically, the man soon to be in charge of dishing out fines to NFL players is Hanks.
As the assistant director of player operations in the league office, who will be taking over for another former 49ers great – Gene Washington, Hanks' duties include handling uniform and the equipment fines. When he takes over for Washington officially, Hanks will be in charge of college relations, player compliance, player discipline and uniform equipment inspection.
"I think it's always important to have former players involved," Hanks said of his duties with the NFL. "It's important at the club level and at the league level to continually incorporate former players in the management process. I take my position very seriously and I'm always looking out for the best interest of the game and of the players."
Hanks became involved in his current position thanks to Hall of Fame coach Bill Walsh, who was serving as a consultant to the team during that period.
"After my career I was able to stay busy by working with a couple of businesses, then Bill Walsh called me and said there was a job opening in the league office and I should give it a try," Hanks said. "I told him flat-out that I wasn't interested. A year later he came back with another offer and he really stayed after me. He thought my skill-set would work great for the league."
Hanks' most visible task with the league office will be on display at the upcoming NFL Draft. As each first-round draftee walks to the stage to shake hands with commissioner Roger Goodell, Hanks is the man handing a jersey to the draft pick.
It's a far better experience than what he experienced as the 49ers former fifth-round draft pick out of the University of Iowa in the 1991 draft.
"Quite frankly, I was disgusted," Hanks said of his draft day. "I was a first-round talent that slid to the fifth-round because I had a poor combine. I remember telling (secondary coach) Ray Rhodes that I'd be better than a lot of players picked ahead of me in my rookie year. Everybody kind of laughed and giggled and thought it was more sour grapes from being picked in the fifth-round, but my prediction pretty much proved out true."
With the help of former 49ers cornerback Eric Wright serving as Hanks' personal mentor, Hanks became the player he and the 49ers envisioned.
"I credit a lot of people with my early development, but Eric Wright would have be the single biggest reason for my success early on," Hanks said.
Since Hanks had joined the franchise after back-to-back Super Bowl championships, he felt the pressure to help bring another Vince Lombardi trophy back to San Francisco. After a couple of tough defeats to the Dallas Cowboys in the NFC Championship games in 1992 and 1993, Hanks and the 49ers captured their fifth Super Bowl in 1994.
"It was incumbent upon everyone in the organization to bring a trophy back to the Bay Area. I was just excited to be able to complete that journey – there's no question about that," he said. "It was a fun time. That was everyone's best year. Everyone had career-years and that's what you need to win a championship.
"It was what players like myself had talked about doing. We talked about not only maintaining the great tradition of the 49ers, but extending it."
Although he's on the East Coast working in the league office, Hanks still follows the 49ers with a close eye and believes they're on the right track to recapturing the proud tradition of the franchise.
"I follow them quite closely. The 49ers are in good shape and competed well against the NFC champion Arizona Cardinals, so I've got to believe the players and coaches feel like they have a very bright future. They'll be right back in the thick of things."