Famous American politician Jack Kemp isn't the only one in the family who has attracted the attention of the public eye. His son Jeff may have skipped his father's political pursuits, but he did follow in his dad's footsteps when it came to football.
Jack Kemp's career as a professional quarterback began in 1957 and spanned 13 years. He spent his first season with the Pittsburgh Steelers before splitting the 1958 season with the Giants and the 49ers. The bulk of his career however, was spent with the San Diego Chargers and the Buffalo Bills.
His son Jeff also enjoyed a lengthy 11-year career in the NFL. Like his father, Jeff also had a few stops along the course of his career, with parts of his playing days being spent on the Los Angeles Rams, the San Francisco 49ers, the Seattle Seahawks and the Philadelphia Eagles.
The younger Kemp began his career in Los Angeles in 1981 as an undrafted quarterback from Dartmouth, but after a few uneventful seasons, he was traded to the 49ers in 1986.
The 49ers wanted Kemp to serve as the backup to Joe Montana, but after an unexpected injury to the future Hall of Fame quarterback, Kemp found himself in the driver's seat of the 49ers offense.
"I assumed the pressure with that opportunity in my first game and I had the most fun I've ever had working with the likes of Mike Holmgren and Bill Walsh," Kemp recalled. "The first game we lost, but we won most all of them after that."
Ironically, the 49ers were set to travel that week to Southern California to play the Rams, meaning Kemp would see his first start against his former team in a mid-September matchup that still stands out in his mind today.
"When we played the Rams, my old team in Anaheim, I was warming up for the game with Dwight Clark and he told me I was throwing the ball too hard," Kemp said. "I was just so pumped up with adrenaline to play the team that had just traded me."
While Kemp wanted to show the Rams what kind of player they traded away, he found himself forcing many throws early on in the game.
"I started the game off so poorly, I had two interceptions in my first three passes and Bill's face turned extremely white," Kemp said. "But then I remembered they had no one on the roster to play after me, and really had no choice but to play with me. Despite my mistakes, they didn't change the game plan.
"They said, 'We're going to keep passing. You're going to get it done.' And they were right, we completed like 16 passes in a row."
Although Kemp played extremely well once he settled down, the 49ers were still unable to get the outcome they wanted.
"We were set up to kick a field goal to win the game, but it got blocked and they returned it for a touchdown and we lost. But I just remember that day, because of the pressure of coming in after Joe and the adrenaline I had to play."
Despite the loss, San Francisco came out of the game knowing they had found themselves a reliable option with Montana out of action.
Later on that season, another game stands out in Kemp's memory because it was the starting point to his chemistry with wide receiver Jerry Rice.
"Another big game I remember was when we went to Miami and beat the Dolphins," Kemp said. "It was fun to play Dan Marino and those guys. And I remember Jerry [Rice] catching a seam route for a touchdown. From then on, he started catching long balls that year."
In his only season playing for the 49ers, Kemp relied heavily on Rice as he picked up the nuances of Walsh's West Coast offense.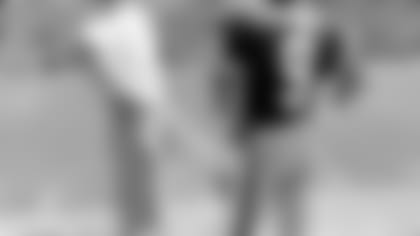 "I didn't have the whole offense mastered, but Bill emphasized a lot of play-action passes and I could throw deep, so we did that and Jerry caught eight touchdowns in the six games I played and a bunch of them were on bombs," Kemp said.
The 49ers went on to a 10-5-1 record, before losing in the NFC Divisional Playoffs. While the season was a success for Kemp, it was his first and only season in the Bay Area. While Kemp's one season was sandwiched in between Super Bowl Championships, he still has a sense of pride when speaking about his days in San Francisco, and is happy to have been a part of the 49ers organization during those winning times.
"It's fun to think back how, I got to be a part of one of the very best organizations, in the history of football," Kemp said. "And frankly, if you think about business period, it was one of the best runs in any business with that many Super Bowls and everything."
Putting those valuable lessons from his days with the 49ers to use, Kemp began his own successful business after he retired in '92 from the Eagles. Back then, Kemp was living in Seattle and began his dream of doing something that would improve the lives of kids in the community, so he started a non-profit organization called Families Northwest.
"I've been doing that for 15 years. We teach kids about healthy marriages and strong families in all the communities in the Northwest."
And with his active role in the community, Kemp feels no need to follow in the footsteps of his father and join the world of politics.
"One congressman invited me to run for his office because he was retiring," Kemp said.
But instead of taking the offer, Kemp said he would prefer to spend more time with his three sons, who he has helped to coach as they blossom in their own football careers. In trying to help them to develop as football players, Kemp said he often uses the teaching he learned from Walsh in which you, "Praise the positives, but still critique the negatives."
Kemp hadn't been back to the Bay Area in several years, but with his son playing football at Menlo Community College this year, the former 49ers quarterback jumped at the opportunity to catch his son's game and also attend the 49ers Alumni Weekend.
Although his son suffered an injury and Kemp missed seeing him in live action, he did enjoy catching up face to face with many of his former teammates throughout the weekend festivities.
"Living in Seattle, I go to these events with the Seahawks, but I've wanted to come to one with the 49ers," he said. "Particularly, because I think this team puts the most effort into keeping the alumni connected and putting on a good party."
For Kemp, the best part of the experience was re-hashing old memories of Walsh and the '86 season.
"I was talking to Jesse Sapolu since we played together and we were talking about Bill Walsh and what we learned from him, and we both were learning something from him all the time."
While Kemp enjoyed reliving his playing days and catching up with old teammates, the 49ers were also thrilled to get reacquainted with one of their former signal callers.