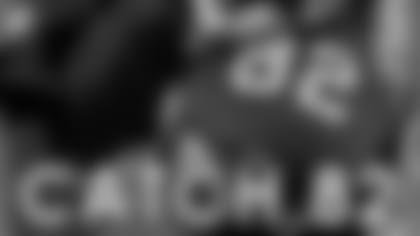 Throughout the '08 season, you can catch #82 - wide receiver Bryant Johnson on 49ers.com with his very own Catch 82 column. Johnson will trade off with cornerback Nate Clements with his scouting report on the upcoming opponent. Here's his take on Sunday's road battle against the Giants. **
From what I've seen on film, they rotate a lot of guys in their secondary. Aaron Ross and Corey Webster start at corner, but Kevin Dockery sees time, as well as most of the guys on their roster. I don't know why they do that, I guess to keep them fresh, so we'll have a lot of different guys to go against. Those guys in their secondary try to be aggressive when they are up in press coverage. They try to get their hands on you and they do a good job staying in front of the receivers. We have to do a good job releasing against them so that we can get down the field and make plays. The more we watch film, the more we can try to find weaknesses in each one, but I just think if we are good with what we do as far as our releases and being physical, we should have success with their corners.
Their safeties bring a lot of pressure, and will come down and blitz. We have to negate that pressure with routes that adjust versus pressure and we should have some big plays in that aspect.
Up front Justin Tuck is a name that rings a bell right away when you look at their roster. He's done a good job stepping up after Osi went down, but they really get a lot of pressure with their front four across the board. They have a solid front four and solid guys who come in for their rotation to give them a breather. We have to establish the line of scrimmage. We have to be able to block well when they rush four and not let them get to the quarterback, let alone when they bring pressure.
They have a solid group at linebacker, but I think we can get some bodies on those guys and try to negate what they do well as a linebacking crew.
This week is a huge week for us being that we lost three straight games and going into a hostile environment playing the defending champs. We have to go up there and try to take the crowd of it and execute offensively and we should have success. We have to be able to control the ball. That's something they do very well on their side. So we need to hold the ball, give our defense some rest and put some points on the board.
I definitely think we can keep New York off-balance with Frank Gore. I think he's one of the best running backs in the League. And then with Vernon Davis having a big game last week, we can definitely expect them to try and key in on him as well. That should leave some of us receivers open and will allow a lot of one-on-one matchups.
JT O'Sullivan has done a good job getting the ball to us in those situations. Unfortunately, he's been pressured a little bit back there but we have trust and confidence that he can lead our offense. Despite negative things that take place, he's still able to bounce back and make plays for us. I think that's a big key for us offensively – not to get down when things don't go well. This game is nothing but valleys and peaks. Bad things are going to happen in a game, you just have to bounce back from it and weather it as best as you can.
One of the things we definitely need to do a better job with is when we are in the red zone. We just aren't executing. That's the best way to put it. As an offense we need all 11 to execute. We haven't done a good job of that. I think we can get better with that. We just have to have the tenacity to want to put the ball in the end zone.
We all understand where we are and what we need to get done. We just have to work on being efficient and doing things the right way. Sometimes when we have mistakes, we are lacking in our technique. We have to focus on the little things because I think that plays dividends in the big picture.
I think we do a lot of things well, but I think we have yet to play a complete game. We just have to go up there and figure out how to play a complete game. Last week, we did well for three quarters and we just didn't finish the ball game. I think with that on our minds this week, we're going to focus on completing everything that we do.
My groin was bothering me last weekend, but it feels okay. I'm just getting my treatment here at the facility and then I had my trainer from Arizona come out to work on me. We didn't have any running on Monday or Tuesday so I was able to get some rest and I expect to be good to go.