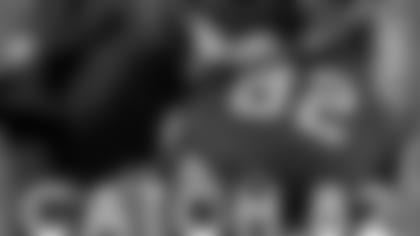 Throughout the '08 season, you can catch #82 -  wide receiver Bryant Johnson on 49ers.com with his very own Catch 82 column. Johnson will trade off with cornerback Nate Clements with his scouting report on the upcoming opponent. Since Johnson joined the 49ers from Arizona, he's up first with his thoughts on playing his former team.  **
It's very weird that I'm going to be on the opposite side of the rivalry that has formed between Arizona and San Francisco. The past couple of years have definitely been epic games, definitely tough games within the division. They've been tough, physical and hard fought games.
Giving the scouting report on this team is pretty easy for me since I spent the last five years with them. So first of all, on defense, they play fast. They find a way to the ball. Everyone is making their way to the ball, regardless of what side of the field they are on, and they seem to have all 11 guys around the ball. As Coach Martz has said, you just have to have a convoy. When someone gets the ball, we also have to make sure we are getting to the ball as well to make blocks and spring guys for big plays.
Starting up front with the defensive line, a big name that jumps out is Darnell Dockett. He plays pretty strong and with a low pad level. We have to account for him on the defensive line. They definitely brought Travis LaBoy in for added pass rushing skills and he's putting pressure on the quarterback. We've got to make sure we take care of blitzes and the line of scrimmage.
Three of their linebackers are guys who I know very well. Karlos Dansby is a very good athlete. He seems to have arms like Tayshaun Prince, so we have to account for him dropping in coverage. Dansby seems to get his arms on football that you just don't think he's going to get to because his arms are like go-go gadget. Gerald Hayes likes to come up and hit people and he plays pretty low. Chike Okeafor is a pretty good athletic guy, and then they've got a new guy in Clark Haggans who I am not too familiar with yet, so I'll need to watch more film on him.
I'm also familiar with the secondary. Eric Green is a very solid corner on the outside, as is Roderick Hood. He's another solid guy. We've got to account for #24. He comes down and plays in the box a lot. He'll blitz and he tries to get pressure on the quarterback and cause misreads. They also have Antrell Rolle, and they moved him to safety. He's a playmaker, and he seems to get his hands on the ball a lot. I'm thinking Antrell will come down and play nickel and they'll bring in Aaron Francisco to play safety but I'm not sure how they are going to rotate with their first-round draft pick. They may use him instead in the nickel. Either way, we definitely have a good matchup with our receivers against their secondary and we are looking forward to it.
On offense, I don't expect anything different from our quarterback than what J.T. has been doing in the preseason and throughout training camp. There is no added pressure going into the season. He just has to keep the same level of play going.
It's definitely going to be interesting and we are looking forward to our offensive attack with Mike Martz being here. Also with Isaac Bruce being here, we have a lot of playmakers on offense. Vernon Davis runs like a receiver and Frank Gore is one of the best running backs in this league, and our offensive line has played pretty well. We feel that we've got a lot of weapons on offense.
Obviously they've got good weapons on offense too. Anquan Boldin and Larry Fitzgerald are top receivers, but I think our secondary matches up pretty well against them. It was evident in the first game we played last year. We came here and really didn't get off to the start we wanted to as a receiving corps in Arizona. It kind of opened up for us in the second game we played against the 49ers, but I think we have wonderful matchups between our two corners and our safeties against them.
No one has really asked me yet about my former receiving teammates, but I think the guys here are already pretty familiar being in the division. They are the ones defending them, I'm not.
It is important to get some pressure on Kurt Warner because he's an extremely talented quarterback, but I think the pressure will happen. We have good strong guys up front and we'll get pressure on quarterbacks throughout the year like we need to, but I also feel like we have the kind of talent in the secondary to hold up regardless.
Another threat we have to stop is running back Edgerrin James. I also see a lot from the new guy, rookie Tim Hightower. He's coming in and creating a spark in the backfield and JJ Arrington can also be a home run hit kind of guy. We definitely have to do well stopping the run game and I think that will help stop the pass too.
I guess I'd say the biggest key to this game is minimizing mistakes. Whoever can do that, and limit the turnovers will probably come out successful.
I'm trying to take my emotions out of it, and not make it about me against them. It's our team against them, and it's an important game regardless of whether we were playing my former team or not. It's important because it's a divisional game and a win would be a good start for the season