Regular season or not, Mike Singletary wants to win every game.
The same can be said for his players, who want nothing more than to get the 2010 preseason started on a positive note this Sunday when they visit the defending AFC-Champion Indianapolis Colts at Lucas Oil Stadium.
But before the 49ers can kickoff the preseason in a positive fashion, they'll have to prepare themselves by setting the tone with a couple of strong practice sessions to finish out the week.
"My approach to preseason is we want to win every game we play, but the most important thing for us is we're not looking at Indianapolis and going to do a tremendous game plan or anything like that," Singletary said after Wednesday's pad-less morning practice.
Specifically, the head coach wants to see his players show the coaching staff that they're capable of executing the team's core plays offensively and defensively. Execution is key, and so is the evaluation aspect of Sunday's contest.
With backups set to see extended playing time this Sunday, the 49ers took the steps to get those players prepared for what's to come.
Wednesday's first practice session saw more playing time for the second and third teams than what's been the norm previously in camp.
The extra reps this week will help many of those players looking to put themselves in good standing to make the 53-man roster. For backup rookie running back Anthony Dixon, the added snaps have helped him work on timing in addition to his fundamentals.
"Today's practice really was very beneficial because it helped me get my steps right. Sometimes I have a problem being too fast and when I get the reps I can get my footsteps right and really see the hole I'm trying to attack. When you get a mental rep, you don't really feel the steps and get the pace right. But once you get it right like coach wants you to, it really helped me out."
But more than just getting the timing correct, Dixon really is looking forward to playing in an actual football game, something he hasn't done in what seems like forever for the sixth-round pick out of Mississippi State.
"I just can't wait to feel a little contact and do what I do, which is run hard and play physical," the 6-foot-1, 233 pounder said.
Likewise, Dixon's blockers are eager to face a Colts defense that is known for solid play up front. Tackle Alex Boone knows this first preseason game can be a great experience for all the young players on the roster, but the team has to win first to truly make it a positive experience.
"We're not going there to mess around; we're there to win a game 100 percent. I think everybody on this team wants to win every time we go out there. That's the mindset for this team from now on, no matter where we are – we're going to win. It's a good mindset to have to start our season."
Boone said last season's flight to Dallas was an eye-opening experience for him, but it also let him realize how much NFL road trips are truly business first.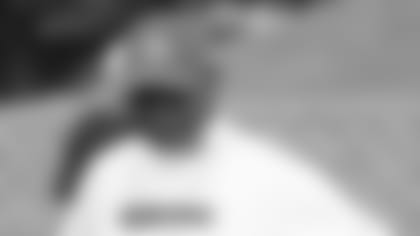 Singletary also called Sunday's game a "tremendous task" for all players on the roster, not just the newcomers, adding, "I'm really excited to see how they take that challenge."
For veterans like tight end Delanie Walker, the focus doesn't stop once they give way so backups can gain experience.
"We're a family, everyone will cheer everyone on," Walker said. "We need to make sure the younger players know what's going on, so they can execute just like the starters."
Singletary didn't give an exact answer on the amount of playing time the starters will get. He'll refrain from doing so until he gets a better feel for how practice goes for the next couple of days.
"We're just going to continue to evaluate between now and Saturday and see just how much we want to play them. But chances are, with our young guys we're going to try and get them as many snaps as we can without overwhelming them and get a feel for where they are."
Sunday's matchup against the Colts can be seen live locally on CW44/Cable 12 beginning at 10:00 a.m. PT, as well as nationally on the NFL Network.