Political officials and NFL officials made for a crowded house at 49ers training camp on Friday.
Both had a positive impact on the team during their visits.
For example, Alex Boone has received a lot of attention about his improved physique this offseason. From his hit documentary on 49ers.com, "Boone-Docs" to his segments on NFL.com's "On the Fringe" series, Boone has been recognized for transforming his body in a positive way.
But on Friday, the 6-foot-7, 328-pound tackle received arguably the highest praise about his physical condition, from none other than California Governor and seven-time Mr. Olympia, Arnold Schwarzenegger.
The famous actor and politician was at 49ers camp to support team President and CEO Jed York's involvement with the Bay Area Council. With York serving as a board member, he hosted the council meeting at 49ers headquarters and extended an invitation to Schwarzenegger.
Before heading to the press conference located on the far side of the 49ers practice fields, Schwarzenegger walked past a group of players who were relaxing in the cold tubs.
Boone happened to be one of the players there.
"We were just sitting in the cold tub and he was standing there with like 15 guys all in suits. He looked over at us and said, 'I see some big chests and deltoids… It's very inspirational.'"
Boone and the rest of the players in the tubs didn't know quite how to respond.
"Then he asked us, 'How is training going?' and everyone was like... 'Good.' It was like nobody knew what to say."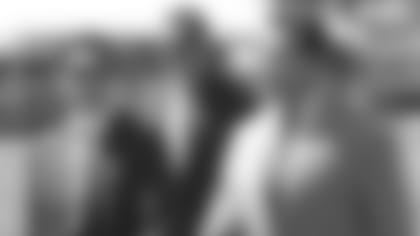 While Boone knew Schwarzenegger's comment wasn't directed at solely him, the tackle was appreciative of the compliment nonetheless.
The memorable remark was surprisingly not Boone's only lasting memory from the day.
Just as the linemen were finishing up sled-blocking drills, a loud crack could be heard from Boone's group. The lineman snapped the iron portion of the sled that held up the blocking pad.
For the time being, the drill had to be stopped.
"How mad was I when I broke it?" Boone asked rhetorically. "A piece of it was still hanging and it jabbed me in the neck. I was so mad at the time, it hurt."
Boone doesn't know if he's responsible for fixing the sled or if he's on the hook to purchase a new one.
"Do I have to buy a new sled? I hope not," he joked.
Helping Boone push the sleds in the morning was guard Chilo Rachal, who was back for his second consecutive day of practice since he left Monday's practice because of dehydration.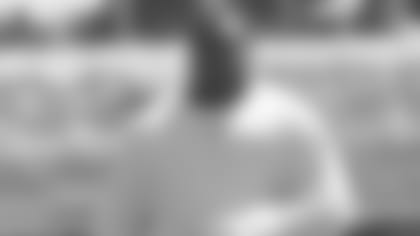 "Nobody likes sitting out and watching their teammates play," Rachal said of his absence. "But it was good to practice yesterday in a different atmosphere and get back to work here today."
Rachal like many players truly enjoyed Thursday's excursion to Monterey which featured a morning practice and a team lunch.
"We were working on the camaraderie of the team, all players coming together. It's going to take all of us to get us where we want to go and that's what Coach Singletary is trying to develop."
Notes and QuotesSchwarzenegger was given a tour of the weight room by quarterback Alex Smith. He also toured the training room with head athletic trainer Jeff Ferguson and spent time in the locker room with players like Pro Bowl linebacker Joe Staley.
Scott McKillop's surgery knee surgery on Thursday was a success. The operation was performed at Stanford Medical Center by team orthopedic surgeons Dr. Gary Fanton and Dr. Tim McAdams. Defensive coordinator Greg Manusky spoke to the media after Thursday's practice about McKillop's injury. "It's not always nice to have a player be lost, but he was making strides. I think as a second-year linebacker, it kind of felt like he was going into his third year. I always say those third years are usually when guys get it and he was almost at that point where he got it. He's going to be back though, when he gets his opportunity. He'll be back pretty soon hopefully."
Tight End Delanie Walker and guard David Baas returned to practice but only took part in individual work. Both players are recovering from concussions and neither took part in contact drills. Wide receiver Scott Long (hamstring), center Eric Heitmann (stinger) and linebacker Travis LaBoy (concussion) all watched the morning practice.
As for the on-the-field highlights, defensive tackle Pierre Garçon did a nice job of sniffing out a screen pass intended for Frank Gore. The second-year lineman wasn't fooled by Smith's play-fake and stuck with Gore who tried to leak out of the backfield.
Shawntae Spencer almost came up with his third interception of the week. Almost. He jumped a quick slant intended for Michael Crabtree but failed to catch the football when it was there for the taking.
Also showing great recognition of a screen pass was rookie linebacker NaVorro Bowman, who almost intercepted David Carr's screen pass. The speedy linebacker out of Penn State read the play so quickly he was in the passing lane and nearly picked it off.
Carr threw nice back-to-back passes to wide receiver Dominique Zeigler, who made two impressive catches. On the second reception, Zeigler was blanketed by cornerback Karl Paymah, but was still able to shield him away with his body and reach out to his right to make the grab.
The offense worked on situational drives later in practice. Instead of having the reserves line up behind the ball, both offense and defense went to their respective sidelines. The first team scored a touchdown on their possession as Smith found tight end Vernon Davis on a 30-plus yard touchdown in the back left corner of the end zone.
The second team's drive ended with Carr being intercepted by linebacker Matt Wilhelm, who jumped a quick pass intended for tight end Tony Curtis.
Extra PointsThe 49ers were also visited by NFL officials who were visiting with each team in training camp to explain the rule changes for 2010. Field judge Craig Wrolstad explained the rule changes to players and media in different presentations.
The following new rules will be implemented in the upcoming season:
-If a replay review inside of one minute of either half results in the on-field ruling being reversed and the correct ruling would not have stopped the game clock, then the officials will run 10 seconds off the game clock before permitting the ball to be put in play on the ready-for-play signal.
-The eligible jersey numbers for defensive linemen, linebackers and centers have been expanded.
-During a field-goal attempt, punt, or a try-kick, a team B player, who is within one yard of the line of scrimmage at the snap, must have his entire body outside the snapper's shoulder pads.
-The ball will be dead if a runner's helmet comes off.
-If a loose ball in play strikes a video board, guide wire, sky cam, or any other object, the ball will be dead immediately, and the down will be replayed at the previous spot.
-The penalty yardage for interference when a kicking team player attempts to catch a muffed kick has been eliminated.
-Protection for defenseless players has been standardized and expanded.
-After the half has expired, dead ball personal fouls by the offense or defense will be enforced on the succeeding kickoff.
-In overtime of postseason games, a field goal by the team that possesses the ball first will not end the game.