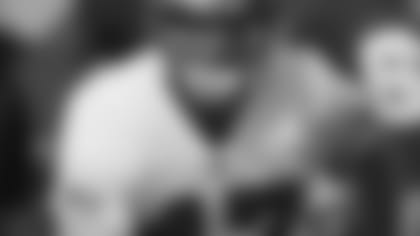 </td>            <td class="" bgcolor="#000000" valign="top" width="280">            

Training Camp Tidbits
Camp Must Have: Fan. To cool the room off, but also for the noise.
What you miss most about home when you are in camp: my wife and my baby
Routine between practices: I either go visit my wife and play with my baby or just go back to the hotel and take a nap, and study a little bit.
Grumpiest Person in the Mornings: Who's not?
Hardest Camp Drill: One on one pass rush against the LB's. It's a physical, tough, see who can win type of a drill.
        </td>        </tr>        <tr>            <td class="" bgcolor="#000000" valign="top">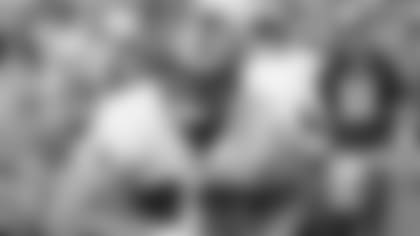 Funniest Camp Moment:  The rookie shows. Like last year, the receivers didn't have anything to do so they just stood up there with glow in the dark hats in the dark with music playing and they didn't do anything.
Best Part of Camp: Getting to compete and the few times we do get a night off. Those nights off feel so good.
Worst Part of Camp: Night meetings. Going to those when you are worn out is hard.
Worst Camp Singer: Kentwan Balmer
        </td>        </tr>        <tr>            <td class="" bgcolor="#000000" valign="top">            

WHAT HE SAID
"Training camp is the same as every year, just trying to get better, competing. I've been trying to improve my footwork, staying low, and working on my route running. I think the key to training camp is keeping the right mindset, having a good attitude and looking forward to each day and using it to get better."
        </td>            <td class="" bgcolor="#000000" valign="top" width="280">            

"Billy is one of the most accountable players we have. He's always in the right spot at the right time.  You know you are going to get a 100% effort out of him, and that it's very important to him that he succeeds. He's had a great camp. He's improved his route running, his pass protection is excellent and he's already a good run blocker." - Tight ends coach Pete Hoener
        </td>        </tr>    </tbody></table>